Get the verdict on R.A. Spratt's Friday Barnes: Girl Detective.
If you've ever read any of the Nanny Piggins series, you'll know that each book is full of quirky and enthralling adventures. So when its author, R.A. Spratt, came to us with a new book, we knew EXACTLY what we had to do. Send it to the budding book critics at Book Buddies.
Here's the blurb we sent you:
When girl detective Friday Barnes solves a bank robbery, she uses the reward money to send herself to the most exclusive boarding school in the country, Highcrest Academy.
On arrival Friday is shocked to discover that the respectable school is actually a hotbed of crime. She's soon investigating everything from disappearing homework to the Yeti running around the school swamp. That's when she's not dealing with her own problem – Ian Wainscott, the handsomest boy in school, who inexplicably hates Friday and loves nasty pranks.
Can Friday solve Highcrest Academy's many strange mysteries, including the biggest one of all – what's the point of high school?
It's all well and good to have a gorgeous cover and a captivating blurb, but what did the Book Buddies think?
 
Your thoughts on the story
'With her immense knowledge of basically everything, with the way she dresses and combined with the way she speaks, she is a truly original and unique character who I have to say I have never seen even a glimpse of in another book or character.'
Sophie, aged 13.
'This looks like a book for girls, but boys will love it too. It's a bit like Ruby Redfort meets Geronimo Stilton – very fun to read!'
Henry, aged 13.
'This book is oh-so-amazing. When I finished it (which was about two hours after I started), I felt so warm and fuzzy inside and extremely fulfilled... This book will embrace you with warm feelings. It will make you giggle out loud with glee and occasionally shout with excitement. It will make you exclaim with joy because oh gosh Ian Wainscott likes Friday and she likes him and they need to get together and be happy but alas there are complications!'
Kaia, aged 14.
'I loved this novel! This is a light hearted detective novel which will appeal to a wide audience. Filled with plot twists and surprises this book is hard to put down.'
Kayla, aged 14.
 
So far, you're loving it. But what about the cover?
'The pastel colours were captivating and extremely intriguing. It gave you an idea of what the story was about without spoiling it.'
Kathryn, aged 14.
Overall, another extremely helpful and authoritative response from our favourite panel of experts, the Book Buddies.
---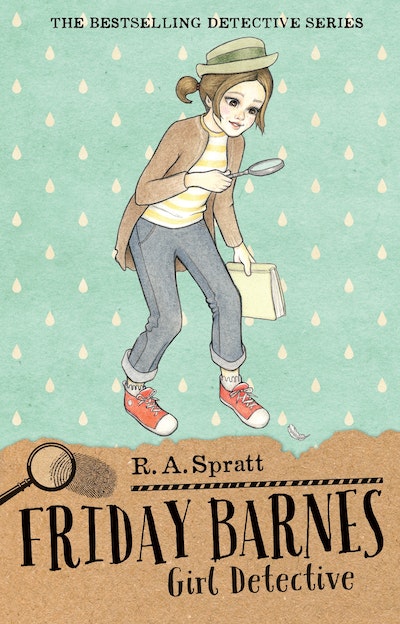 Imagine if Sherlock Holmes was an eleven-year-old girl!
Buy now
Buy now
---