A meditation on home and belonging to read with your book club.
Anam is award-winning writer André Dao's first novel. Part fact and part fiction, the book follows a grandson as he tries to learn his family's story. Blending essay, theory and everyday life and fiction, the book imagines that which has been repressed, left out and forgotten. With plenty of interesting conversation points, your book club will be able to talk about this read for hours on end.
Discussion points and questions
Anam was ten years in the writing, and began life with the author, André Dao, setting out to write the story of his grandfather. Anam blends fiction, family stories, literary theory, some activism and more. How do you feel about this blurring of genres? Does it add capacity to the storytelling?
Writer, Miles Allinson, responded to the novel's 'restlessness, the way memories, dreams and ideas, like waves, kept riding in over the top of one another, undoing and complicating everything.' Did you respond to Anam in a similar way? What do you think Miles means by the author's 'complicating everything'?
In searching for his grandfather's story, the narrator sidesteps easy dichotomies and self-mythologising – refugee and coloniser, east and west – to ask searching questions. How do we remember when records don't exist? And also, where do we remember?
Would you agree that Anam is a meditation on home and belonging, history and family? Looking to the past, sitting in the quotidian and gently prodding at the future?
Can an impartial, definitive family archive be created for any family?
What was your emotional response to the novel? Are there particular characters that you responded to, or against most particularly?
An early reader suggested that reading Anam made him feel smarter than he knows he is. How did it make you feel?
The family at the centre of Anam joined different sides in the war in Vietnam. Did this surprise you? What did you learn about Vietnam and its history in reading this novel?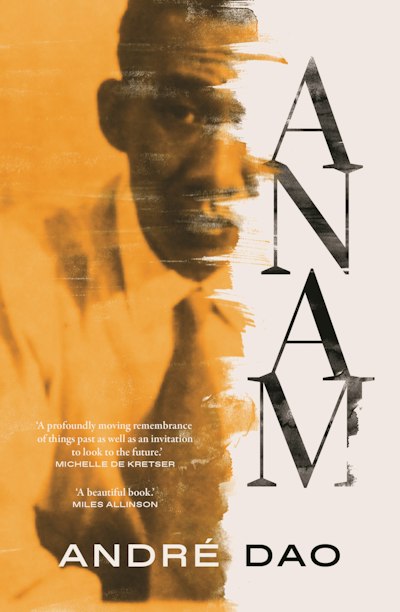 Anam
'Transcendent.' THE AGE 'Anam is a beautiful book. I loved its hypnotic rhythms, its restlessness, the way memories, dreams and ideas, like waves, kept riding in over the top of one another, undoing and complicating everything. It is the work of a soulful and scrupulous mind.' MILES ALLINSON
Read more