Learn about The Book of Wondrous Possibilities and the writing group that helped the author perfect it.
The Book of Wondrous Possibilities by Deborah Abela's is coming out on 2 August 2022, and it's everything you'd want from a children's book: action-packed, heart-warming, and altogether entertaining.
But when we recently spoke with Deborah, we learned a surprising fact about the book. Without the help of her friends, The Book of Wondrous Possibilities would never have become the book it is today. During the lockdown, the author set up a writing group with fellow children's authors Lian Tanner, Tristan Bancks, Zanni Louise and Sarah Armstrong, whose contributions shaped the book.
'During COVID-19 I was lonely, and I missed talking about writing. I missed my writing buddies, I missed going into schools and talking to librarians about books,' she says. 'I thought "I need to reach out and talk, not just about what's going on in the world, but I want to talk about writing." I called a writing buddy of mine, we thought about some people we'd like to invite, we sent out an email and everyone said yes. Every month for the last two years we've been meeting and I love it!'
While Deborah put in the hard work and hours, input from her writing group made the book the fantastic novel that it is today. 'The Book of Wondrous Possibilities wouldn't be as good as it is now if it wasn't for my critique group,' says Deborah. But while helpful, getting feedback isn't always smooth sailing.
According to Deborah, asking for help didn't necessarily make the writing process easier. In fact, getting advice from fellow writers often made it harder, especially when the group members pointed out areas that needed revision. 'They'd tell me when I was being a little lazy or chose the easy option for a plot point,' she says. 'They'd say, 'Oh Deb, it's a little bit convenient that your character got out of trouble that way." . . . So, I would go away and I'd tear out those chapters and I'd rewrite them.'
Despite the extra work recommended by her writing group, however, Deborah believes that making those changes was worth it. 'Some of those chapters are my favourite chapters in the book right now, and they wouldn't have happened if I didn't have my friends. I adore them, they keep me honest.'
Based on her own experience working with a writing group, it's now something that the author recommends to all aspiring authors. 'Join up with other kids who like to write,' she recommends. 'Sometimes your best friends are really, really good at letting you know how to improve your stories.'
In addition to writing with friends, Deborah also recommends that young writers read as much as possible. 'Read. Read. Read. Read widely, read graphic novels, read picture books, read biographies, read nonfiction,' says Deborah, admitting that as a child she'd even go so far as to read encyclopedias for fun. 'It's such an active, amazing thing to do to read a book. You also learn about other authors you love, how they make you feel tense or get you to that exciting part of the story.'
Her final word of advice is painfully simple: 'Just do it.'
If you want to become a better writer, then the best place to start is by picking up a pencil and getting into it. 'Ignore that little voice in your head that might tell you you're not good enough. It doesn't ever quite go away – that little voice – but the best thing to do is to tell it to be quiet while you get on with loving your story and loving your characters.'
About The Book of Wondrous Possibilities 
Arlo Goodman is a nervous boy who lives with his uncle in a run-down flat above their bookshop. His only friend is his pet mouse, until one day when an adventurous girl bursts into the bookshop begging Arlo to help hide her. Suddenly, his quiet life is turned upside down as he's swept into a crazy adventure including kidnappings, car chases and dragons. But can he overcome his fears altogether to save everything he loves?
Needless to say, young readers will absolutely adore the story. 'This is my absolute love letter to books, librarians, bookshops, and booksellers but also the power of books to save us when we feel lost,' says Deborah.  
What reviewers are saying
'As soon as I started reading, I instantly feel in love with this book.' Hannah, age 12
'I read the whole book in one day. I loved it so much.' Beatrix, age 11
'A delightfully quirky, sweeping adventure with smart young characters, unexpected plot twists...a great read for 8-12 year olds.' Paul Macdonald, The Children's Bookshop
'A fast-paced, funny and surprising book with original characters, dastardly plots and wondrous possibilities.' Tristan Bancks, author of Cop and Robber.
Want to secure a copy? Pre-order The Book of Wondrous Possibilities ahead of its 2 August 2022 publication date.
---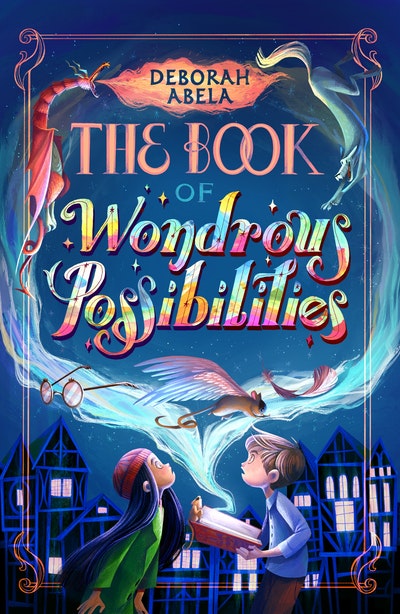 From bestselling author Deborah Abela, comes a middle grade adventure for 8-12-year-old heroes (even if they don't know it yet).
Buy now
Buy now
---