We recently caught up with Tristan to learn more about Cop & Robber and the influences that shaped his writing.
Ask any middle-schooler to name their favourite authors, and you can bet that Tristan Bancks will be on their list.
With his relatable characters, quick plotlines, and sharp sense of humour, the author has made his name in the world of children's fiction. His new book, Cop & Robber  tells the story of a kid torn between two extremes.  Perfect for ages 10-14, this fast-paced story provides the same thrill as his other nail-biting novels.
While there's no denying his talent as an author, Tristan had to start somewhere – just like the rest of us! And where better to do that than in school?
We recently caught up with Tristan to learn more about Cop & Robber and the influences that shaped his writing.
What Tristan Bancks has learned from teachers
As a children's author, it's no surprise that Tristan considers the impact that his stories have on children while writing. In many ways, he is a teacher himself, spreading knowledge and wisdom to young students through his books.
Despite his success, however, he still credits his teachers for their support and guidance throughout his years at school. There is one skill he particularly praises them for: encouraging creativity. Looking back on his childhood, the author expresses gratitude for the teachers who helped shaped him into the writer he is today. 'I had teachers who were really impactful,' says Tristan. One teacher, in particular, Mrs Bannister, helped cultivate his love of writing.
This fourth-grade teacher had all of her students create an 'Anything Goes' book, where they would write each morning for a few minutes. With no regard for spelling, grammar, or trying to write well, the students were encouraged to just let loose in their books. 'It made me love writing,' the author shares on his website, where he has provided more tips for freewriting.
In addition to Mrs Bannister, Tristan also rattles off other teachers who encouraged his creative side: a year five teacher who assigned students the task of designing their own theme parks, a rugby league teacher who encouraged creativity in sport, and a high school teacher who inspired a character in a previous book.
'My year nine English teacher shows up as Miss Aston in one of my books,' Tristan admits. 'She's an ex-cop, so I thought that was an interesting thing to include.'
About Cop & Robber
Upon the release of Tristan's new book, Cop & Robber, it's fair to assume that his teachers would be proud.
The story is exciting and fun, despite the major moral dilemma it introduces.
Nash's parents are recently-divorced, but that didn't come as a surprise to him. With his mum being a cop and his dad a bumbling robber, it wasn't exactly a match made in heaven. While Nash loves both of his parents, he's just about had it with his dad's criminal antics.
When the baddies come knocking, though, Nash realises that helping his dad might mean life or death. His dad owes a lot of money, and to pay it off, he'll have to commit his biggest crime yet: robbing Nash's school.
Should he help his dad and become complicit in the crime? Or should he let his mum know what's happening, potentially putting his dad in danger?
It's a hard choice – and you'll have to read the book to find out what Nash's next move is.
The role of teachers in Cop & Robber
As in the author's life, teachers also play an important part in Cop & Robber.
From the beginning of the book, readers see the school principal, Mrs Diaz, as a player in the story's unfolding. From the opening scene, she constantly appears while Nash struggles to find the best course of action. 'She showed up at the petrol station behind them when a crime was going down in the opening chapter,' shares Tristan. As he continued writing the story, 'she just kept on showing up, and I thought it was a good way to raise tension and pressure.'
While Mrs Diaz isn't perfect, she nevertheless acts as a role model for Nash in some ways. 'I like that she reveals certain things to him that show her life has not been a bed of roses and that everything is not perfect.' Says the author. 'I like to have that in my books because no one's life is perfect.'
Despite her imperfections, however, she is an important part of Nash's life – especially considering the tough decision he has to make. Just like Mrs Diaz supports Nash in the novel, Tristan believes that teachers are invaluable figures for students in real life too. 'A teacher can be a really important part of your life, he says. 'They can create a sense of stability.'
How adults underestimate young readers
Like Tristan's other books, Cop & Robber  is smart and clever, appealing kids' senses of humour as well as their intellect.
As he writes, Tristan checks in with himself to make sure the story is still entertaining. 'If there's not humour that I enjoy, then I won't continue writing the book,' he says.
Tristan tries not over-explain in his books. 'I feel like sometimes in kids' books – especially for these older kids – there's always a safety net, there's always an explanation of every point in the story.' he says. 'Kids don't mind if they don't get a certain thing, they can read on, and a careful reader can come back and read it two years later and think: I get all this stuff that I didn't get before.'
'It's a hard thing to do' he admits, but Cop & Robber pulls it off well.
The book has already received rave reviews on Goodreads and gotten a stamp of approval from fellow children's author, Morris Gleitzman: 'Make sure you start this well before bedtime because you won't want to stop.'
Want to read Cop & Robber as a group? Check out our reading group questions and teachers' notes for the novel.
---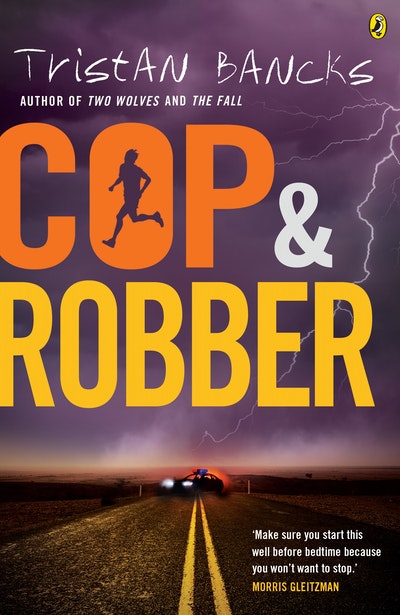 A new nailbiter from the bestselling author of Two Wolves.
Buy now
Buy now
---