Everything you need to know about the book, the audiobook, and the TV series.
By now you've probably heard of Brené Brown's latest book, Atlas of the Heart.
But what is all the hype about?
If you've heard the buzz, but aren't sure what the book is all about – or why readers are loving it so much – read on to learn more.
It's inspiring: In typical Brené Brown fashion, this book is chock-full of inspiration. If you're looking to understand your emotions better or connect with others more deeply, this book will give you the tools you need.
It's relevant: Delving into emotions and how they shape our actions, Atlas of the Heart helps readers understand themselves better. A lot has happened over the past few years, and many of us are still struggling to identify the lasting emotional impacts of the pandemic and isolation. This book can act as a guide and appendix of sorts to help us all understand what we're feeling, and importantly, how it impacts our day-to-day lives.
It's well-researched: With a background in academia, Brené Brown is no stranger to research – and Atlas of the Heart is no different from her previous works in this respect. In fact, the book is based on two decades of research and contributions from countless experts and organisations.
It's by Brené Brown: After her TedX talk on vulnerability, Brené Brown became a household name. Since then, her influence has only continued to grow through her books and podcast, Unlocking Us. As indicated by her status as a #1 New York Times bestselling author, her fanbase is wide-reaching, and Atlas of the Heart is the perfect introduction for those unfamiliar with her work thus far.
What is Atlas of the Heart about?
Atlas of the Heart explores the 87 emotions and experiences that define us. By exploring these experiences and how they affect us, Brené Brown provides a guide for helping us all become more connected with one another. 'I want this book to be an atlas for all of us,' the author says. 'I believe that, with an adventurous heart and the right maps, we can travel anywhere and never fear losing ourselves.'
Atlas of The Heart Series
Based on the book, the Atlas of the Heart TV show is an unscripted 5-episode documentary series. The show follows Brené Brown as she takes viewers through the insight and research laid out in the book. On-screen, Brown guides viewers through an interactive experience to define tricky topics including anxiety, empathy, and regret. The show premiered in Australia on 31 March 2022 and is now available to stream on BINGE.
Atlas of the Heart Quotes
Atlas of the Heart is filled with memorable quotes. This small list is just a taste of all the wisdom that's inside.
There are too many people in the world today who decide to live disappointed rather than risk feeling disappointment. This can take the shape of numbing, foreboding joy, being cynical or critical, or just never really fully engaging.
I've learned that power is not bad, but the abuse of power or using power over others is the opposite of courage; it's a desperate attempt to maintain a very fragile ego.
Empathy is not relating to an experience, it's connecting to what someone is feeling about an experience.
Good friends aren't afraid of your light. They never blow out your flame and you don't blow out theirs—even when it's really bright and it makes you worry about your own flame.
There is no courage without vulnerability. Courage requires the willingness to lean into uncertainty, risk, and emotional exposure.
Atlas of the Heart audiobook
If you know you want to read Atlas of the Heart but have trouble finding the time, the audiobook might be perfect for you. Listening to Brown narrate the book is wonderful way to get your daily dose of inspiration during your commute or workout. Throughout the audiobook, Brown goes to great lengths to ensure that listeners get the same experience offered by the physical book, explains the visuals in the book as she reads. An accompanying PDF is also provided with the audiobook, containing all the images from the book for listeners who want to follow along.
Ready to add it to your 'to read' list? Check out the hardback and audiobook.
For a word from the author herself, read Brené Brown's letter to her readers.
---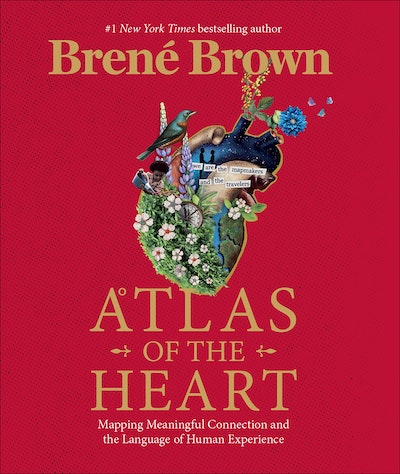 This major new work from the international bestselling author of Gifts of Imperfection and Dare to Lead examines the 87 emotions and experiences that define us, and provides a compelling framework to help us all become more emotionally fluent and connected.
Buy now
Buy now
---