Everything you need to know about TikTok's most hyped fantasy series.
If you're a BookTok devotee, odds are you've heard about the soon-to-be-released 'Plated Prisoner' series. The dark, adult fantasy books are loosely based on the myth of King Midas, set in the glistening gilded world of Orea. But things aren't always as beautiful as they appear. Auren is a prize and prisoner to the powerful King Midas, but when danger awaits, she realises that she might not mean as much to him as she once thought.
While you'll have to read the series yourself to find out how her story unfolds, we've compiled some fun facts about the novel to satisfy your curiosity until the paperback edition is published on 15 June 2022.
Gild: The Plated Prisoner Series Vol 1 Fun Facts
Raven Kennedy, the book's author is inspired by obscure myths. She likes to explore stories that no other author has attempted. Her previous published series was inspired by cupids, while The Plated Prisoner focuses on the myth of King Midas.
Kennedy always wanted to write a book inspired by the myth of King Midas. 'It was one of those stories that lived in the back of my head, because I've always been fascinated by Midas and the overall theme of greed. And gold is just so powerful aesthetically too—it almost feels like its own character to me, so it was the perfect backdrop for the series.'
Imagining the main character, Auren, is what inspired the entire series. 'Even though I had the idea of reimagining King Midas, I knew I wasn't going to do it about him. I wanted to do a completely different spin on it, and I didn't touch the story until I imagined Auren. As soon as I saw her, she was in that cage, with ribbons trailing down her back, and I knew she was it. I knew this story was hers. As soon as I saw her, the series just formed around her in a really organic way.'
Before going the traditional route, Kennedy self-published Gild, selling half a million copies.
Kennedy purposely delved into darker topics while writing, not wanting to diminish the experiences of real women. 'I knew that some of the dark elements in this book would be controversial, but I wanted to tell Auren's story as honestly and respectfully as I could. The fact is, like Auren, a lot of women deal with issues like gaslighting and emotional manipulation, and have dealt with past traumas too, so even though this is a fantasy book, there are very real issues that the main character deals with, and I didn't want to shy away from the truth of what those experiences would look like.'
The series has become a BookTok sensation, garnering 8.7 million views on TikTok.
Kennedy names characters based on how the names sound phonetically. 'The most important part to me is if the name sounds like the character. I can be picky because even if it's an awesome name with a great meaning, if it doesn't sound like the character's personality, then it goes right into the discard pile.'
The author is a chocolate lover. Kennedy has said that she can't write without chocolate, her favourites including dark chocolate espresso beans, Mounds bars, and a Reese's Peanut Butter Cup every now and then.
The author's favourite book in the series is Gleam, the third book because it was the most difficult to write.
Kennedy originally thought that the series would be a trilogy. However, 'as soon as I started writing Glint, I realized there was no way I could do everything I wanted to do in only 3 books,' she says. 'I knew going into this that I was going to be dedicated to a realistic vision of Auren's character healing from some major trauma and manipulation, so I didn't want to rush any aspect of her thought processes or emotional and physical journey.'
Kennedy gets inspiration everywhere: from music, art, movies, and her own imagination.
Can't wait to read it? Pre-order the paperback now.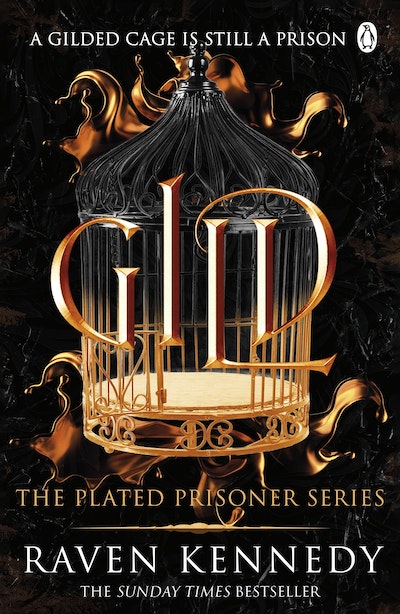 Gild: The Plated Prisoner Series Vol 1
Gild is first book in The Plated Prisoner - the 44M view Tik Tok Fantasy phenomenon. It follows Auren - the woman King Midas turned to gold - as she escapes the King and faces fearsome enemies, and her own demons, to find her voice
Read more