A Glasshouse of Stars author on second-person narration, immigration and childhood fears.
What inspired you to tell the story of Meixing and her family? 
Meixing and her family's story is based on my own childhood migration when I came to Australia with my parents and my little sister. It is a story of the heart that I have been trying to write for all my life because I think it is an important tale in compassion and understanding. I found courage in the Own Voices movement and the feeling that more than ever, a world so full of hatred and opposition needs a story like this.
Do you have a favourite scene in the book? What is it, and why?
My favourite scenes are all the ones near the end, leading to when Meixing finally finds her voice, as I feel that it reflects my own personal journey not only to find my way in the world as an immigrant, but to tell my story as a writer. And although I am proud of all the scenes that showed the darkness of the truth, such as cultural displacement, racism and mental illness, I am prouder of the scenes of hope that show the results of when you persist and finally find your place in the world.
A Glasshouse of Stars is written in the rare style of second-person narration. Why did you choose this writing technique?
This is something that I have spent time playing with. At first, I used the more traditional points of view like first and third person. But they felt either too personal and close, or too distant and disconnected. I finally realised that I had to tell the story through the eyes of my reader, so they could feel how I felt as a child migrant and walk in my shoes.    
In what ways are you similar to Meixing, and how do you differ from her?
As the eldest child of Chinese parents, I always felt the expectation to succeed and to honour their wishes – to the high grades they wanted of me, to take the career path they chose for me – and like Meixing, it all weighed very heavily on my shoulders. I differ from Meixing in the sense that she is introspective, quiet and thoughtful. Whereas as a child, before I came to Australia, I was actually very outgoing, loud and popular! Upon arriving here though, because of the language barrier and some of the difficulties I faced, I was forced to become the person Meixing naturally is. But I like to think it is somewhat a blessing in disguise, as it forced me to turn to reading, writing and my imagination and to be able to write this book. 
How did you overcome nervousness and fear in your own childhood?
At first, like Meixing, I wasn't very good at English, so I would make books entirely in pictures and tell stories that way. Once my English became stronger, I started writing and I would tell stories with characters that suffered hardships but would overcome them to receive grand happy endings. It was my way to reassure myself that everything would be okay. My parents didn't have a lot of money and every Saturday Ma Ma would take me to the library and I would hide away and read and then check out the maximum number of books! Like the glasshouse is Meixing's sanctuary, libraries will always be my place of solace.  
In A Glasshouse of Stars, an empathetic teacher makes Meixing feel safe and seen. What do you wish all school teachers knew about their immigrant students?
My only wish is for teachers to understand that migrant students may come from any number of backgrounds, from ones that are very different to the environment they find themselves in, to ones that are familiar, but that doesn't diminish the feelings of that child. One of my best friends immigrated to Australia from New Zealand as a child and although it may not seem like a big change – she spoke English and came from the same familiar Western culture – she still remembers the hurt that came from having a different accent and not understanding what a "texta" was. Whereas for me, I encountered school activities I knew I could do, but I was frustrated because I couldn't answer properly in English! I kept thinking I hope everyone didn't think I was stupid! Every migrant is different. I believe empathy, patience and understanding are the key.
What piece of advice would you give to aspiring authors?
To write from the heart. To be brave and tell their stories if they have one inside of them they want others to hear. To persist, even if your first story is not perfect. To keep finding your voice, because it can take a while, I know as it took me 114 rejections to finally find an agent! Surround yourself with writer friends who understand, celebrate and can cry with you. To understand that if you are faced with the question of "would you still want to write even if you were never published?" and the answer is "yes", then you are writing for the right reason. 
Find A Glasshouse of Stars by Shirley Marr at your local bookstore.
---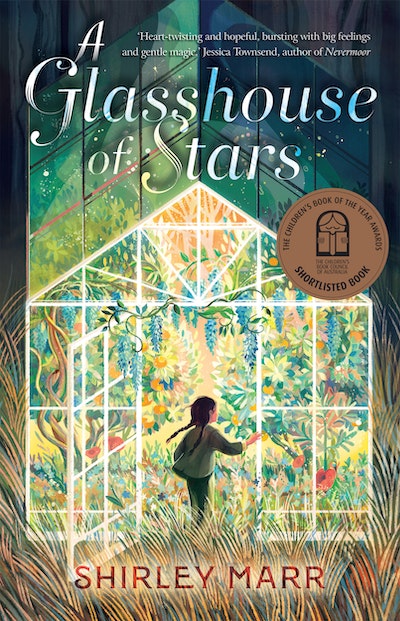 An exquisite, heartbreakingly beautiful gem of a novel for anyone who loved Wonder, Lenny's Book of Everything, A Monster Calls or When You Reach Me.
Buy now
Buy now
---