Adrian Beck shares his favourite moment with family every Easter.
Children's author Adrian Beck has revealed his favourite way to spend the Easter long weekend with his family.
While of course his holiday involves a visit from the Easter bunny and a chocolate egg hunt, his family always makes sure to take a moment to spend some quality time together with a book.
Paying homage to this tradition, Adrian has published a hilarious Easter tale, The Unfunny Bunny, in the hopes other families can enjoy the magic of Easter together, the same way he does. 
'The Unfunny Bunny is a little bit of a love letter to families that spend the Easter long weekend together,' he said.
'My family does that every Easter, we go down to the beach and it's often cold and sometimes a bit wet so I thought I would combine a wet Easter weekend with the Night Before Christmas poem.'
The book involves a harebrained scheme and, of course, Adrian's infamous dad jokes.
Adrian, whose daughters are 10 and 7, says a book is the perfect gift to accompany a chocolate egg from the Easter bunny, as it encourages people to sit down with their kids and get lost in a fun story together.
'There are only so many chocolate eggs you can eat in a row before you get sick, so why not munch on just a few chocolates and enjoy a book with siblings or your family?' he said.
'Books are good for you, too many Easter eggs aren't ideal, but you can never have too many books!'
Adrian says gifting books to kids at Easter encourages them to read, which helps with their language skills and creates precious moments.
'Kids who are read to as youngsters, they then perceive reading as a positive and pleasurable pastime that is something they can hopefully enjoy throughout their life,' he said.
'Plus, it's fun! There's nothing more fun as a parent than reading a silly picture book, doing silly voices, and telling silly jokes. You can do all sorts of things you don't usually get away with and that is great fun.'
Adrian said if you go out and grab a book about Easter, the bunny, or chocolate eggs, it almost becomes its own little tradition.
'We're got a lot of bunny books in our house and we certainly drag them out around Easter time. It makes you appreciate catching up with family and being together. When you have kids it adds a bit of magic to this time of year,' he said.
Adrian's daughters inspired The Unfunny Bunny, as they are always coming up with creative ways to catch the Easter bunny in action.
'They tell me they are going to sleep behind the couch and set up an alarm,' he said.
'They came up with a plan they were going to put wool along the bottom of the doorway so if anyone shows up the door will pull over it and they'll be woken up.
'Maybe they just want to get as many eggs as possible out of him, but they are definitely keen to have some quality one-on-one time with the bunny.'
Adrian said while his daughters always get chocolate eggs, they each get an Easter book to accompany it.
'We don't want to just be munching on chocolate all morning, we want to draw out the experience a little further, and make it a bit more meaningful than just a treat,' he said.
'I think most of all Easter is a celebration of families and these occasions bring families together. These days it's more important than ever to cherish our families and spend time together. The long weekend gives us an opportunity to sit back and enjoy each other's company.'
---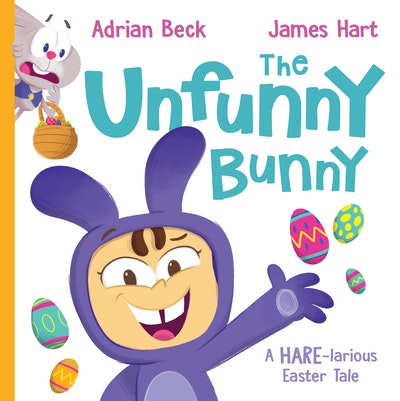 A most EGG-cellent Easter story by Adrian Beck and James Hart that will have the whole family laughing out loud.
Buy now
Buy now
---