Felice Arena talks about his new book celebrating women and sport and reflects on the 20th anniversary of Specky Magee.
Felice Arena has combined three of his great loves – writing, history and footy – to become a bestselling children's author.
Now 20 years after publishing the first book in the Specky Magee series, Felice is back writing about footy with The Unstoppable Flying Flanagan – a funny, entertaining and moving story set against the backdrop of the Second World War in Australia, the women's movement and the little-known history of women's football.
'It's a celebration of women and sport, and not just women in sport, but women in Australian society,' Felice says.
'Maggie Flanagan, she's 12 years old in 1942 in Melbourne and her biggest love and passion is football. She wants to play, not just watch it, and it's her link to her big brother Patrick who is fighting overseas.'
'I wait for the characters to find me'
After completing the eight books in the Specky Magee series, Felice wanted to explore other genres of writing like art, travel and historical fiction. He wasn't planning on writing another footy book, but an idea was sparked by an article he read on a train in Scotland in 2019.
'I was reading a newspaper about women in sport and the history of women in sport, in particular soccer in the UK, and I thought this could be an interesting story,' he says.
'I don't go actively searching for a story. I wait for the characters of a story to find me, otherwise I feel it's forced and I feel the pressure.
'I was having a break and clearing my head, and I read this article and jotted down some notes and forgot about it until lockdown in 2020. My mate said his daughter loved Specky Magee and she was missing her football team because of lockdown, and it jogged my memory and I thought I might look back at those notes.'
Felice then started researching women's AFL and discovered women were playing the game all the way back in 1933 to raise money for the Red Cross.
The author believes the themes of his story are still relevant today.
'Maggie helped me through lockdown. She was fierce when faced with the adversity of the Second World War. This book is not just celebrating women, but also community banding together in the face of crisis,' he says.
'I can't wait to share Maggie with the rest of the world – not just with girls. I want boys to read this and see how much society has changed and evolved.'
Author reveals surprising footy hero
When writing The Unstoppable Flying Flanagan, Felice took elements of remarkable women in his life when creating his characters – one was based on his first footy hero, a Sister who taught at his Kyabram primary school.
'I was eight years old and she would come and play footy. She had the best [torpedo] kick. The bell would ring, and we'd keep kicking the footy,' he says. 'I loved her and I've dedicated this book to her.'
Felice says that while his book is a celebration of women and of Maggie's dream, it also offers a glimpse into Australia at the time of the war.
'It's a book not just for kids to read, but adults, perhaps even grandparents who lived through those times,' he says.
'I always want readers to take hope from my books. There may be obstacles, but if you band together there can be hope in the darkest times. I want kids to feel that and acknowledge how far we've come. It's up to them to lead the way from here.'
Reflecting on Specky Magee anniversary
On top of The Unstoppable Flying Flanagan being released in March 2022, a 20th anniversary edition of Specky Magee will also be published the same month.
'I have teachers and adults who come up and tell me Specky was part of their childhood, and kids reading it when they were ten are now thirty,' he says.
'It was the first of its kind. There was not a lot of sports fiction at the time. I teamed up with my old school mate Garry Lyon, who was a football legend, and using his footy brain and my love of writing fiction it was a nice collaboration.
'It really captured Australian teenage life, and footy ended up being the backdrop to tell stories about relationships, and it resonated with kids who weren't even into sport.
'It wasn't just about Specky winning the game, and it wasn't always winning. It dealt with losing, coaches, parents, peer-group pressure and many other issues. Sport is our unofficial language in Australia and I think that's why it resonated with so many people.'
The 20th anniversary edition of Specky Magee will be released on March 1, while The Unstoppable Flying Flanagan will be published on March 29.
---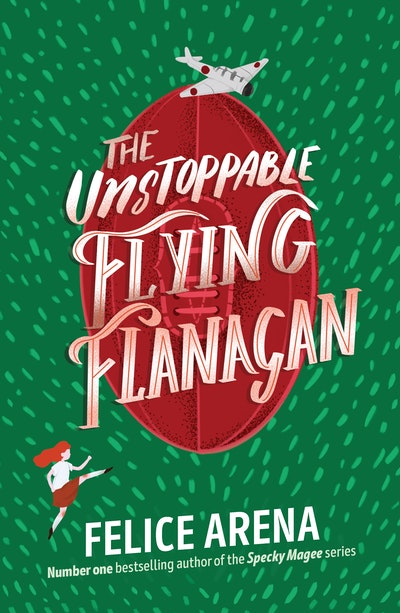 Another crowd-favourite from the number-one bestselling author of the Specky Magee series! This is Specky Magee meets The Boy and the Spy - a moving and inspiring story set against the backdrop of the Second World War in Australia, the women's movement and the little-known history of women's football. Another entertaining historical novel by one of Australia's most-acclaimed authors.
Buy now
Buy now
---
---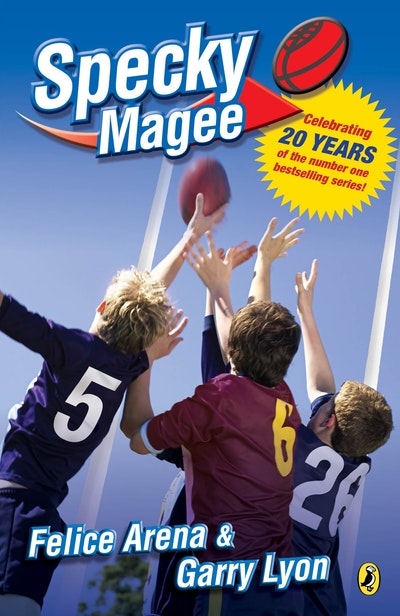 Specky Magee
Felice Arena, Garry Lyon
A 20th anniversary edition of a beloved Australian classic.
Buy now
Buy now
---