There are so many women who have achieved remarkable things in history, but it's likely you've never heard of them.
Kaz Cooke's new book, You're Doing it Wrong: A History of Bad & Bonkers Advice to Women, highlights just how many amazing women there were in the past, despite their achievements being unsung and overshadowed by men.
Here we take a look at some of the remarkable women you've likely never heard of.
1500s
Gráinne Ní Mháille, aka Grace O'Malley, was an Irish pirate navy commander and politician of the 1500s. Her biographer Anne Chambers recounts how Grace, as a girl, was told she couldn't sail because her hair would get caught in the rigging, so she cut it all off. She negotiated in person with Queen Elizabeth, and once came up from below decks while in childbirth and shot at some attackers with two blunderbusses. Writing of her hundreds of years later, a male writer felt it seemly to observe she was not 'handsome'.
1800s
Loïe Fuller invented revolving coloured spotlights for the theatre that were used until the digital era.


Mary Anning was the most significant early British palaeontologist, despite being prevented from a science education. She studied dinosaur and other fossils in dangerous cliff conditions but was shut out of the Royal Geological Society, and any ability to publish. She was forced to sell her discoveries to male scientists. Her intelligence was attributed to being struck by lightning as a child.


Hertha Ayrton became an electrical engineer in England in 1899. The next woman to be certified got through 18 years later. By 1922, only 22 of 18,000 members were women.


Tarenorerer, aka Waloa, led guerrilla fighters in a resistance war against colonial invaders and the seal industry in Tasmania in the first half of the 19th century. When still a child, like so many Tasmanian Aboriginal women, she was kidnapped and enslaved for sex and ship work by sealers while the colonial government ignored it. She escaped and put together an army of men and women with some stolen weapons.


Picture: The Two Walyers, Walyer the Warrior print by Marie McMahon, 1988, Art Gallery of NSW.
1900s
We know Marie Curie won a Nobel Prize – few know that she won two, in chemistry and physics, and her daughter Irène also won a Nobel Prize for chemistry. Both of them died after exposure to radiation.


Harriet Quimby was the first woman to fly across the English Channel in 1912. When a newspaper reported it, a male pilot's views were sought. Women were probably not suitable as pilots, he explained, because they have 'delicate throats' and may 'distract or be distracted'. He literally said a woman couldn't do something when asked to comment on the fact that she had just done it.


Zora Neale Hurston wrote beautifully, and helped to make Harlem a hub of African-American excellence in the arts and studied the cultural landscapes of the people with African heritage in the Caribbean.


Writer and traveller Nina Murdoch invented the Argonauts Club on ABC Radio in 1933 for children, which ran for decades: more than 50,000 Australian children joined. She wrote the membership pledge: 'I vow to stand faithfully by all that is brave and beautiful; to seek adventure, and having discovered aught of wonder or delight, of merriment or loveliness, to share it freely with my comrades.'


Picture: Nina Murdoch in 1936, State Library of Victoria. 

War correspondent and White House reporter Fay Gillis Wells flew her own plane and reported the coronation of Emperor Pu Yi of Manchuria in 1934. (After taking time off to have a baby, in 1961 she invented a folding table for boats.)


Sister Rosetta Tharpe invented the style of electric guitar that began rock-and-roll in the 1940s. She was finally acknowledged in the Rock & Roll Hall of Fame in 2018, almost 50 years after she died.


Geologist Kathy Sullivan was the first woman to 'walk' in space in 1984.


Endurance skier Valentina Kuznetsova headed a women's scientific expedition to cross Antarctica on skis in the 1980s, when women were forbidden to enter Russian polar stations.
2000s
Commodore Robyn Walker, a specialist in submarines and health, became the deputy fleet medical officer of the Royal Australian Navy in 2000.
Kaz says because so many Australian newspapers don't even have an obituary desk anymore, many fascinating women's stories will never be told to challenge the idea that every elderly woman we see is 'just' an 'old lady' or a 'nanna'.
---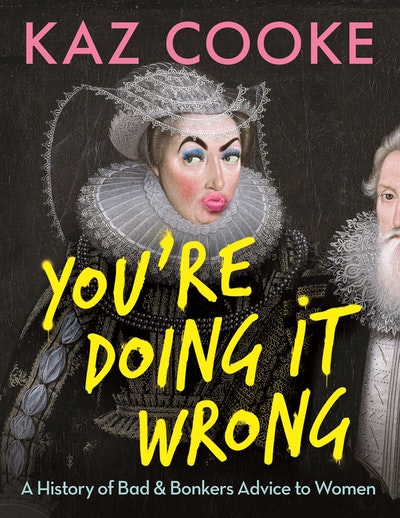 You're Doing it Wrong is an outrageous tour through the centuries of bonkers and bad advice handed down and foisted upon women, told as only Kaz Cooke can – with humour and rage, intelligence and wit.
Buy now
Buy now
---