Kaz Cooke debunks bonkers advice fed to women for centuries, starting with their bodies and a 'need' for shapewear.
Every heading in Kaz Cooke's new book, You're Doing it Wrong: A History of Bad & Bonkers Advice to Women, is a lie.
It is full of unseemly centuries-old advice for how women should live, from tips on etiquette to how to remain attractive for men.
Kaz shares these lies with humour and rage, intelligence and wit, and in the passage below she reveals her thoughts on the advice women have been fed about their bodies and shapewear.
For more visit www.kazcooke.com.au.
'Whatever it is, your body shape is wrong'
Every woman is given insulting labels for their body. Every school bully tries to make a girl flinch with 'fatty' or 'stick'. We've been told to categorise ourselves as ectomorphs or endomorphs, or hourglasses, or curvy, or a number on a bathroom scale, or a medium, or a '16'.
In the early 2000s, 'dress for your shape' advice was all the rage. Transformation-harpies Trinny & Susannah from the English TV show What Not to Wear sadly pre-dated the inclusive kindness of the post-2018 Queer Eye makeover shows. They subjected women to inspections under stadium-strength lighting and harsh assessments. Their book, The Body Shape Bible, told women how to conjure visual effects using the cut of clothes. The optical illusions worked using their clever, illustrative photos of themselves in 'wrong' and 'right' styles (and suitably glum or thrilled expressions) to disguise 'figure flaws'. Trinny & Susannah spoke to the women they were to make-over in a brutal way they would call honest: on television, some of the women cried.
What Not to Wear was a hit because they were right about the many optical illusions that could be created. But one wonders how much self-confidence was shredded rather than boosted along the way, and why an optical illusion was necessary anyway. Women used fashion engineering to alter the shape of their bodies: iron cages in the shape of hips and bottoms strapped to their waist, swagged-draping for a bustle, a false bottom.
We've also strapped on farthingales – hoop skirts and layered petticoats, cage-shaped crinolines the size of yurts. Body-shaping devices and garments helped take the weight of madly heavy skirts or massively beaded gowns. Corsets were used to cinch in the waist and hoist up bosoms. We've had rubber girdles, padded bras, cosmetic surgery, and then 'shapewear' and digital 'filters' and the alteration of photographs.
Picture: From Jenyns company corset catalogue from its Brisbane shop,1950, National Library of Australia.
The ideal shape of the 1890s was exemplified in the exaggerated proportions of the Principal Boy, a male role in a pantomime always played by a woman plump of thigh and hip, corseted of waist, bunched of bloomer and voluminous of sleeve and hat.
Marie Luella, who starred as Prince Lionel in Beauty and the Beast in 1895, was universally said to have a 'splendid physique'; one male reporter said she had the 'unstudied ease and grace of a perfectly developed woman', in other words: phwoarrr.
Where women now digitally alter their social media pictures to manufacture a 'thigh gap', Music Hall actresses used to stuff padding down their tights to erase one, and padded their hips and bottoms.
The ideal shape of the 1960s was said to be boyish (not even mannish), and women 'bound' their breasts to flatten them.
'Make your waist look small.'
We're now being sold a modern version of corsets called a waist-trainer: a restrictive, super-elastic bandage belt. Most waist-trainers are just bands made of wetsuit that make you sweaty and uncomfortable. You take it off, your waist goes back to what is it. It doesn't train your waist to be smaller unless it damages your ribs or internal organs. Nevertheless, people who profit from them suggest long hours of wear: if you took advice from a Kardashian who makes money from it, you'd wear it all day and then to bed. Because of the displacement effect, while they're on, they can make a perfectly normally shaped woman look like a bison wearing a tin-can around her middle.
One article copied and repasted on several women's websites in the late 2010s said, 'You've probably seen all sorts of celebrities . . . sporting the (waist) trainers, plus a plethora of girls young and old all hoping to widdle their waistlines.' (This is what happens when you spend too much time using a big fancy word like 'plethora' instead of 'lots': you don't notice you've replaced whittling with widdling, which means weeing.)
'Shapewear is modern.'
The ubiquity of 'shapewear' means a sort of Russian doll situation is going on. For argument's sake we will use American and pretend we're at the Oscars – a size-10 woman wears uncomfortable pants so she looks a size 8, and a size-6 woman wears uncomfortable pants so she looks a size 4 and so on, until we are at the equally absurd situation of a 'size 0' woman wearing uncomfy pants to make her look like she doesn't exist.
In a similar vein, if the women who are 162 cm tall wear high heels so they look 168 cm tall and the women who are 168 cm tall wear high heels to look 2 metres tall and the women who are 2 metres tall bring a library step ladder then . . . I've lost my train of thought.
Picture: Late 19th century corsets from Norah Waugh's book Corsets and Crinolines, National Library of Australia.
Generally, shapewear is just corsets and tight underpants made with fancier new fabrics, sometimes with a celebrity label on it. It's doing exactly the same thing, for exactly the same reason: to modify a natural shape. Modern corseted bodies get clicks on social media precisely because nobody looks like that naturally. But some corsets didn't nip in the waist at all because it wasn't a fashionable look at the time.
The high-waisted Regency Era (roughly just after 1800), the drop-waisted flapper frocks of the 1920s, and the mini-shift frocks of the '60s are the few brief fashion eras in modern history that shrouded, rather than emphasised, the waist. In the 2000s, fashion has shattered into a mosaic of personal choice, mass production and the rise of mass leisure wear, which means fashion eras, like waists, will perhaps never be so tightly defined again.
'Corsets are necessary.'
While some corsets can be used for medical reasons, the vast majority weren't. Girls and women were assumed to be frail and defective, in need of support. Plus, corsets restrained bosoms from looking loose and real. Breasts were not to move independently.
At some points in fashion history, breasts were only allowed to appear as one shelf-like 'bust'. Diet advisors in 1970s girls' magazines told girls to see if they jiggled when they moved parts of their body, and if so, that was a problem. (If no part of you ever jiggles, you might be dead.)
In 2019, the Mothercare website in the UK advertised a post-baby corset, pictured on a woman wearing high heels. Remember the 19th-century physiologist Alexander Walker? I should hope not, the dismissible buffoon. In his book on beauty, he advises women plainly to employ the arts of deception. 'Those who have the bosom too small, enlarge it by the oblique folds of the dress. Those who have the lower part of the body too prominent anteriorly, elevate it by the top of the skirt being gathered behind.' Anteriorly my arse.
Picture: American actress Marie Luella, State Library of Victoria.
Just like 120 years ago, if people overdo the restriction, it can cause breathlessness, pain, extra sweating, rashes, digestive disruption and, over time, displaced internal organs, wasted muscles and forever being uncomfortable. Hardly anyone does, though. One online commenter pointed out crossly that being very pregnant also causes the same things, so it didn't matter if shapewear was doing it.
Mainly, women suited themselves, as they do now: they found their own trade-off point between comfort and how they wanted to look. Many trans women and others use a version of a corset to change their silhouette, some people do it for fun, or for cosplay. Few take it to the sad lengths of squillionaire shapewear-seller Kim Kardashian, who had to stand up without a seatbelt in a special car and hold onto a pole to be delivered in her weird corset dress to the Met Gala in 2019, dehydrated so she wouldn't need to wee because she couldn't sit down.
---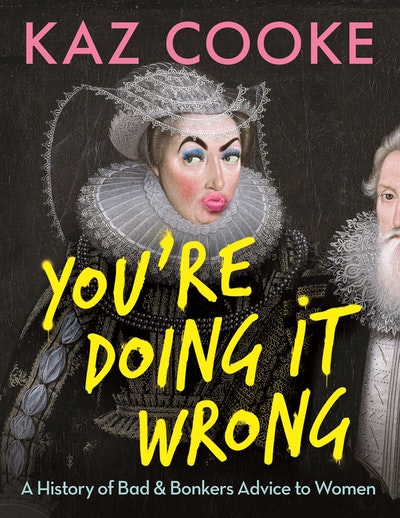 You're Doing it Wrong is an outrageous tour through the centuries of bonkers and bad advice handed down and foisted upon women, told as only Kaz Cooke can – with humour and rage, intelligence and wit.
Buy now
Buy now
---