Everybody is raving about Reese Witherspoon's book club — here are the reasons for its success.
After struggling with a career slump in the late 2000s, Reese Witherspoon has transformed herself into a fierce advocate for women and Hollywood's richest actress.
After career-defining roles in Legally Blonde and Walk the Line, Witherspoon admitted in an interview with 60 Minutes in 2014 her career began to flounder after her divorce and decisions she wasn't passionate about.  
However, with the launch of her production company Hello Sunshine and now world-famous book club, Witherspoon has risen to become one of the most successful A-Listers in history.
Senior Lecturer in Cinema and Screen Studies at Swinburne University, Dr Jessica Balanzategui, says Witherspoon's secrets to success are her relatable persona and eye for stories that thrust women into the spotlight.
Not only has she created several female-dominated TV shows, Witherspoon has also established a community for normal women all around the world through a book club featuring stories with females at the focus.
Witherspoon's November pick, The Island of Missing Trees by Elif Shafak, was described by her as a powerful and poignant story about love, grief, exile — and a fig tree who sees it all.
Her July pick, The Paper Palace, jumped 15 per cent the week she announced it.
Daisy Jones and the Six, written by Malibu Rising author Taylor Jenkins Reid, was revealed as Witherspoon's pick in March 2019.
This year it was announced the hugely acclaimed novel would be adapted into a TV show, backed by Witherspoon's company Hello Sunshine and Amazon Studios. 
In August, Witherspoon picked We Were Never Here, a gripping thriller written by Andrea Bartz about two best friends following a murder.  
With the book club starting to drum up a cult following online, Dr Balanzategui says it is Witherspoon's flair for picking the right books that has led to its huge success.
Secrets behind book club sensation
'She's really clever and savvy choosing books that are on trend by authors who are on trend,' Dr Balanzategui says.
'She always gravitates to books that are really cinematic and are likely to be popular and ones she could adapt into really successful TV shows or movies.
'She's got a really great eye for that.'
 

 

View this post on Instagram

 
Much like her Legally Blonde character Elle Woods, Dr Balanzategui said Witherspoon exceeded expectations on the silver screen to become a huge success after admitting she struggled to find lead roles. 
 'She found there was a real lack of roles for women over 40 and was really struggling in her career,' Dr Balanzategui says.
'With the launch of Hello Sunshine, she created communities of women around stories centring on women.'
Witherspoon turning the tide in Hollywood
With Hollywood historically a 'brutal place' for women, Dr Balanzategui says Witherspoon has proved there are strong characters and dramatic storylines for women over 40, and her performances bring the characters to life in a way that is relatable.   
'The intersection between the characters she plays and her own career and the statements she makes in public really help her success,' Dr Balanzategui says.
'Playing a character that juggles being a mother and being judged in public by other wealthy families, the intersection between those types of characters and her public persona work really well.'
Dr Balanzategui says Witherspoon also gives her millions of fans a glimpse into her life, with posts on social media showing she too is a busy mum who enjoys downtime with her husband and other leisurely activities like reading.
'It makes her more relatable and the book club offers access to her as well as she announces the book everyone is going to read, talks about it and encourages engagement,' she said.
'She makes herself seem like a really accessible star even though she is one of the A-List performers of our time.
Browse Reese's other book club picks
---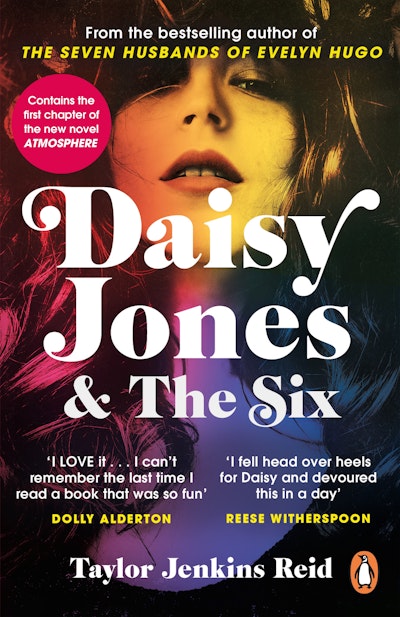 'I devoured this in a day, falling head over heels for Daisy and the band' REESE WITHERSPOON
Buy now
Buy now
---