Reading offers us entertainment and a quick escape from reality, but did you know about these other hidden health benefits?
Reading can increase your chances of survival, improve mental health and even lower the likelihood of divorce as the hidden health benefits of being a bookworm are revealed.
Research from Yale University says those who immerse themselves in a good book are 20 per cent less likely to succumb to an early death, while other experts say it can ward off dementia and connect people to the wider world.
The Yale study said books engaged readers' minds more than newspapers and magazines, and therefore led to cognitive benefits that led to longevity.
Along with increasing your chances of survival, reading comes with several other benefits that show it is a healthy habit.
Lowers likelihood of divorce
Dr Julieanne Lammond, a Senior Lecturer in the English school of literature, languages and linguistics at Australian National University, said those with a higher level of literacy were less likely to divorce.
She added reading fiction in particular led to people developing empathy and an ability to infer people's emotions from facial expressions.
'When you read a book it puts you in someone else's shoes and you think of things from somebody else's point of view,' she said.
A Harvard Medical School study published in the Journal of Family Psychology said men's relationship satisfaction came from the ability to accurately read their partner's positive emotions.
'When working with couples in treatment, heightening partners' perceptions of each other's empathic effort, and helping partners learn to demonstrate effort, may represent particularly powerful opportunities for improving satisfaction in relationships,' the study said.
According to the World Literacy Foundation, reading is key to developing empathy as it allows people to better understand the feelings of characters, the author and the human condition.
Improves mental health
Dr Lammond said reading was a mindful activity that could reduce mental health issues.
Nurturing men's mental health is particularly important, as 75 per cent of those who take their life in Australia are male, according to Lifeline.
'It's primarily something people can do that's relaxing and enables you to switch off from daily life and focus on your own enjoyment,' she said.
She added in some parts of the world, doctors even prescribed books as part of treatment plans for mental health issues.
Lowers the risk of dementia
Dr Lammond said reading could lower the risk of dementia, with those engaging in leisure activities less likely to develop the illness.
'Working connective tissues of the brain and keeping the brain active by reading can really help,' she said.
A study published in the JAMA Psychiatry medical journal claims that reading daily could lower the risk of dementia.
More than 15,000 people over the age of 65 were tracked for five years by researchers at Hong Kong's Elderly Health Centres.
They found daily participation in intellectual activities, like reading books, was associated with a significantly lower risk of dementia in participants several years later.
'Active participation in intellectual activities, even in late life, might help prevent dementia in older adults,' the study said.
Helps you become a positive role model
Dr David Caldwell, Senior Lecturer in English language and literacy at the University of South Australia, said that if an adult isn't modelling reading, it is more likely that their children won't take up reading, which can adversely impact their language development.
'One of the recommendations I would make is that adults openly talk about reading with their children – ask your children about the books they are reading, and possibly even read the books your children are reading,' he said.
Sharing the experience with your child can encourage conversations about books, fostering a love of reading and therefore improving spelling and vocabulary in children.
The two-minute rule to change a habit
For those struggling to take up reading, James Clear, author of Atomic Habits, says starting a new habit should take no longer than two minutes.
Rather than saying, 'I will read before bed', he suggests telling yourself you will "read one page".
'When you dream about making a change, excitement inevitably takes over and you end up trying to do too much too soon,' Clear says.
'The idea is to make your habits as easy as possible to start. Anyone can meditate for one minute, read one page, or put one item of clothing away.'
---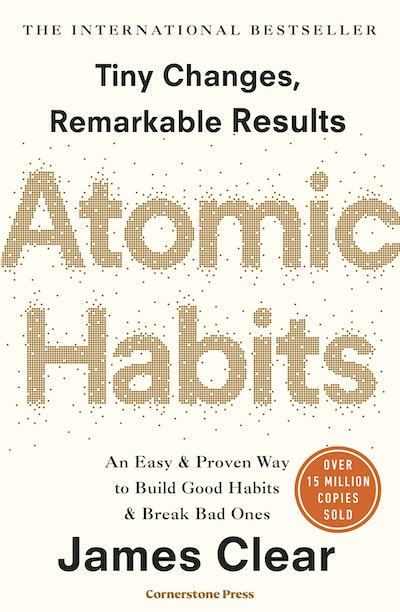 A revolutionary guide to using tiny changes in behaviour to transform your life
Buy now
Buy now
---