Use the two-minute rule from Atomic Habits to get motivated.
Looking at Facebook for the 50th time today? Making one more cup of tea before you tackle that challenging project? We've all been there. James Clear writes in Atomic Habits that focussing on good habits in daily life can have a profound effect on your future self. Putting off your project today might mean you just have to finish it later, but these poor decisions over time accumulate and lead to problems down the track.
'It is so easy to overestimate the importance of one de­fining moment and underestimate the value of making small improvements on a daily basis. Too often, we convince ourselves that massive success requires massive action. Whether it is losing weight, building a business, writing a book, winning a championship, or achieving any other goal, we put pressure on ourselves to make some earth-shattering improvement that everyone will talk about,' says Clear.
Make some tiny improvements today and spot the difference over time. Use the Two-Minute Rule below, straight from the pages of Atomic Habits, to get started.
THE TWO-MINUTE RULE
Even when you know you should start small, it's easy to start too big. When you dream about making a change, excitement inevitably takes over and you end up trying to do too much too soon. ­ The most effective way I know to counteract this tendency is to use the Two-Minute Rule, which states, "When you start a new habit, it should take less than two minutes to do."
You'll find that nearly any habit can be scaled down into a two-minute version:
"Read before bed each night" becomes "Read one page."
"Do thirty minutes of yoga" becomes "Take out my yoga mat."
"Study for class" becomes "Open my notes."
"Fold the laundry" becomes "Fold one pair of socks."
"Run three miles" becomes "Tie my running shoes."
­The idea is to make your habits as easy as possible to start. Anyone can meditate for one minute, read one page, or put one item of clothing away. And, as we have just discussed, this is a powerful strategy because once you've started doing the right thing, it is much easier to continue doing it. A new habit should not feel like a challenge. ­The actions that follow can be challenging, but the first two minutes should be easy. What you want is a "gateway habit" that naturally leads you down a more productive path.
You can usually figure out the gateway habits that will lead to your desired outcome by mapping out your goals on a scale from "very easy" to "very hard." For instance, running a marathon is very hard. Running a 5K is hard. Walking ten thousand steps is moderately difficult. Walking ten minutes is easy. And putting on your running shoes is very easy. Your goal might be to run a marathon, but your gateway habit is to put on your running shoes. ­That's how you follow the Two-Minute Rule.
| | | | | |
| --- | --- | --- | --- | --- |
| Very easy | Easy | Moderate | Hard | Very hard |
| Put on your running shoes | Walk ten minutes | Walk ten thousand steps | Run a 5K | Run a marathon |
| Write one sentence | Write one paragraph | Write one thousand words | Write a five-thousand-word article | Write a book |
| Open your notes | Study for ten minutes | Study for three hours | Get straight A's | Earn a PhD |
People often think it's weird to get hyped about reading one page or meditating for one minute or making one sales call. But the point is not to do one thing. The point is to master the habit of showing up. The truth is, a habit must be established before it can be improved. If you can't learn the basic skill of showing up, then you have little hope of mastering the finer details. Instead of trying to engineer a perfect habit from the start, do the easy thing on a more consistent basis. You have to standardize before you can optimize.
As you master the art of showing up, the first two minutes simply become a ritual at the beginning of a larger routine. This is not merely a hack to make habits easier but actually the ideal way to master a difficult skill. The more you ritualize the beginning of a process, the more likely it becomes that you can slip into the state of deep focus that is required to do great things. By doing the same warm-up before every workout, you make it easier to get into a state of peak performance. By following the same creative ritual, you make it easier to get into the hard work of creating. By developing a consistent power-down habit, you make it easier to get to bed at a reasonable time each night. You may not be able to automate the whole process, but you can make the first action mindless. Make it easy to start and the rest will follow.
The Two-Minute Rule can seem like a trick to some people. You know that the real goal is to do more than just two minutes, so it may feel like you're trying to fool yourself. Nobody is actually aspiring to read one page or do one push-up or open their notes. And if you know it's a mental trick, why would you fall for it?
If the Two-Minute Rule feels forced, try this: do it for two minutes and then stop. Go for a run, but you must stop after two minutes. Start meditating, but you must stop after two minutes. Study Arabic, but you must stop after two minutes. It's not a strategy for starting, it's the whole thing. Your habit can only last one hundred and twenty seconds.
One of my readers used this strategy to lose over one hundred pounds. In the beginning, he went to the gym each day, but he told himself he wasn't allowed to stay for more than five minutes. He would go to the gym, exercise for five minutes, and leave as soon as his time was up. After a few weeks, he looked around and thought, "Well, I'm always coming here anyway. I might as well start staying a little longer." A few years later, the weight was gone.
Journaling provides another example. Nearly everyone can bene­fit from getting their thoughts out of their head and onto paper, but most people give up after a few days or avoid it entirely because journaling feels like a chore. The secret is to always stay below the point where it feels like work. Greg McKeown, a leadership consultant from the United Kingdom, built a daily journaling habit by speci­fically writing less than he felt like. He always stopped journaling before it seemed like a hassle. Ernest Hemingway believed in similar advice for any kind of writing. "The best way is to always stop when you are going good," he said.
Strategies like this work for another reason, too: they reinforce the identity you want to build. If you show up at the gym ­five days in a row—even if it's just for two minutes—you are casting votes for your new identity. You're not worried about getting in shape. You're focused on becoming the type of person who doesn't miss workouts. You're taking the smallest action that con­ rms the type of person you want to be.
We rarely think about change this way because everyone is consumed by the end goal. But one push-up is better than not exercising. One minute of guitar practice is better than none at all. One minute of reading is better than never picking up a book. It's better to do less than you hoped than to do nothing at all.
At some point, once you've established the habit and you're showing up each day, you can combine the Two-Minute Rule with a technique we call habit shaping to scale your habit back up toward your ultimate goal. Start by mastering the first two minutes of the smallest version of the behavior. Then, advance to an intermediate step and repeat the process—focusing on just the first two minutes and mastering that stage before moving on to the next level. Eventually, you'll end up with the habit you had originally hoped to build while still keeping your focus where it should be: on the first two minutes of the behavior.
Nearly any larger life goal can be transformed into a two-minute behavior. I want to live a healthy and long life > I need to stay in shape > I need to exercise > I need to change into my workout clothes. I want to have a happy marriage > I need to be a good partner > I should do something each day to make my partner's life easier > I should meal plan for next week.
Whenever you are struggling to stick with a habit, you can employ the Two-Minute Rule. It's a simple way to make your habits easy.
EXAMPLES OF HABIT SHAPING
| | | | |
| --- | --- | --- | --- |
| Habit | Becoming an Early Riser | Becoming Vegan | Starting to Exercise |
| Phase 1 | Be home by 10 p.m. every night. | Start eating vegetables at each meal. | Change into workout clothes. |
| Phase 2 | Have all devices (TV, phone, etc.) turned off by 10 p.m. every night. | Stop eating animals with four legs (cow, pig, lamb, etc.). | Step out the door (try taking a walk). |
| Phase 3 | Be in bed by 10 p.m. every night (reading a book, talking with your partner). | Stop eating animals with two legs (chicken, turkey, etc.). | Drive to the gym, exercise for five minutes, and leave. |
| Phase 4 | Lights off by 10 p.m. every night. | Stop eating animals with no legs (fish, clams, scallops, etc.). | Exercise for fifteen minutes at least once per week. |
| Phase 5 | Wake up at 6 a.m. every day. | Stop eating all animal products (eggs, milk, cheese). | Exercise three times per week. |
---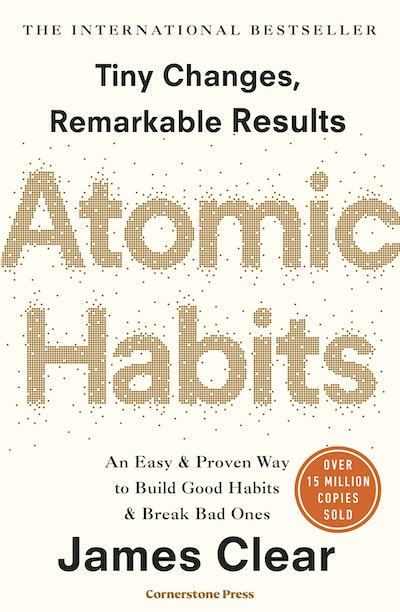 A revolutionary guide to using tiny changes in behaviour to transform your life
Buy now
Buy now
---