Commissioning Editor for Young Readers, Jess Owen, speaks about her experience working with the Indigenous Literacy Foundation.
This week there's a special event that is one of my favourite days on the publishing calendar – Indigenous Literacy Day hosted by the Indigenous Literacy Foundation. This Wednesday's online celebration will be quite different to the previous events held at the Sydney Opera House that I've volunteered at or attended as a guest, but 2020 has been a different year.
What is most exciting for me though is that this week I'm also working on the final touches of the illustrated fiction book Ngiya Yintanga Japarrika by Tiwi College Alalinguwi Jarrakarlinga before we send the files to print. Preparing this book to be released to the public is the best way I can think of to champion Indigenous voices and showcase the benefits of funding to programs run by the ILF.
The book tells the inspiring story of a young Tiwi woman's journey to greatness in the AFLW and was originally produced as part of the ILF Create Initiative. In October 2019, ten young Indigenous women from Tiwi College visited Sydney where, together with Penguin Random House staff and two mentors – David Lawrence and Shelley Ware – they created the book in five days.
Anyone who has been a part of publishing, either as a creator or working for a publishing house, knows that it usually takes much, much longer than five days to create a book, so it was amazing for high school students to tackle this challenge. Working with the Tiwi College girls for that week back in 2019 and seeing them brainstorm ideas, plot out narrative chapters, write each chapter, illustrate line drawings for the book, edit and create the back-cover blurb was a phenomenal experience. My job as an editor is to help people to tell their stories, but these girls didn't need a huge amount of guidance. They knew the best name to give the evil aunt in the story, Pwamika – meaning death adder in Tiwi, how to showcase their favourite bush tucker and they knew exactly how to articulate the experience of being away from family and Country when travelling to a big city for a new opportunity.
Many of these girls had been part of the creative team who produced the first two books in this series, Japarrika and Japarrika Rises, so the other thing that became apparent as we worked through these projects was how the girls' confidence in their ideas and writing progressed over time. They were thrilled to be contributing to a book that they could then take back to their school, friends and family, sharing their love of books with their community. And it must be a special feeling for these girls to know that their book about a local Tiwi girl just like them will be shared with the rest of Australia on 3 November this year.
So as I watch the ILD celebrations on Wednesday via YouTube, I'll also be thinking about what Indigenous books and creators we can champion next, because those are the stories that are at the core of ILD and producing stories that reflect the diversity of Australia will help create readers in every community.
Jess Owen at the Sydney Opera House, Indigenous Literacy Day 2019
Click on the image below to watch the Indigneous Literacy Day celebration 2020 on YouTube:
---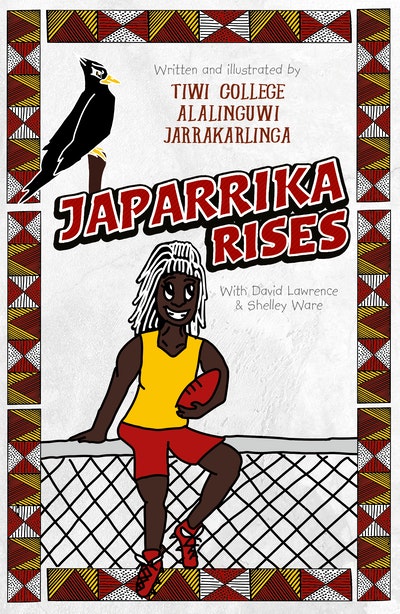 From the creators of Japarrika comes a new inspiring story of a young Tiwi woman's journey to greatness.Penguin Random House will donate all profits from the sale of this book to Tiwi College and the Indigenous Literacy Foundation.
Buy now
Buy now
---