A go-to guide to cricket's colourful terminology.
'Howzat' isn't just a Sherbet song. And a sledge isn't just a way to get downhill fast. Cricket has always had its own colourful language, which, over the years, has snuck into everyday use. In Australia these days, it isn't only on the cricket ground that you can get runs on the board, let something go through to the keeper, or find yourself on a sticky wicket.
 
On the field itself, cricket can be a bit confusing if you don't know the lingo. Here's our quick guide to some of the terminology you need to have up your sleeve if you dream of becoming a cricket tragic.

Duck
A pretty straightforward one to start with. When a batter is dismissed without scoring a run, it's called a 'duck'. As in: duck egg, zero, zilch, nought, nothing, etc. You get the picture.
 
'No-one at The Oval could believe their eyes when the legendary Don Bradman was out for a duck in his last-ever Test innings.'
 
Flipper
This is a type of ball delivered by a spin bowler – usually a leg-spinner like Shane Warne. Without getting too technical, a flipper has a low trajectory after leaving the bowler's hand, it's faster than it looks, and it skids low after hitting the ground. A potentially lethal combination! Shane bowled his fair share of flippers, and became world famous for them, on his way to taking 708 Test wickets.
 
'I love facing a Shane Warne flipper.'*
*said no batsman, ever.


Silly point
Each fielding position has a name, and to non-cricket fans they can seem a bit eccentric: fine leg, square leg, long leg, silly point, silly mid-on, silly mid-off, etc. The word 'silly' is intentional, though. Those last three positions are only 10 or 15 metres away from the bat – they're not for the faint-hearted!

'You don't have to be crazy to field at silly point. But it helps.'
 
 
Beamer
No, not an excellently engineered German motor car. Take our word for it – no-one wants one of these. A beamer is a ball delivered by a bowler – usually a fast bowler – which is bowled at the batter's head. It's nearly always accidental, definitely dangerous, and absolutely not within the rules of the game. So don't try this at home!  
 
'Sorry, it slipped.'*
*what every bowler who has ever bowled a beamer has said immediately afterwards, whether it was true or not...


Snickometer
In modern-day TV sports coverage, the fancy gadgets and gizmos come thick and fast. Cricket is no exception. Sometimes, to the naked eye, it can be almost impossible to tell whether the ball has brushed against the bat before being caught by a fielder (usually the wicket-keeper, who stands directly behind the batter). Enter the snickometer – or 'snicko', to those in the know. It's a slow-motion device that homes in on the edge of the bat, capturing the split-second at which the ball and bat came into contact (or not).
 
'Ooh, that was close! Was he out? Let's have a look at snicko …'


Bunny
If a batter is dismissed by the same bowler time after time after time, they're often referred to as the bowler's 'bunny'. Warney terrified countless batsmen, but his bunny was definitely Daryll Cullinan. The South African admitted to seeking the help of a psychologist, which – the next time he got Daryll out – led to one of Shane's more famous quotes:     

'What colour was the couch?'
---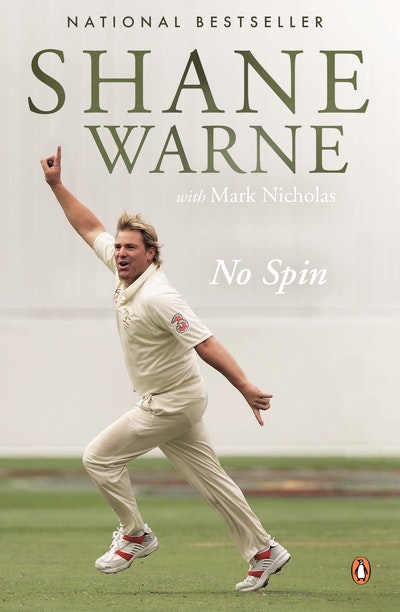 No Spin is the last word on Shane Warne's extraordinary cricketing career and his life off the pitch.
Buy now
Buy now
---