Try your hand at James Strawbridge's vegetarian pub classic.
Serves 2
I first started serving cauliflower steaks on restaurant menus a few years back and they quickly became a personal favourite. This recipe is an homage to pub grub – a classic indulgent date-night steak, cooked in a skillet to bring out the inherent meaty texture and nutty flavours, with roasted veg and a boozy peppercorn sauce.
Ingredients
2 cauliflower steaks (see Preparation, page 207)
1 tsp sea salt
1 tsp cracked black pepper
2 tbsp olive oil, plus extra for drizzling
50g (1¾oz) butter, diced
2 sprigs of thyme
2 garlic cloves, crushed
2 portobello mushrooms
1 beefsteak tomato, halved
Small bunch of chard or kale
1 tbsp lemon juice
Onion rings, to garnish (optional)
For the peppercorn sauce
50g (1¾oz) butter
1 shallot, finely diced
2 garlic cloves, diced
½ tsp green peppercorns, crushed
½ tsp black peppercorns, crushed
½ tsp dried thyme
50ml (2fl oz) brandy
150ml (5fl oz) double cream
Preheat the oven to 200°C (180°C fan/400°F/Gas 6).
Season the 2 large cauliflower steaks with salt and pepper. Drizzle with the olive oil and start heating a heavy cast-iron skillet or ovenproof frying pan.
Add the steaks to the pan when hot and sear for 3–4 minutes on each side, then add the butter, thyme leaves, and crushed garlic. Cook for another 4–5 minutes, spooning the hot butter over the steaks, then transfer the pan to the oven and roast for 15–20 minutes.
Place the tomato and mushrooms on a baking sheet, drizzle with a little oil, and roast in the oven at the same time as the cauliflower, also for 15–20 minutes.
In a pan, wilt the chopped chard or kale in a little oil and drizzle with the lemon juice.
Finally, make the peppercorn sauce. Melt the butter in a pan, then add the shallot, garlic, crushed peppercorns, and thyme, then soften for 5 minutes. Add in the brandy and reduce for 2–3 minutes. Then follow with the cream. Stir to combine and then remove from the heat.
Serve the cauli steaks with the roasted vegetables and wilted chard, drizzled with the warm peppercorn sauce.
Garnish with battered onion rings for an extra treat.
---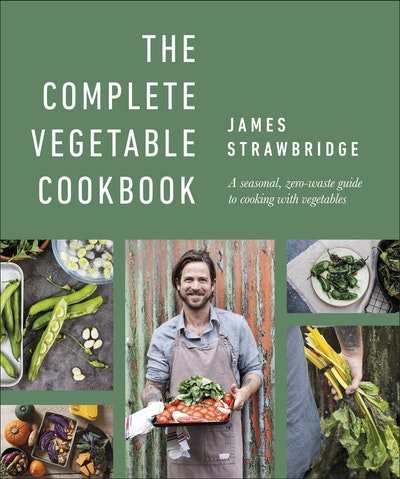 A reference and recipe resource on how to prepare and cook the edible parts of over 60 vegetables
Buy now
Buy now
---