A colourful and bold dish that unleashes another side to this tender vegetable.
Cook this dish either in a hot oven or straight over glowing embers. The blackened purple broccoli tips take on a deep earthy flavour that sings alongside the sweet stems and delicate flower shoots. It's colourful, bold, and unleashes anotherside to this tender vegetable. You could also try a whole tandoori-roasted broccoli, served in a rich curry sauce.
Serves 2.
Ingredients
12 purple-sprouting broccoli stems
Sea salt
Pink pickled onions, to garnish
Charcoal salt

For the tandoori rub:

1 tsp paprika
1 tsp coriander seeds
1 tsp fennel seeds1 tsp sea salt
½ tsp Kashmiri chillipowder
2 tbsp rapeseed oil
For the masala sauce

50g (1¾oz) ghee
1 tsp grated garlic
1 tsp grated fresh root ginger½ onion, finely diced
1 tsp garam masala
1 tsp ground coriander
½ tsp red chilli powder
½ tsp turmeric
1 tsp ground cardamom
1 tbsp tomato paste
Sea salt
Method
1. Preheat the oven to 220°C (200°C fan) or light a fire under a barbecue grill. First, mix the tandoori spices with the rapeseed oil, then rub this over the broccoli.
2. For the masala sauce, start by melting the ghee in a saucepan. Blitz the garlic, ginger, onion, and spices in a food processor, then mix into the ghee to form a smooth paste. Add the tomato paste and a splash of water to slacken the mixture and simmer for 5–10 minutes. Season to taste with the salt.
3. Either roast or grill the spiced broccoli stems for 8–10 minutes until charred and crispy in places, turning ifnecessary. Season with the sea salt.
4. Serve the charred broccoli with the masala sauce spooned over the top. Garnish with pink pickled onions to cut through the rich spice and season to taste with the charcoal salt.
---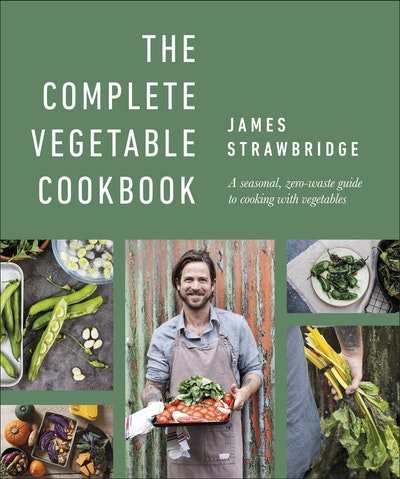 A reference and recipe resource on how to prepare and cook the edible parts of over 60 vegetables
Buy now
Buy now
---