A quick and easy favourite from the Healthy Keto Air Fryer Cookbook.
These cheesy stu­ffed mushrooms are packed with protein. They make an appetizing snack or they can be a main meal when combined with a side salad.
Prep time: 5 minutes
Cook time: 5 minutes
Makes: 5 mushrooms
Serving size: 1 mushroom
3oz (90g) feta cheese, crumbled
2 tbsp sour cream
2 garlic cloves, crushed
1 tsp dried parsley ¼ tsp sea salt
1 tsp ground black pepper
5 large portobello mushrooms (14oz [400g]), cleaned, stems and gills removed
2oz (60g) shredded mozzarella cheese
Set the air fryer temp to 350°F (175°C).
In a medium bowl, combine the feta, sour cream, garlic, parsley, salt, and pepper. Mix well. Spoon an equal amount into each mushroom and top each with an equal amount of mozzarella.
Place the mushrooms in the fryer basket and cook until they begin to turn colour and become slightly soft, about 5 minutes.
Transfer the mushrooms to a platter and serve immediately.
Hungry for more recipes? Sign up to our foodie email here
---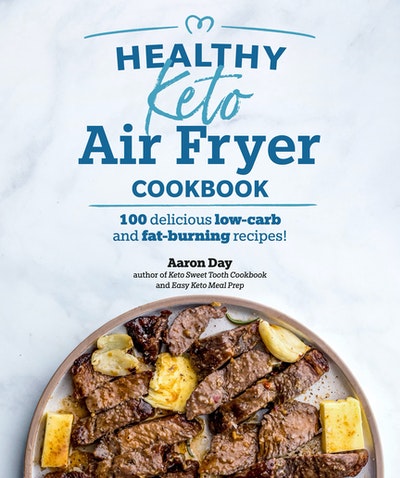 Maximize your weight loss results by using your air fryer to follow the keto diet.
Buy now
Buy now
---