"Pound" cake comes from using a pound each of four ingredients, but Aaron Day shows how to get the same buttery-rich texture without the sugar and extra carbs in this delicious keto air fryer recipe.
Prep Time: 15 minutes
Cook Time: 30 minutes 
Makes: 8 slices
Serving Size: 1 slice

Nutrition per 1 slice 
235 calories
22g total fat
3g net carbs
8g protein
3g dietary fibre

Ingredients
½ cup salted butter (1 stick), melted
½ cup erythriotol sweetener (120g/4oz)
3 large eggs
1 ½ cups almond flour
Zest of 1 lemon
Juice of 1 lemon
2 tsp baking powder
1 tbsp gelatin powder

For the icing
½ cup powdered erythritol sweetener
1 tbsp freshly squeezed lime juice
½ tsp lemon zest

Method
1. Set the air fryer on the bake setting and at 155°C (315°F). Line an 20cm (8-inch) springform pan with parchment paper.
2. In a medium bowl, use a hand mixer to combine the butter and erythritol until lightly fluffy. Add the eggs and continue to beat until well combined.
3. Add the almond flour, lemon zest and juice, baking powder, and gelatin powder. Mix well. Place the mixture in the pan.
4. Place the pan in the fryer basket and bake for 30 minutes. Check for doneness by inserting a toothpick in the middle. If the toothpick comes out clean, the cake is done.
5. In a small bowl, make the icing by combining the powdered erythritol and lime juice. Mix until it resembles icing. Add more lime juice if the erythritol is too dry.
6. Remove the pan from the fryer basket and allow the cake to cool completely. Top with the icing and sprinkle the lemon zest over the top. Slice into 8 slices before serving.
Tips: Serve this with a scoop of keto-friendly ice cream or a dollop of whipping cream. Store the baked cake in an airtight container in the fridge for up to 7 days or in the freezer for up to 2 months.
---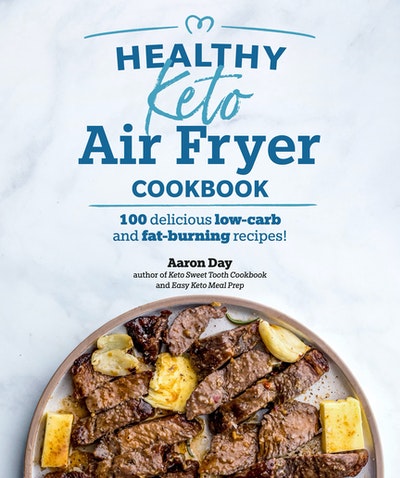 Maximize your weight loss results by using your air fryer to follow the keto diet.
Buy now
Buy now
---