These cheesecake bars are thick, chocolatey and ultra-indulgent.
The no-bake chocolate hazelnut cheesecake bars have a sweet buttery biscuit base and a smooth chocolate hazelnut filling. They only take 15 minutes to make, then just pop them into the refrigerator to set before serving. 
Makes 16
Cook 15 minutes plus 6 hours chilling
For the base:
280g (10oz) cookies and cream biscuits (I use Oreos) + 8 extra, halved, to decorate 
100g (7 tbsp) unsalted butter, melted
For the filling:
500g (1lb) cream cheese
400g (1 ½ cups) chocolate spread (I use Nutella)
70g (generous ½ cup) icing (powdered) sugar 
1. Line a 20cm (8in) square baking tin with nonstick baking paper.
2. To make the base, put the biscuits into a food processor and process until finely crushed. Alternatively, put them into a plastic bag and crush with a rolling pin. Tip into a medium bowl, then pour in the melted butter and mix together with a spoon until fully combined. 
3. Press the mixture firmly into the bottom of your prepared tin, then pop into the refrigerator while you make the filling. 
4. Put the cream cheese, chocolate hazelnut spread and icing (powdered) sugar into a large mixing bowl and beat with an electric hand mixer until smooth and creamy. 
5. Remove the chilled base from the refrigerator, then spoon in the filling, smoothing it out to the edges. Decorate with the halved biscuits, then chill in the refrigerator for at least 6 hours or overnight, if possible, until set. Cut into 16 squares to serve. 
6. Store in the refrigerator for up to 3 days. 
Swap: Instead of cookies and cream biscuits, you could use digestive biscuits (or graham crackers).
Hungry for more recipes? Sign up to our foodie email here
---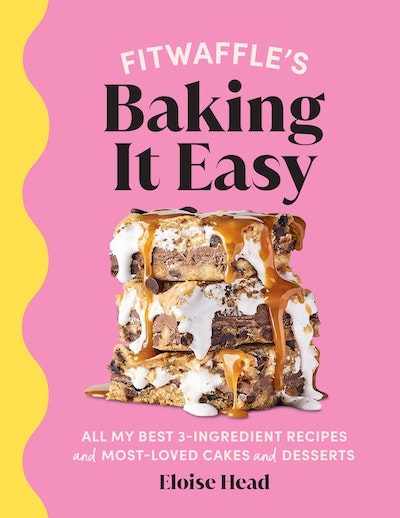 Social media baking superstar Fitwaffle (6 million followers) bakes quick and easy cakes, cookies, traybakes and puddings using only 3 ingredients.
Buy now
Buy now
---