Try your hand at this delicious cauliflower casserole using your air-fryer.
Turn a pasta dish vegan with a cashew-based sauce. Roasted cauliflower helps displace some of the pasta and adds a veggie to the mix for a complete meal.
Makes: 4 servings
Fryer temperature: 400°F
Prep time: 20 minutes
Cook time: 17 minutes
1 head of cauliflower, trimmed and chopped
1⁄4 tsp kosher salt
1 tbsp olive oil
4 cups cooked elbow macaroni
1⁄2 cup shredded vegan mozzarella-style cheese (Daiya recommended)
Red pepper flakes (optional)
For the sauce
1 cup raw cashews
Juice of 2 lemons
14oz (400g) canned coconut milk
2 tbsp nutritional yeast
¼ tsp garlic powder
1 tsp kosher salt
½ tsp freshly ground black pepper
To make the cream sauce, place the cashews in a medium bowl, cover with boiling water, and soak for 15 minutes. Drain the water and transfer the cashews to a blender. Add the lemon juice, coconut milk, nutritional yeast, garlic powder, salt, and pepper. Blend until smooth. Set aside.
Set the air fryer temp to 400°F. Spray 4 mini loaf pans with non-stick cooking spray. Set aside.
In a large bowl, combine the cauliflower, olive oil, and salt. Toss well to coat.
Place the cauliflower in the fryer basket and cook until slightly tender and the edges are golden brown, about 5 minutes. Clean out any crumbs from the fryer basket.
Transfer the cauliflower to a large bowl. Add the pasta and 1 cup of the sauce. Evenly divide the pasta mixture among the 4 pans. Sprinkle an equal amount of cheese over each mixture. (Refrigerate the remaining sauce for up to 5 days.)
Working in batches, place 2 pans in the fryer basket and cook until the cheese melts, about 5 to 6 minutes.
Remove the pans from the fryer basket. Allow the casseroles to cool slightly. Serve with the red pepper flakes (if using).
Tip: Make the cashew cream ahead of time and store in the fridge. It tastes even better the next day. This recipe makes about 3 cups, so you'll have some left over.
Hungry for more recipes? Sign up to our foodie email here
---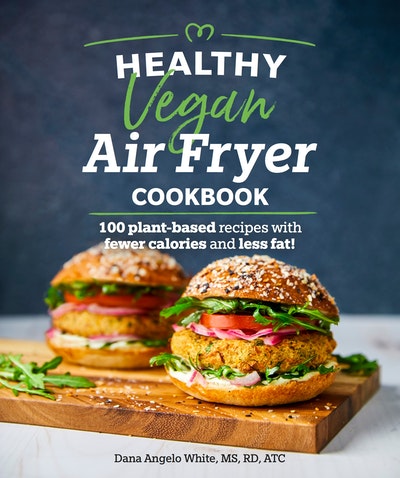 You don't have to compromise your health or your vegan lifestyle to enjoy fried foods!
Buy now
Buy now
---