Don't compromise on flavour in this delicious blackberry shortcake recipe from the Healthy Vegan Air Fryer Cookbook.
Shortcake-style desserts are one of the best things to make in the air fryer. The high heat and circulating air make the biscuits flaky and delicious.
Makes 4 slices
Serving size 1 slice
400 calories per serving
Air fryer temperature 320°F (160°C)
Prep 20 minutes
Cook 12 minutes
1 cup all-purpose flour
2 tbsp granulated sugar
1½ tsp baking powder
⅛ tsp kosher salt
2 tbsp coconut oil
¼ cup unsweetened soy milk
2 cups fresh blackberries
For the cream
14oz (400g) canned coconut milk, refrigerated overnight
1½ tbsp powdered sugar
2 tsp orange zest
Set the air fryer temp to 320°F (160°C).
To make the cream, turn over the can of coconut milk and open the bottom. Drain the liquid (reserve for another use) and scoop the remaining solids (about ¾ cup) into the bowl of a stand mixer fitted with the whisk attachment. Add the powdered sugar and orange zest and whisk until fluffy, about 2 to 3 minutes. Set aside. (You'll have about ¼ cup of cream left over. Refrigerate for up to 3 days.)
In a large bowl, whisk together the flour, granulated sugar, baking powder, and salt. Add the coconut oil and use a pastry cutter to work the oil into the flour until distributed throughout the dry ingredients.
Add the soy milk and use clean hands to gently mix. Be careful not to overmix. Gently press the dough into a baking dish.
Place the dish in the fryer basket and bake until the edges are golden, about 12 minutes.
Remove the dish from the fryer basket and allow the shortcake to cool for 10 minutes.
Transfer the shortcake to a serving platter and cut into 4 slices. Top each slice with 2 tablespoons of cream and an equal amount of the blackberries before serving.
Tip: Flavour the biscuits without adding any calories with a sprinkle of ground cinnamon or a few teaspoons of orange zest before baking.
Hungry for more recipes? Sign up to our foodie email here
---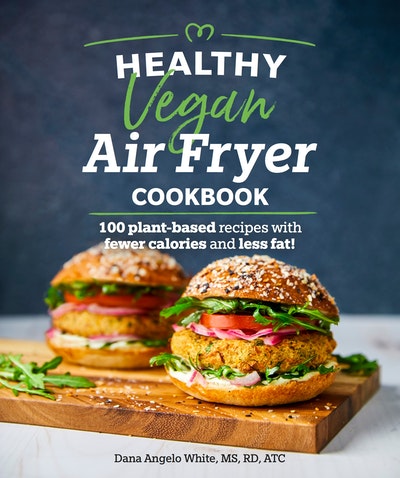 You don't have to compromise your health or your vegan lifestyle to enjoy fried foods!
Buy now
Buy now
---