The fruit mince in this recipe is quick to prepare and needs no time to mature, making these an easy festive treat to bake.
Makes 18
Prep 20 mins
Prep ahead the pastry can be made 2 days ahead and kept in the refrigerator, wrapped in cling film, or frozen for up to 8 weeks
Chill 10 mins
Bake 10–12 mins
Store the pies will keep for 3 days in an airtight container
SPECIAL EQUIPMENT
7.5cm (3in) round pastry cutter
and 6cm (21⁄2in) round or shaped cutter
fairy cake tin
INGREDIENTS
1 small cooking apple
30g (1oz) butter, melted
85g (3oz) sultanas
85g (3oz) raisins
55g (13⁄4oz) currants
45g (11⁄2oz) mixed peel, chopped
45g (11⁄2oz) chopped almonds or hazelnuts
finely grated zest of 1 lemon
1 tsp mixed spice
1 tbsp brandy or whisky
30g (1oz) dark brown muscovado sugar
1 small banana, finely diced
500g (1lb 2oz) shortcrust pastry, shop-bought
plain flour, for dusting
icing sugar, for dusting
METHOD
1. Preheat the oven to 190°C (375°F/Gas 5). To make the fruit mince, grate the apple (including the skin) into a large bowl. Add the melted butter, sultanas, raisins, currants, mixed peel, nuts, lemon zest, mixed spice, brandy or whisky, and sugar. Mix until well combined. Add the banana and mix again.
2. Roll out the pastry on a lightly floured work surface to a thickness of 2mm (scant 1⁄8in) and cut out 18 circles using the larger biscuit cutter. Re-roll the pastry, and cut 18 smaller circles or festive shapes, such as stars.
3. Line fairy cake tins with the larger pastry circles, and place a heaped teaspoon of mincemeat in each case. Top with the smaller circles or shapes.
4. Chill for 10 minutes, then bake for 10–12 minutes or until the pastry is golden. Carefully remove from the tins and cool on a wire rack. Dust with icing sugar to serve.
---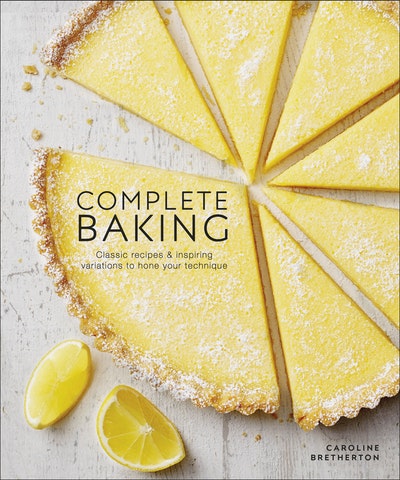 Follow clear, precise photography that shows every single step of the process for 80 classic recipes, then try your skills out on more than 250 variations of these recipes.
Buy now
Buy now
---