A mash of ripe bananas is delicious baked in this sweet, bread-like cake, while spices and nuts add flavour and crunch.
Makes 2 loaves
Prep 20–25 mins
Bake 35–40 mins
Store the loaves will keep in an airtight container for 3–4 days; or frozen for up to 8 weeks. It can be served sliced and spread with cream cheese or butter, and is also good toasted.
Special Equipment
2 x 450g (1lb) loaf tins
Ingredients
unsalted butter, for greasing
375g (13oz), strong white bread flour,
plus extra for dusting
2 tsp baking powder
2 tsp cinnamon
1 tsp salt
125g (41⁄2oz) walnut pieces,
coarsely chopped
3 eggs
3 ripe bananas, peeled and chopped
finely grated zest and juice of 1 lemon
125ml (4fl oz) vegetable oil
200g (7oz) granulated sugar
100g (31⁄2oz) soft brown sugar
2 tsp vanilla extract
cream cheese or butter, to serve (optional)
Steps
1. Preheat the oven to 180°C (350°F/Gas 4). Grease each of the loaf tins thoroughly.
2. Sprinkle 2–3 tablespoons of flour into each tin. Turn to coat and tap to remove excess flour.
3. Sift the flour, baking powder, cinnamon, and salt into a large bowl. Mix in the walnuts.
4. Make a well in the centre of the flour mixture for the wet ingredients.
5. Beat the eggs in a separate bowl with a fork or hand whisk.
6. Mash the bananas with a fork in another bowl, until they form a smooth paste.
7. Stir the bananas into the egg mixture until well blended. Add the lemon zest and mix.
8. Add the oil, granulated and brown sugars, vanilla, and lemon juice. Stir until combined.
9. Pour three-quarters of the banana mixture into the well in the flour, and stir well.
10. Gradually blend in the dry ingredients, adding the remaining banana mixture.
11. Stir until just smooth; if the batter is over-mixed, the banana bread will be tough.
12. Spoon the batter into the tins, dividing it equally. The tins should be about half full.
13. Bake for 35–40 minutes until the loaves start to shrink away from the sides of the tins.
14. Test each loaf with a skewer inserted into the centre; it should come out clean.
15. Let the loaves cool slightly, then transfer to a wire rack to cool completely.
---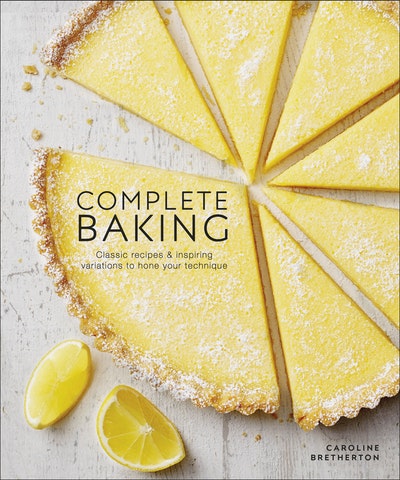 Follow clear, precise photography that shows every single step of the process for 80 classic recipes, then try your skills out on more than 250 variations of these recipes.
Buy now
Buy now
---