In Thermo Cooker Fresh Favourites Alyce Alexandra shares real-food recipes celebrating seasonal produce, such as these moreish dumplings.
Warning: these dumplings are addictive! I just love how something so moreish is actually predominantly cauliflower and other veggies. They're Loryn's creation, and the first time I tasted them I knew they were perfect for this book – utterly delicious, yet made with plenty of fresh ingredients. This recipe makes a huge batch, which is perfect because they freeze well and don't need to be defrosted before cooking – assuming of course you
don't eat them all in one sitting like we do!
VEGGIE GYOZA
MAKES 80
DAIRY FREE
VEGETARIAN
VEGAN
INGREDIENTS
3cm piece ginger, peeled
3 garlic cloves, peeled
20g toasted sesame oil
400g cauliflower (approx. 400g), roughly chopped
360g extra firm tofu, chopped into 4cm cubes
2 small heads of boy choy, ends trimmed and halved
100g fresh shiitake mushrooms, halved
75g miso paste
25g tamari
15g maple syrup
3 teaspoons Chinese five spice powder
1 bunch spring onions, thinly sliced
80 gyoza or gow gee wrappers (approx. 2 packets)
Rice bran oil, for frying
Water (1–2 tablespoons)
METHOD
Place ginger and garlic in TC bowl, chop for 5 seconds, speed 5. Scrape down sides. 
Add sesame oil, sauté for 5 minutes, 100°C, speed 1.
Add cauliflower, tofu, bok choy and mushrooms, mince for 10 seconds, speed 4, assisting with spatula.
Add miso paste, tamari, maple syrup and five spice powder, cook for 8 minutes, 100°C, reverse speed 2, MC removed.
Fold through spring onions using a spatula, mixing the bottom mixture to the top.
Place 1 heaped teaspoon of filling in the middle of a gyoza wrapper and fold in half. Seal by pinching the edges together. Repeat with remaining mixture.
Heat enough oil in large fry pan to just cover the base on medium heat. Arrange the dumplings in the pan and cook for 3–5 minutes, or until the base is golden brown.
Add 1–2 tablespoons of water depending on the size of your pan, then immediately cover with a lid. Cook for 5 minutes then check to see if dumplings are cooked and all water has evaporated. Remove dumplings from pan and repeat with remaining dumplings, adding additional oil each time.
TO SERVE
Serve with peanut dipping sauce, Chinese vinegar or sriracha chilli sauce, and garnish with spring onions or sesame seeds.
NOTE
To freeze, complete steps 1–6 and then freeze uncooked dumplings in a single layer, ensuring they don't touch. Once frozen you can combine them all in a large container or ziplock bag. When ready to cook, resume from step 6 using the frozen dumplings. Cook for 8 minutes rather than 5 at step 8.
---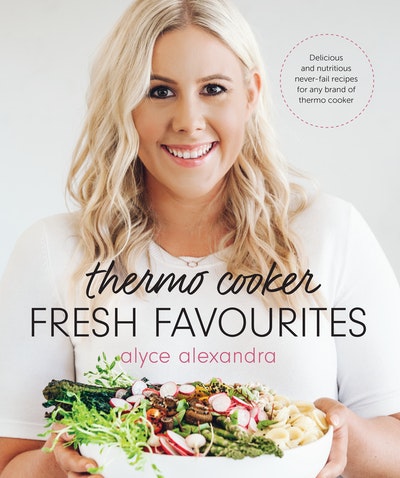 Delicious and nutritious never-fail recipes for any brand of thermo cooker.
Buy now
Buy now
---