Meg Bignell talks singing, self-doubt, and the YouTube video that made her want to write about a choir in her new novel, The Angry Women's Choir.
Where did you get the idea to write about a choir? Are you a singer yourself?
Yes, I am a singer and I do silly cabaret and have sung with choirs in the past. But tragically I have a limited range and no great talent and no end of training can fix that. I was thirteen when I saw the original cast of Les Mis in London's West End and it's hurt me ever since that I can't sing like those performers. I think it helps my grief-stricken heart to give my characters the ability to sing like angels. And this book has a whole choir of them. Also, I watched The Australian Voices Choir on YouTube sing Gillard's misogyny speech and my heart just pounded with the urgency of it.  
Freycinet is such a unique name. Where did it come from?
It's the name of a beautiful national park on Tasmania's East Coast. As to why Freycinet's parents called her that, you'll have to read the book to find out!
How did you establish Frey's sharp sense of humour?
I loved writing Frey because she has a bit of bad-ass about her, but I actually wasn't all that aware of her sharp humour. I have trouble writing characters without humour actually. Must try it one day and see what happens.
You've mentioned before that you still had some self-doubt as an author while writing Welcome to Nowhere River. Has that changed while writing The Angry Women's Choir? 
Oh goodness no, self-doubt is part of a writer's toolkit, unfortunately. Well this writer anyway, and all the writers I know. Every step of the process is a battle against self-doubt, but I've had to find ways to combat it, or I'd never finish anything. Alternatively, I can view it as a sort of quality assurance process, because it means I work really hard to make the work the best it can be. I've emerged feeling really proud of this work, and proud of my other books too, but there are wobbly days, and I will always strive to do better. That's my job.  
What was your writing process like? Where did you write the book, and did you have a set routine?
I try my best to write when my three children are at school, stop when they rattle in at 3.30 pm, and then start again in the evening. But invariably someone needs to go to the orthodontist or there's farm work to do, so it doesn't always work that way. If I can do a few hours on my current manuscript and then look at it again before I go to sleep, it's a good day.
I work at the kitchen table, at a standing desk, in the car, in bed, at kids' sporting events, wherever I can really. My favourite place to write is at the tiny writing desk my mum gave me in the corner of our bedroom overlooking the farm.
If you could get dinner with one character from the book, who would it be and why?
Oh, great question. Also very hard to answer. I love them all. Maybe Grace, so I could make sure she's looking after herself. In her fictional world, I think she's going to be super famous one day, and I could say I had dinner with her before she hit the big time. She's a bit intimidating though, so if I was feeling a bit insecure I'd choose Rosanna. She makes everyone feel at home.   
Want to know more? Read an extract to preview the prologue and first chapter. 
---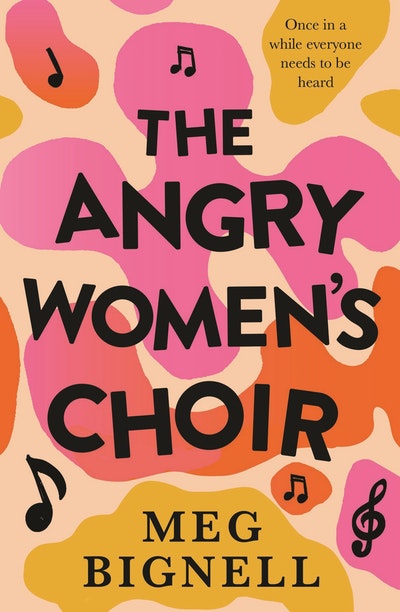 By the acclaimed author of Welcome To Nowhere River comes a heart-warming and uplifting story about a remarkable group of women who discover they are all capable of incredible things – if they're strong enough, and angry enough, to take up the cause.
Buy now
Buy now
---