Charlotte McConaghy reveals how a quest to write about the natural world ultimately led to a climate change story.
The Last Migration is a novel that came in so many different pieces from all kinds of directions that it's difficult for me to identify what the first little nugget of inspiration was. I think it's a book that in some ways has lived in me for a long time, maybe always. But I know I became conscious of a lot of the pieces when I went travelling around the UK. I wanted to explore Ireland and get to know the land my ancestors were from, as I've always had a fascination for it. On this trip I also went to Iceland, an extraordinary place, and saw for the first time the beautiful graylag geese, which got me thinking about migratory birds and the incredible journeys they take, and then the type of people that study these birds. I think that's how the story of an ornithologist who decides to chase the last flock of Arctic terns from one end of the earth to the other began to form.
It was Franny's adventure that came to me first. I'm always led by character, and my first priority when writing is to reach a reader, to move them in some way, to make them feel. The best way I know how to do that is with a deep and intimate connection to character. Franny herself came to me organically, and unspooled herself on the page before me. It felt often as though she was teaching me about herself, and guiding the way through her own story. So I knew what her journey was going to look like, but it took me a little more time to understand the world in which she was going to embark on that journey, a world that, if I managed to draw it well, could support and intensify her personal story, and make it all the more powerful. I learned during my extensive research phase (which sometimes felt like it would never end) that in the last 50 years alone, humans have killed over 60% of all our wild animals. That number broke my heart, and I knew I needed to set the book in this bleak future, during the peak of the extinction crisis, when all the animals really are either extinct or the last of their kind.
I never set out to write a book about climate change, but I wanted to write about the natural world and our connection to it, and the reality is that in this day and age you can't do that without also writing about climate change. Or maybe I feel that you shouldn't. It's too big, too important. So instead of avoiding it, I decided to lean in. The more I learned, the more passionate I became. And I discovered that you can do both – you can be led by character and you can explore an issue, and those two things can work together. 
Writing this story would prove to be a greater challenge than anything I'd ever done. I wrote The Last Migration over the course of about two years, and there were times when I was sure I'd never finish it. It was only my long experience with writing books (I've been writing and publishing since I was fourteen) that helped me understand that I was having some pretty major rollercoaster climbs and dives and that I essentially just had to stay on the ride to reach the end. You keep going even when it feels like you're writing rubbish, you just write through it, and know you can revise later.
There were also moments of complete joy while writing, where it flowed like it never had for me before, where I felt like I was tapping into some deep heart of me I'd never discovered.
So it was a big experience for me, over all, and maybe that makes it all the more worthwhile.
My path to publication was relatively traditional. I'd secured a literary agent in America with an old manuscript that together we decided wasn't right for publication, but my agent had then encouraged me to write The Last Migration instead. So I went to her when it was finished and she sent it out to publishers, and we were very lucky that it found a wonderful home at Flatiron, an imprint of Macmillan, with an editor who loved it and was willing to champion it. We then sold into more than twenty other countries, including the wonderful Penguin Random House Australia – my home country.
Any advice I have for budding writers is to keep writing, even when you don't know what you're writing about yet – that may reveal itself to you later. Write with truth and passion. As Toni Morrison said, 'If there is a book that you want to read, but it hasn't been written yet, then you must write it.' That was The Last Migration for me. It felt important to see it through to its end, and to believe that I was the one person who could write it. Be patient and persistent when it comes to publishing, we all get rejections, and the publishing game is about finding the right person at the right time to take a risk on your book. If you're not getting any nibbles after some solid time has passed, it's also okay to put something aside and start a new project. Your first published book may not be the first book you write. It takes a huge amount of time and practice to hone your craft and skill, after all, so give yourself that time and try not to put pressure on yourself to be perfect. Write for yourself, more than anything. Write what you love. Then the meaning will be in the process, not the result.
---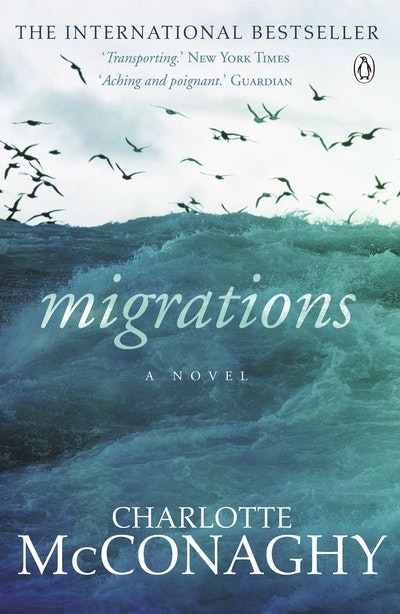 For readers of Station Eleven and Everything I Never Told You, a debut novel set on the brink of catastrophe, as a young woman chases the world's last birds – and her own final chance for redemption.
Buy now
Buy now
---