The author on her love of the crime and thriller genre and discovering the seed of The Escape Room.
What do you love about reading and writing thrillers?
I love the anticipation, the thrill of the chase. I love not knowing what's going to come around the next corner. Really great thrillers are also quite layered in terms of themes and characters, as well as being very well written. Just look at John le Carré, his writing is sublime. It seems thrillers are enjoying a renaissance and I think it's largely because people want to know what they're taking on when they read a book. A great thriller will absolutely keep you on the edge of your seat, it will be a page-turner and it will leave you feeling shaken or exhilarated. Or both.
Can you tell us about discovering the seed of The Escape Room?
I've always found it interesting that people who work together and collaborate together are actually very often fierce competitors fighting over scarce resources. Who earns more? Who is going to get the next promotion? It's cynical, I know, but let's face it, colleagues compete with each other just as much as they collaborate. Underneath the civilised veneer, in many workplaces it's a vicious battle for survival, for bonuses, salary increases and, of course, promotions. So I wondered what would happen if I wrote a book in which four office rivals are locked in an elevator and all their secrets spilled out. There were also many themes that I sought to weave into the narrative, such as the way that companies almost brainwash employees with a corporate culture, yet they'll retrench them without a second thought if it means they can cut costs. The back-room politics, backstabbing, and sexual discrimination that goes on in many offices gave me plenty to work with when I wrote The Escape Room.
The opening sentence of the book: 'It was Miguel who called 911 at 4.07 a.m. on an icy Sunday morning.' offers up a bunch of questions. What would you say makes a fantastic opening sentence? And at what stage in the writing process did you feel you had this one right?
Opening lines are crucial because that's what pulls you into a book. Lee Child, who read The Escape Room and loved it, writes fabulous opening lines. You just want to keep reading his books from the first sentence. Opening lines are an art. It's worth spending a lot of time honing those first few lines and certainly the first chapter. Having said that, at the end of the day, the entire book has to be gripping, otherwise it's easy enough for readers to give up after the first or second chapter. People are busy today and there's plenty that competes for their time. Gone are the days when a reader might read 100 pages before they get into the story.
Can you talk about the freedoms and limitations of setting large chunks of a story in a confined space?
I suspect that my wonderful publisher at Penguin almost had apoplexy when I told her that my novel would be set in an elevator. It's tough setting a book in one location, let alone such a limiting one. But I couldn't resist the challenge. And of course I found ways of taking the story out of the elevator as well, even though all the main action takes place within these four walls. I was stuck in a lift with my son for maybe two to three minutes a few months before I started writing The Escape Room. It was pitch black. I've never experienced that sort of darkness before, even at night. And it made me wonder what would happen if we were forgotten there. How would we survive? When I researched the book I found a number of real incidents in which people were stuck in elevators. Some survived and some didn't. The research that I did helped me write about the psychological effect on the characters as their predicament evolved.
How about the riddles? Are cryptic crosswords your thing?
Not at all. Actually, I had to do quite a lot of research to understand different types of code techniques and I worked really hard to come up with those clues. It did not come naturally to me. But they were an awful lot of fun to devise. I'm just not sure how good I'd be at solving those sorts of clues if I was on the receiving end!
After entering the mind of a killer, how do you go about snapping back into everyday life? Do you feel affected by your creations?
I was more affected by my novel The Girl In Kellers Way than The Escape Room. Perhaps because I wrote one of the very complex characters in that novel in first person and that put me in that character's very disturbing mindset as I wrote the novel. I was particularly shaken after writing the murder scenes, maybe also because I had to do some research on the act itself, which took me to some very dodgy websites. I can't believe that people post that sort of stuff on the Internet but I have to say that it was helpful for me as a crime writer. For The Escape Room, perhaps because it is my second published novel, I was able to separate myself from the characters so that I was able to have a pretty good night's sleep most nights.
---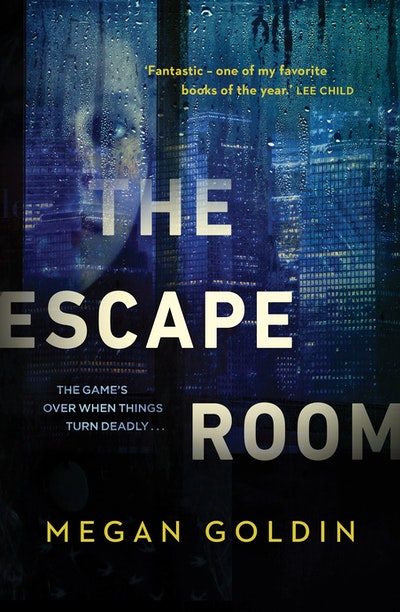 The heart-stopping new novel of deception and delusion from the bestselling author of The Girl in Kellers Way.
Buy now
Buy now
---