Tom Taylor and Jon Sommariva have won the 2023 Book of the Year for Older Readers for their graphic novel, Neverlanders, published 20 September 2022.
Established in 1946, the CBCA's Book of the Year awards aim to promote quality literature for young Australians by celebrating the outstanding contributions of Australian authors and illustrators. The CBCA is a not-for-profit, volunteer run-organisation which aims to engage the community with literature for young Australians.
Author, Tom Taylor says, 'I'm so excited that, for the first time in its 77-year history, a comic book has won the Book of the Year for Older Readers. To me, comics are the greatest storytelling medium on the planet, and potentially the most powerful educational tool available for reluctant readers. Knowing that our graphic novel about young people fighting for their future, will be in more libraries and schools, and in the hands of more people across the country, makes me very happy. I hope Australia truly embraces the adventures of our new Lost Ones of Neverland and General Tinkerbell.'
Illustrator, Jon Sommariva shares, 'It's truly amazing to receive this award from the CBCA. It's an honour to have the work recognised at the top level within our own country. I already feel so lucky to draw comics for a living and to have had the opportunity to collaborate and co-create this book with Tom. Reimagining the world of Neverland has been a career highlight. Graphic novels are such a wonderful way to tell a story – they inspired me to read and to draw and tell my stories as a kid. I hope people of all ages will enjoy the pages of Neverlanders as much as we enjoyed making them. Perhaps we might even light a little fire of inspiration within future generations of Aussie comic book makers.'
A dark spin on the world of Peter Pan, Neverlanders is a gritty YA graphic novel in which Neverland has become a war zone and a new group of lost teens must set things right.
Learn more about the book here and check out our Teachers' Notes for themes, disccusion points and more.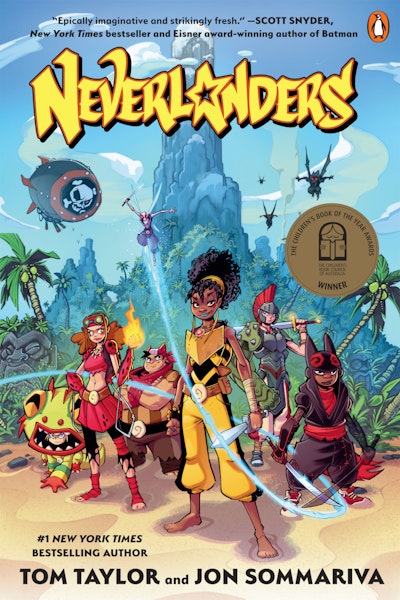 Neverlanders
Neverland has become a war zone and it's up to a new group of lost teens to set things right in this gritty YA graphic novel series from #1 New York Times bestselling Australian author Tom Taylor and powerhouse Australian comic artist Jon Sommariva!
Read more