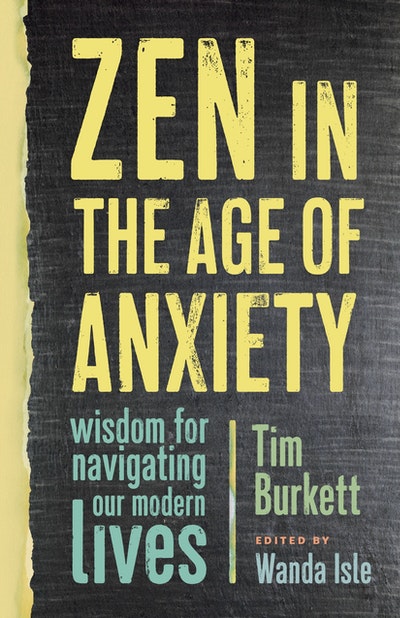 Published:

18 June 2018

ISBN:

9781611804867

Imprint:

Shambhala

Format:

Paperback

Pages:

160

RRP:

$29.99
Zen In The Age Of Anxiety
Wisdom for Navigating Our Modern Lives
---
---
Zen wisdom for identifying the causes of mental and emotional anxiety epidemic in today's world and for finding the path to a peaceful heart in the midst of them--a path that leads directly though the center of the anxiety we're trying to escape.
An ancient Buddhist proverb says, "Sickness and medicine heal each other." Tim Burkett would agree and offer his own resonant proverb, "Because there is wounding and splintering there is suturing and healing." Wounding and healing are innate aspects of being human, he declares, and understanding the relationship between them is the key to a peaceful heart and purpose-driven life. "Medicine and sickness heal each other" means that the path to a peaceful heart does not lie outside the anxiety we seek to escape--but rather leads through the center of it.
Burkett provides wisdom from Zen (channeled through his many other experiences of psychotherapy and life) for first identifying the problems of pain and anxiety particularly where they most strongly manifest for modern people--in stuff like money, self-worth, sex, success vs. failure, and so forth. He then shows how if we understand our essentially undivided nature, it becomes clear that healing these negative states is effected only by going into them--not assailing them as though there were a solid "me" capable of eradicating them through assault. Each of the ten chapters ends with a section called "Doing the Work," which consists of three or four questions and/or meditative exercises. This section brings home the main points of the chapter, applying them directly to the reader's own life situations.
Published:

18 June 2018

ISBN:

9781611804867

Imprint:

Shambhala

Format:

Paperback

Pages:

160

RRP:

$29.99
Praise for Zen In The Age Of Anxiety
"With an artless simplicity born of deeply integrated and compassionate wisdom, Tim Burkett speaks to the beginner's mind in each one of us."—Cynthia Bourgeault, author of The Heart of Centering Prayer "I gained so much from reading Tim's book, especially about how to hold and handle my own anxieties. Here is an encouraging handbook on how Buddhist values and practices can increase our sense of connectedness and foster inner—and outer—peace. I especially liked Tim's "Nine Keys" that can open any of us to healing powers in life events and in ourselves too."—David Richo, author of The Five Things We Cannot Change and How to Be an Adult in Relationships