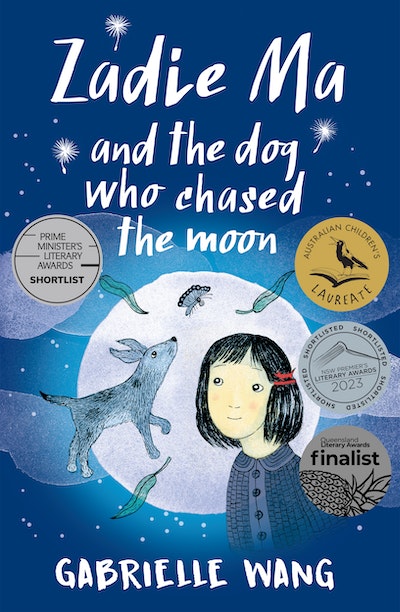 Published:

31 May 2022

ISBN:

9780143778165

Imprint:

Penguin Random House Australia Audio

Format:

Audio Download

Length:

4 hr 30 min

Narrator:

Veronica Chan

RRP:

$15.99
Zadie Ma and the Dog Who Chased the Moon
---
---
---
Meet Zadie Ma, a girl who writes magical stories that sometimes come true. Can Zadie bring to life her most important story of all . . . the one where she finds Jupiter, the dog of her dreams?
From the Australian Children's Laureate for 2022-23. Shortlisted for the Prime Minister's Literary Awards, the Patricia Wrightson Prize for Children's Literature in the New South Wales Premier's Literary Awards, and the Queensland Literary Awards.
From one of Australia's most esteemed and award-winning children's authors and Australian Children's Laureate for 2022–23 comes a heartwarming story set in postwar Melbourne about courage, friendship, the magic of stories and one girl's unwavering love for her dog.
Zadie Ma has a special talent for telling stories . . . and it seems that some of Zadie's stories come true. Zadie's dearest wish is to have a dog of her own and so she starts to write the story of a poor unwanted dog called Jupiter, who's just waiting to be rescued by a loving girl like Zadie.
One morning when she's supposed to be minding the family shop for her mother, Zadie sets off to look for Jupiter. The scene that unfolds isn't quite the same as in her story but she does find a real dog, and his name is Jupiter. Once Zadie has rescued him, she realises she can't just take Jupiter home because her mother won't let her keep a dog. Luckily her bold new friend Sparrow lets Zadie keep Jupiter at her house till Zadie can work things out.
But a series of unlucky events means that Zadie can't write the happy ending she dreams of for her story, and now she may lose her beloved Jupiter forever.
Can Zadie's most important story of all finally come true?
Gabrielle Wang is the Australian Children's Laureate for 2022–23.
Published:

31 May 2022

ISBN:

9780143778165

Imprint:

Penguin Random House Australia Audio

Format:

Audio Download

Length:

4 hr 30 min

Narrator:

Veronica Chan

RRP:

$15.99
Praise for Zadie Ma and the Dog Who Chased the Moon
Gabrielle Wang proves why she was named the Australian Children's Laureate with her gorgeous ode to storytelling and her childhood dog in Zadie Ma and the Dog Who Chased the Moon.

Michael Earp, Best Books for Younger Readers, Sydney Morning Herald
A touching story that will make you laugh, cry and tug on your heartstrings at every turn of the page.

Better Reading
With its themes of community, friendship, war, trauma, and the power of storytelling, this beautifully realised novel by Gabrielle Wang features Zadie, a quietly spoken narrator with a powerful inner voice and a vivid imagination. The story is set in Melbourne, post WWII, offering a poignant glimpse into the lives of a working class Chinese Australian family. Although Wang doesn't shy away from the reality of the migrant experience and the impact of war, the novel's magic comes from its protagonist Zadie, who believes the stories she writes can uncannily come true. Many of her hopes are tied up in the desire to own a dog called Jupiter. This story's beauty is enhanced by the relationships within Zadie's family as well as her friendships with the unique character of Sparrow, a new child at school. At its core, Zadie's story is about the ties that bind and the strength of community during the most testing of times.

Judges' Comments, Patricia Wrightson Prize for Children's Literature, NSW Premier's Literary Awards
I could write this review in four words: I love this book. Make that six – I love everything about this book . . . Set in 1950s Melbourne, the book delicately explores complex themes including friendship, war, Chinese culture, racism, hope, courage and connectedness. But above all, Zadie Ma and the Dog Who Chased the Moon is a story about empathy and belonging. The book's structure and style are both unique and refreshing, weaving narrative, allegory (in the form of Zadie's own stories interspersed throughout) and graphic novel elements . . . There is something magical about a book that transports readers to another time, another world, inside another person's head and culture . . . Zadie Ma and the Dog Who Chased the Moon is one of these books. A gift of a story for readers age 8+ from Australia's Children's Laureate for 2022/23. Extensive Teachers Notes are available from the publisher's website. Highly recommended.

Maura Pierlot, Reading Time
A beautiful middle-grade novel about one young girl's dream. Zadie Ma, a fourth-generation Chinese Australian girl growing up in post-war Melbourne, desperately wishes to have her own dog to love and cherish. Zadie also has a hidden talent for story writing and magically often what she writes has a way of becoming reality. Zadie Ma and the dog who chased the moon has a distinctive and appealing presentation. It engages young readers with the main story, interspersed with other short symbolic and connected stories, as well as the use of graphic novel features. A truly wonderful read that would be a welcome addition to a home, school or public library and would make an excellent class novel.

Kathryn Beilby, Read Plus
Younger Middle Grade readers will fall in love with Zadie Ma, who navigates her way through a sometimes-hostile world but finds true friendship and joy in the people closest to her.

https://www.onemorepagepodcast.com/book-reviews/, One More Page
Reads . . . like an instant classic and includes Gabi's iconic illustrations and graphic novel elements! And it weaves together all of my favourite things: dogs, stories and friendship. . . I can't recommend it highly enough!

Leesa Lambert, The Little Bookroom
I really enjoyed this book and its themes of magical realism, storytelling, friendship, family and the intersection of tradition, duty and modernity as it [told] a post-war, migrant and uniquely Australian story . . . allow[ing] a voice that we may not always hear have a chance to speak . . . The magic in this book comes from the stories-within-the story that Zadie and Jupiter tell, and it is a special love letter to dogs, loyalty and friendship and the power of words – both good and bad – and how they affect us and what they mean to us. How words make us and break us. It is the magic of language that shapes us and shapes our world and allow us to communicate and share what is in our hearts. And I also found that it spoke to the importance of understanding each other – especially Zadie and her mum, who needed to share a secret . . . to understand each other in better ways . . . the novel [had] a sense of whimsy and wonder as well as a sense of intrigue. It allowed for the characters to speak for themselves, and to be who they were – it was a truly magical experience . . . I was right there with Zadie, Sparrow and Jupiter. It is exquisitely well done and captures so many emotions and feelings that I think and hope it will appeal widely and connect to many readers, because like any good book, it gets the balance of specific and universal experiences right and allows us to see inside a world we may not know about or be able to access . . . A beautiful book to read for middle grade fans.

Ashleigh Meikle, The Book Muse
NSW Premier's Literary Awards
Shortlisted • 2023 • Patricia Wrightson Prize for Children's Literature
Prime Minister's Literary Awards
Shortlisted • 2023 • Children's Literature
Queensland Literary Awards
Shortlisted • 2023 • Children's
CBCA Book of the Year Awards
Notable Book • 2023 • Younger Readers