"Penguin Random House Australia are thrilled to be again supporting the Australian Children's Laureate Foundation and their wonderful work in shining a light on children's books and literacy through the appointment of the new Australian Laurate. We have been so proud of the work done by our wonderful authors Alison Lester, Morris Gleitzman and Ursula Dubosarsky as previous Laureates. The appointment of Gabrielle Wang as the new Laureate is a thrill for us and the children's book community. I know Gabrielle will only enhance the work done by the previous incredible Laureates." – Laura Harris, Publishing Director, Penguin Random House Young Readers
The Laureate is the national ambassador for reading and Australian children's literature. They speak on behalf of all creators and for the entire industry, representing reading advocates, educators, librarians, booksellers and publishers. Appointed every two years to promote the importance and transformational power of reading, creativity and story in the lives of young Australians, the Children's Laureate spends extensive time speaking directly with children, education specialists, government ministers and librarians, in both metropolitan and regional communities across the country.Every Laureate has a theme for their two-year term: for Gabrielle it is Imagine A Story. Through this she will explore four main issues: Imagination, Cultural Diversity, Visual Literacy and Audiobooks and Reading Aloud.
Gabrielle Wang is an author and illustrator born in Melbourne of Chinese heritage. Her maternal great-grandfather came to Victoria during the Gold Rush and her father is from Shanghai. Her stories are a blend of Chinese and Western culture with a touch of fantasy.
Gabrielle's first children's novel, The Garden of Empress Cassia, won the 2002 Aurealis Award, was shortlisted for the Queensland Premier's Literary Awards and was a CBCA Notable Book. The Pearl of Tiger Bay was shortlisted for the 2004 Aurealis Award and The Lion Drummer was a Notable Book in the 2009 CBCA Book of the Year Awards. A Ghost in My Suitcase won the 2009 Aurealis Award, was a CBCA Notable Book, was shortlisted for the 2011 Sakura Medal and received a Highly Commended in the 2010 Prime Minister's Literary Awards. Her first young adult novel, Little Paradise, was Highly Commended in the 2011 Prime Minister's Awards. Gabrielle's picture book The Race for the Chinese Zodiac (2010) illustrated by Sally Rippin and Regine Abos was a Notable Book in the CBCA Awards for 2011 and shortlisted for the 2011 YABBA and WAYBRA awards. Gabrielle has created two popular characters Poppy and Pearlie for the highly successful 2011 Our Australian Girl series.
The Wishbird was a CBCA 2014 Notable Book and was shortlisted for the 2014 Australian Book Design Awards, YABBA Awards, KROC Awards, KOALA Awards, COOL Awards and Crystal Kite Award.Gabi's latest books include the suspenseful The Beast of Hushing Wood for middle readers, and a sequel to the award-winning A Ghost in my Suitcase, called Ting Ting the Ghosthunter. Keep an eye out for Zadie Ma and the Dog Who Chased the Moon, out June 2022.
"As Australian Children's Laureate my theme is Imagine a Story. I'm encouraging young people to read stories, write stories and draw stories to keep their imaginations alive. Nourish your child's imagination, encourage them to read diverse books, give them a sense of belonging and self worth, let them draw and doodle and tell them to look up and out at the world and a mighty forest will grow inside." – Gabrielle Wang
---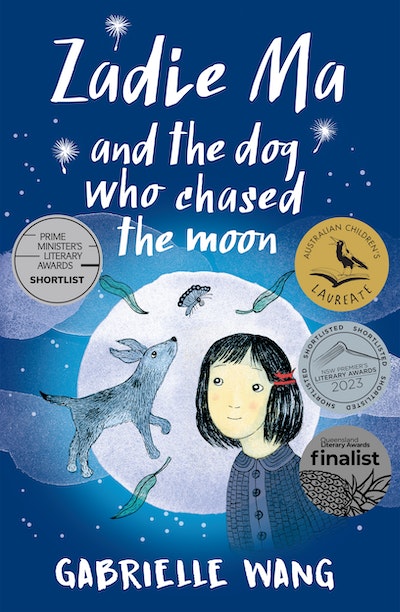 Meet Zadie Ma, a girl who writes magical stories that sometimes come true. Can Zadie bring to life her most important story of all . . . the one where she finds Jupiter, the dog of her dreams?
Buy now
Buy now
---