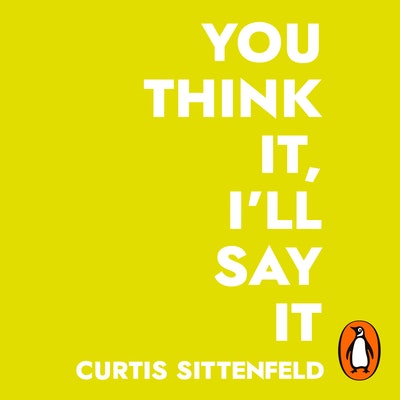 Published:

3 May 2018

ISBN:

9781473561502

Imprint:

Transworld Digital

Format:

Audio Download

Length:

7 hr 30 min

Narrators:

Emily Rankin, Mark Deakins

RRP:

$19.99
You Think It, I'll Say It
Ten scorching stories of self-deception by the Sunday Times bestselling author
---
---
---
Smart, contemporary and razor-sharp: a first collection of short stories from the Sunday Times bestselling author of Eligible and American Wife.
Random House presents the audiobook edition of You Think It, I'll Say It by Curtis Sittenfeld, read by Emily Rankin and Mark Deakins.
In 'The World Has Many Butterflies', a married woman flirts with a man she meets at parties by playing You think it, I'll say it, putting into words the bitchy things she guesses he's thinking about their fellow guests. But she is in for a shock when, in time, she finds out what was really in his mind. 'The Nominee' sees Hillary Clinton on the campaign trail, confessing her surprising true feelings about a woman journalist she has sparred with over the years. In 'Gender Studies', a visiting academic sleeps with her taxi driver, for what turns out to be all the wrong reasons.
The theme that unites these stories in this dazzling first collection by Curtis Sittenfeld is how even the cleverest people tend to misread others, and how much we all deceive ourselves. Sharp and tender, funny and wise, this collection shows Sittenfeld's knack for creating real, believable characters, while also skewering contemporary mores with brilliant dry wit.
*'Do-Over, one of the stories in this dazzling first collection by Curtis Sittenfeld,is shortlisted for the 2018 Sunday Times EFG Short Story Award*
'Most people I know who have read anything by Curtis Sittenfeld would read anything else the woman wrote, me included' The Times
Published:

3 May 2018

ISBN:

9781473561502

Imprint:

Transworld Digital

Format:

Audio Download

Length:

7 hr 30 min

Narrators:

Emily Rankin, Mark Deakins

RRP:

$19.99
Praise for You Think It, I'll Say It
Each of these stories could be expanded into a blockbusting novel. There is no writer alive who inhabits her characters so knowingly, or is able to send up contemporary attitudes and mores as expertly...clever, funny, revealing and a joy to read.

Evening Standard
Nobody else writes with such precision and amusement about the absolute inability of men and women to understand each other...this collection is all killer no filler.

Red
This seems to be the year of the short story, and the best ones we've read so far are by Curtis Sittenfeld...an outstanding collection of funny, smart and pin-sharp takes on life.

Good Housekeeping
Fans...won't be disappointed: the tales here condense lifetimes of confusion, betrayal and bad decisions into perfect miniatures in deadpan American prose.

Guardian
A strong collection about false assumptions and double standards...in these 11 social comedies, whose preoccupations - gender dynamics, celebrity, class, envy and disenchantment - are at once universal and yet specific to the moment we are living through...You Think It, I'll Say It has caught the attention of Reese Witherspoon, who plans to turn it into a comedy series starring Kristen Wiig. Smart move.

The Times
Often praised for her psychological and social acuity, Sittenfeld is also a careful plotter, withholding facts and details until they are surprising enough to change the way we read a story, and to make us question our own expectations and values...there's no one better than her at showing how the personal is political.

New Statesman
Clear-eyed and compulsive...Sittenfeld skewers what fraudsters we can be to ourselves and creates characters so vivid you half-expect to bump into them in the street.

Mail on Sunday
The stories in You Think It, I'll Say It feel so contemporary that we might worry they will date - except we'll want a record of these times. We may be grateful for authors who chose to set their work in this exact political moment, when few Americans can maintain personal relationships across the Trump divide...The immediacy of these stories makes them effortlessly enjoyable to slide into, like new garments so comfortable that you decide to wear them out of the shop.

Lionel Shriver, Financial Times
Psychologically acute, deftly crafted and deeply pleasurable.

San Francisco Chronicle
Every page of this book as engaging as the next.

Independent
OK, I'll say it: I get a kick out of Curtis Sittenfeld...a sharp observer of human nature and human relationships - especially the male/female variety - and she's a hoot, an appealing combination in my book...a lot of fun, even when it makes you wince.

USA Today
Say the words "Curtis Sittenfeld" to a certain reading demographic and you'll kick off evangelistic levels of enthusiasm. But it's for good reason, as no one nails understated humour with human behaviour as she does. This collection of short stories doesn't disappoint, uniting would-be presidential candidates with Insta-stalking mothers.

Stylist
A collection of wry, psychologically astute portraits of stymied humans, characters with whom Sittenfeld commiserates even as they are skewered by her dry and languorous wit.

Literary Review
Has a rare and magical combination of accessibility, wit, and serious thinking. Sittenfeld was shortlisted for this year's Sunday Times EFG Short Story Award, and she demonstrates these qualities again in this deft short story collection... Impossible to put down...She is saying what we are thinking.

Sunday Times
A total treat. Savvy and ruefully wise, she burrows beneath the shiny surface of ...her disillusioned lovers, vaguely unhappy parents and dissatisfied employees [who] misjudge other people while in the grip of laughable, delicious self-delusion.

Daily Mail
As smart, sparkling and ruefully wise as her novels.

Sunday Express
A vivid cast of women caught up in knotty social dilemmas.

Observer
Short and sharp vignettes...In all, Sittenfeld demonstrates a gift for weaving the banal into the culturally significant, making this collection a touchstone for the present day.

Irish Times
I so loved this collection. One of my favourite books of last year.

David Nicholls