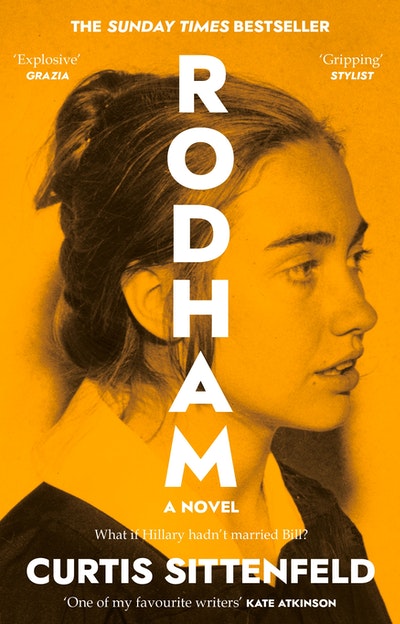 Published:

1 June 2021

ISBN:

9780552776608

Imprint:

Black Swan

Format:

Paperback

Pages:

432

RRP:

$22.99
Rodham
The SUNDAY TIMES bestseller asking: What if Hillary hadn't married Bill?
---
---
---
What if Hillary hadn't married Bill? RODHAM is the latest addictive Sunday Times and New York Times bestseller from the acclaimed author of AMERICAN WIFE, perfect for summer reading.
'This addictive novel is the SLIDING DOORS of American politics. Gripping' Stylist
'Startlingly good. One of my favourite writers' KATE ATKINSON
----------------------
'Awfully opinionated for a girl' is what they call Hillary as she grows up in her Chicago suburb.
Smart, diligent, and a bit plain, that's the general consensus. Then Hillary goes to college, and her star rises. At Yale Law School, she continues to be a leader - and catches the eye of driven, handsome and charismatic Bill. But when he asks her to marry him, Hillary gives him a firm No.
How might things have turned out for them, for America, for the world itself, if Hillary Rodham had really turned down Bill Clinton?
With her sharp but always compassionate eye, Sittenfeld explores the loneliness, moral ambivalence and iron determination that characterise the quest for high office, as well as the painful compromises demanded of female ambition in a world ruled by men.
_____________
'A lot of fun. A wonderful sad dream of what might have happened' Guardian
'It ends up being a love letter to a type: the female intellectual, who is given none of the licence of her less talented male peers. At the end, I found myself saying Oh My God' Observer
'An explosive new book' Grazia
Published:

1 June 2021

ISBN:

9780552776608

Imprint:

Black Swan

Format:

Paperback

Pages:

432

RRP:

$22.99
This addictive novel is the SLIDING DOORS of American politics. Gripping

STYLIST
A lot of fun. A wonderful, sad dream of what might have happened

GUARDIAN
An explosive new book

GRAZIA
Sittenfeld's RODHAM offers the catharsis of uncomplicated regret

THE NEW YORKER
While telling a compelling story, RODHAM provides an insightful analysis of the function of sexim in our political discourse. Sittenfeld is at her wittiest when recreating the men who dominate American politics

WASHINGTON POST
A nauseating, moving, morally suggestive, technically brilliant book that made me think more than any in recent memory about the aims and limits of fiction

NPR
Hugely enjoyable

WALL STREET JOURNAL
This isn't just fiction as fantasy, this is fiction as therapy. A serious work of literary fiction designed to rally the spirits of liberal readers

SAN FRANCISCO CHRONICLE
'An ingenious yet plausible glimpse of an alternative reality, and so involving that it occasionally comes as a shock to realise that there is a different reality, and we are living in it'

THE SPECTATOR
'By tilting history on its side, Sittenfeld makes Hillary seem a fresh character and remarkably sympathetic'

EVENING STANDARD
'RODHAM explores the mysterious territory between the inner and outer lives of a person who has long been a source of fascination, adulation and loathing'

FINANCIAL TIMES
'Getting inside a living person's head sounds like a colossally bad idea, but Sittenfeld makes it convincing here, just as she did with a character based on First Lady Laura Bush in her 2008 novel, AMERICAN WIFE'

BBC CULTURE
Deviously clever . . . Sittenfeld's Hillary is both a player in the Game of Thrones and a romance novel heroine. She's a brilliant badass who has found her voice and knows how to use it. She's whoever she wants to be

THE OPRAH MAGAZINE
As Hillary finds her groove, so the momentum and entertainment builds, as does your admiration for how ingeniously and plausibly Sittenfeld has re-written the script

DAILY MAIL
A counterfactual novel ... throbs with energy

TLS
A fascinating glimpse into an alternative future

DAILY MIRROR
Pacy... plenty of sex and gossip - and a cameo from a certain yellow-haired, orange-faced president-to-be... ripe for TV adaptation

SUNDAY TELEGRAPH
A brilliantly smart re-imagining

WOMAN AND HOME
Sittenfeld's writing is so fine, her characters so vivid, her empathy so profound that she manages to absorb the reader on a level that transcends partisanship. In 2020, that was a remarkable achievement and an enormous gift to her readers

THE NEW YORKER
It ends up being a love letter to a type: the female intellectual, who is given none of the licence of her less talented male peers. At the end, i found myself saying Oh My God

OBSERVER
A triumphant feminist reinvention. Sittenfeld is the bard of presidential female adjacents

VOGUE
RODHAM is wide- ranging political anthropology, concerned not so much with what makes Hillary tick as it is with the culture around her and how she might have shaped events, and been shaped by them, if the pieces of reality's jigsaw were rearranged just so. It's stippled with clever mischief

NEW YORK TIMES
A smartly structured character study and a stay- up- all- night plot . . . A captivating and durable story containing rooms within rooms. RODHAM turns into a high- speed bildungsroman about a woman of formidable intellect and self- insight.

THE LOS ANGELES TIMES
It's the genius of Sittenfeld's prose that we come to understand this ambivalence,as well as the deep conflicts in this complicated character. In the longing and loneliness, the anger as well as ambition, this Hillary makes RODHAM a compelling portrait of a future that might have been.

THE BOSTON GLOBE
Tantalizing . . . part thought experiment, part wish- fulfillment fantasy . . . delectably discussable, a book tailor- made for book clubs.

USA TODAY
Wildly compelling . . . What RODHAM is interested in is examining what feminine ambition looks like when it is untethered from a man. . . . Sittenfeld is free to invent, and the reality she builds is deliciously dishy.

VOX
Thought-provoking and compelling

SUNDAY EXPRESS
A moving feat of feminist and novelistic imagination

THE TABLET