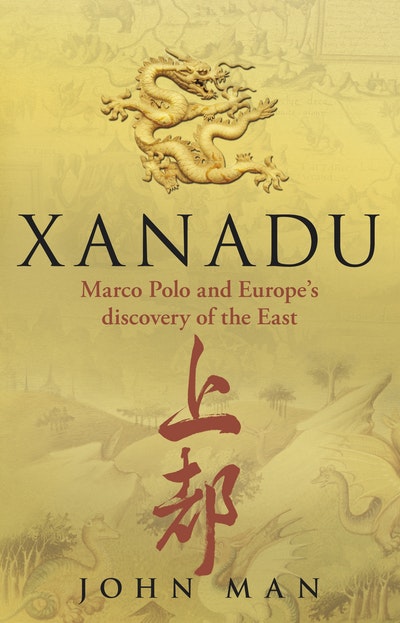 Published:

1 November 2010

ISBN:

9781409045649

Imprint:

Transworld Digital

Format:

EBook

Pages:

416
Xanadu
---
---
---
The respected historian and travel writer, John Man, tells the remarkable story of the world's most famous traveller - Marco Polo - and the moment when East met West for the first time.
**A SOURCE FOR MARCO POLO, A NETFLIX ORIGINAL SERIES**

Marco Polo's journey from Venice, through Europe and most of Asia, to the court of Kublai Khan in China is one of the most audacious in history. His account of his experiences, known simply as The Travels, uncovered an entirely new world of emperors and concubines, great buildings - 'stately pleasure domes' in Coleridge's dreaming - huge armies and imperial riches. His book shaped the West's understanding of China for hundreds of years.
John Man travelled in Marco's footsteps to Xanadu, in search of the truth behind Marco's stories; to separate legend from fact. Drawing on his own journey, archaeology and archival study, John Man paints a vivid picture of the man behind the myth and the true story of the great court of Kublai Khan.
Published:

1 November 2010

ISBN:

9781409045649

Imprint:

Transworld Digital

Format:

EBook

Pages:

416
I have read everything written on Marco Polo, and John Man's Xanadu is, by far, my favorite book on the subject. It's not only an over-due and important historical study, it's an entertaining ride every step of the way. As a researcher, John Man not only puts himself on the very ground that Marco traversed, he takes us with him on the epic journey.

JOHN FUSCO, Creator of "Marco Polo", a Netflix Original Series
[John Man] cultivates the sense of wonder in describing unknown lands and unknown peoples; making it easy to imagine being at the court of Kublai Khan, the most powerful man of the time, and experiencing the wonders of another time and place.

San Francisco Book Review
An in-the-footsteps-of-Marco-Polo journey through Europe to China which really makes you feel you are wearing Polo's threadbare, sweat-stained slippers as you go

The Scotsman
John Man's engaging and diverting study of the historical Xanadu renders the truths as beguiling as the mythology . . . with a combination of travel writing, historical analysis and anecdote, Man uses Xanadu almost as a keyhole through which to describe larger events

Scotland on Sunday