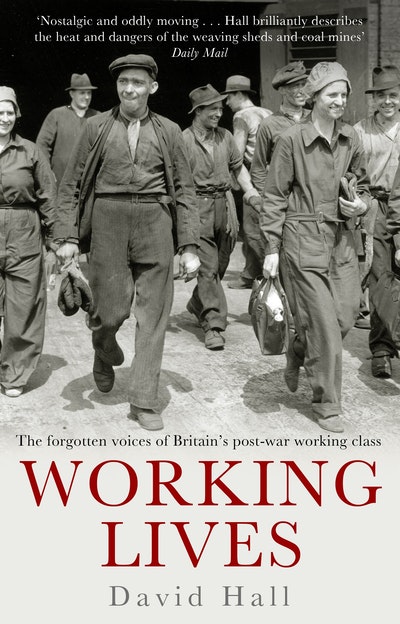 Published:

19 July 2012

ISBN:

9781409031826

Imprint:

Transworld Digital

Format:

EBook

Pages:

576
Working Lives
---
---
---
A fascinating oral history of working lives in post-war industrial Britain.
In the early 1950s Britain was still the most urbanized and industrialized nation in the world, a global power in shipbuilding and the leading European producer of coal, steel, cars and textiles. For the many millions of men and women hard at work during that time, an infernal landscape of smoke-blackened factories, towering slag heaps and fiery furnaces dominated their lives. From the deep docks and towering cranes of the Tyneside shipyards to the mills and chimneys of Lancashire and beyond, Working Lives takes us right to the heart of those industrial centres through the words of those who were there.
Drawn together from hundreds of hours of first-hand interviews, Working Lives is a unique collection of oral testimonies from workers whose stories might not otherwise have been told: mill girls who risked life and limb in dusty, noisy weaving sheds; steel workers who wrestled sheets of white-hot metal in the blistering heat of the foundries; and miners who hewed coal by hand on filthy, cramped, claustrophobic coalfaces.
Local industries shaped these workers' entire lives but also gave them a sense of pride, identity and belonging. As they look back on the dangers and hardships of their jobs, and the place of industry in their close-knit communities, these fascinating voices paint a vivid and moving portrait of working life in Britain not to be forgotten.
Published:

19 July 2012

ISBN:

9781409031826

Imprint:

Transworld Digital

Format:

EBook

Pages:

576
Nostalgic and oddly moving . . . Hall brilliantly describes the heat and dangers of the weaving sheds and coal mines

Daily Mail
A timely memorial for a nation that loves its pastoral history but struggles with the nobility of the industrial age

Sunday Times