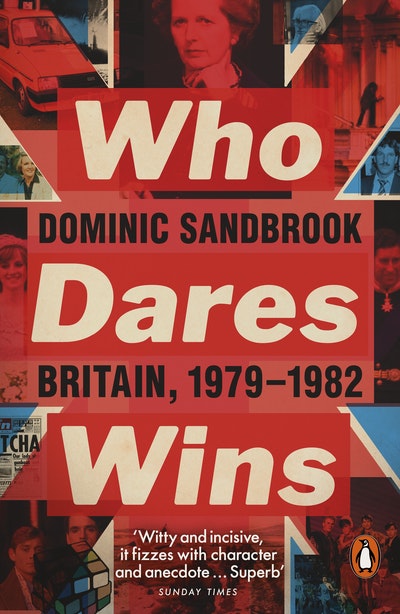 Published:

1 December 2020

ISBN:

9780141975283

Imprint:

Penguin Press

Format:

Paperback

Pages:

976

RRP:

$26.99
Who Dares Wins
Britain, 1979-1982
---
---
---
The fascinating story of how Margaret Thatcher, Princess Diana and the SAS changed the world
The early 1980s were the most dramatic, colourful and controversial years in our modern history. Margaret Thatcher had come to power in 1979 with a daring plan to reverse Britain's decline. But as factories closed their doors, dole queues lengthened and the inner cities exploded in flames, would her harsh medicine rescue the Sick Man of Europe - or kill it off?
Evocative, surprising and gloriously entertaining, Dominic Sandbrook's new book recreates the great turning point in Britain's modern history. For some people this was an age of unparalleled opportunity, the heyday of computers and credit cards, Sloane Rangers and Spandau Ballet. But as industries collapsed, working-class communities buckled and the Labour Party tore itself apart, it was also an age of extraordinary acrimony. And when Argentine forces seized the Falklands, it seemed the final humiliation for a deeply divided country.
Here are the early 1980s in all their gaudy glory: Chariots of Fire, Joy Division, the Austin Metro and Juliet Bravo; wine bars, Cruise missiles, the battle of Goose Green and the ZX Spectrum. And towering above them all, the most controversial Prime Minister in our modern history - the Iron Lady.
Published:

1 December 2020

ISBN:

9780141975283

Imprint:

Penguin Press

Format:

Paperback

Pages:

976

RRP:

$26.99
Praise for Who Dares Wins
Like its predecessors, Who Dares Wins is a rich mixture of political narrative and social reportage. It is scholarly, accessible, well written, witty and incisive. It fizzes with character and anecdote ... Superb.

Piers Brendon, The Sunday Times
Magisterial ... If anyone wants to know what has been happening to Britain since the 1950s, it is difficult to imagine a more informative, or better-humoured guide ... a Thucydidean coolness, balance and wisdom that is superb.

AN Wilson, The Times
Painstaking, enjoyable, even-handed ... you may feel a nice balance of piquancy and poignancy in having those years brought to life by the historian's magic wand.

Anthony Quinn, The Observer
Dominic Sandbrook's great chronicle of Britain locates the big political narrative always in a wider social context than just by-election swings and Westminster roundabouts ... It all comes flooding back.

Charles Moore, The Spectator
Worth every penny, an enjoyable romp ... It's a great read.

Paul Donnelley, The Daily Express
This is vividly panoramic history, ranging from high affairs of state to the tiniest textural details of everyday life ... His sources are joyously eclectic ... We wait impatiently for the next course of this richly satisfying historical feast.

Francis Wheen, Literary Review
Praise for THE GREAT BRITISH DREAM FACTORY: Delightfully good ... an exuberant and learned celebration of British culture.

Nick Cohen, The Observer
Not only thoroughly entertaining, but crammed with as many serious insights as a shelf-full of academic studies.

Alwyn W Turner, The Telegraph
Relentlessly entertaining.

Daisy Goodwin, The Sunday Times
I read it in less than two days, my attention never flagging ... It is dramatic, perceptive and often extremely funny.

John Preston, The Spectator
Terrific fun ... Sandbrook isn't like other historians ... He heads off down strange, neglected byways, teasing out unexpected connections, with the results often proving far more illuminating - and enjoyable - than conventional narratives ... I defy you not to be swept up in a narrative that's as colourful as it is dramatic.

John Preston, Mail on Sunday
Superb ... Immaculately well-researched, breathtakingly broad and beautifully written. One defies anyone, even a specialist, not to learn something from it ... Sandbrook leaves the reader impatient for the next volume.

Simon Heffer, Daily Telegraph
Masterful, mammoth ... rich and rewarding ... One of the book's great strengths is that although we know how the story will end we are still kept in suspense - not because of doubts over the outcome, but because Sandbrook situates the reader firmly back in those crucial years ... The result is a full and rich account of the period.

John McTernan, Financial Times
A magisterial history of three momentous years ... the author succeeds triumphantly.

Patrick Heren, The Article
A magnificent history ... Who Dares Wins captures the period with clairvoyant vividness. Compulsively readable, the book will be indispensable to anyone who wants to understand these pivotal years.

John Gray, New Statesman
Brilliant ... The political manoeuvrings of 1979-82 are traced with a novelistic verve that would have done credit to House of Cards.

Tom Holland, BBC History Magazine
You don't have to have grown up with the Mini Metro, Lymeswold cheese and the Sinclair Spectrum v BBC Micro to adore this brilliant history of the Eighties. It slides compellingly from socialism to Soft Cell's Tainted Love and made me want to be 10 again, bewildered by the Falklands War on TV.

Julian Glover, London Evening Standard