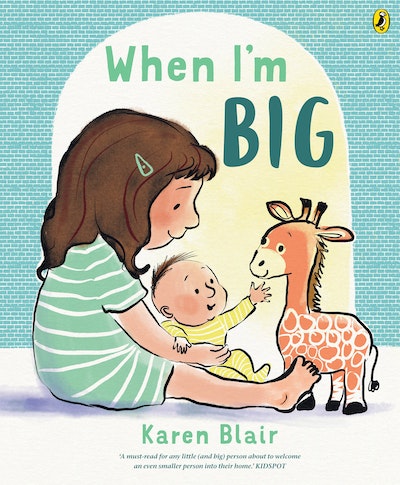 Published:

4 April 2023

ISBN:

9781761045813

Imprint:

Puffin

Format:

Hardback

Pages:

32

RRP:

$19.99
When I'm Big
---
---
'Sometimes you pick up a book that has the power to take you well beyond its pages - and this book is one of those.' Barbara Braxton, The Bottom Shelf
'A perfect book for any child about to welcome a new baby into the family . . . beautifully told . . . and lots of fun.' Good Reading'A charming story of siblings, of welcoming a new baby into the household, of allaying the fears that may be harboured, told through the idea of size.' Fran Knight, ReadPlus
'A different perspective on a child coming to terms with a new baby coming into the family . . . cleverly tap[ping] into children's propensity to take things literally . . . Blair's magical text and endearing illustrations provide the reassurance prospective brothers and sisters need to cope with their new role in the family.' Canberra Times
'With its gorgeous illustrations, When I'm Big is a completely new and fun take on becoming a brother or sister. Karen has cleverly used a classic case of children taking something adults say literally, as a tool to open up a conversation with your little one about what to expect. It's a must-read for any little (and big) person about to welcome an even smaller person into their home.' KIDSPOT
Filled with humour and imagination, When I'm Big is a delightful, warm-hearted celebration of becoming a sibling. From award-winning picture-book creator Karen Blair comes the perfect gift for every family welcoming a new baby.
Everyone keeps telling me
I'm going to be a big girl soon,
but I wonder . . . Just how BIG will I be?
Published:

4 April 2023

ISBN:

9781761045813

Imprint:

Puffin

Format:

Hardback

Pages:

32

RRP:

$19.99
A perfect book for any child about to welcome a new baby into the family . . . beautifully told . . . and lots of fun.

Good Reading
With its gorgeous illustrations, When I'm Big is a completely new and fun take on becoming a brother or sister. Karen has cleverly used a classic case of children taking something adults say literally, as a tool to open up a conversation with your little one about what to expect. It's a must-read for any little (and big) person about to welcome an even smaller person into their home.

Melissa Wilson, Kidspot
A different perspective on a child coming to terms with a new baby coming into the family . . . cleverly tap[ping] into children's propensity to take things literally . . . Blair's magical text and endearing illustrations provide the reassurance prospective brothers and sisters need to cope with their new role in the family.

Canberra Times
A charming story of siblings, of welcoming a new baby into the household, of allaying the fears that may be harboured, told through the idea of size. . . Told with humour, readers will laugh . . . as being a 'big girl' means something quite different to the actual meaning. A lovely gentle book for children about having a new baby in the house, or to talk abut size, or simply about families, the book lends itself to a variety of ideas in the classroom and at home.

Fran Knight, ReadPlus.com.au/reviews/when-im-big
Engaging, heart-warming and humorous . . . perfectly written with wondrous and colourful illustrations . . . Recommended! [4.5 stars!]

Impulse Gamer, https://www.impulsegamer.com/when-im-big-book-review/
For younger readers, particularly those who are likely to be experiencing not only the introduction of a new baby to their lives, but all the anxieties about the impact that accompany that, this book is a conversation starter about the changes they can expect and how they will be an important and integral part of them. It can also be a starter for helping them understand how they have grown and changed already, reflecting on what they have learned and achieved. Sometimes you pick up a book that has the power to take you well beyond its pages - and this is one of those.

Barbara Braxton, thebottomshelf.edublogs.org