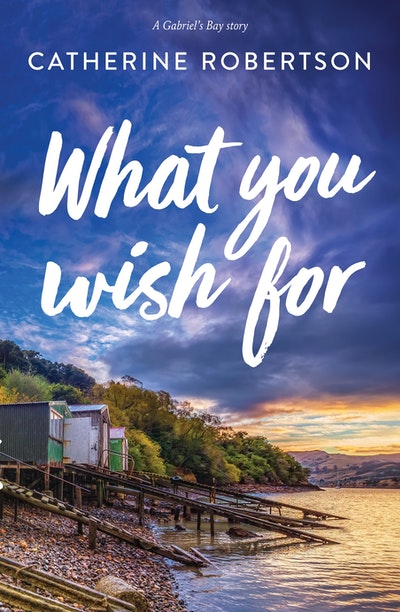 Published:

8 January 2019

ISBN:

9780143772811

Imprint:

RHNZ Black Swan

Format:

Trade Paperback

Pages:

384

RRP:

$32.99
What You Wish For
---
---
---
'Absolutely worth discovering' — Jenni Keestra, Radio Live
A funny and poignant Gabriel's Bay story from the bestselling Catherine Robertson.
Dr Ashwin Ghadavi, the newly imported GP, is trying hard to fit into Gabriel's Bay. His challenges include the immoveable force of his office manager, Mac, the ambiguities of the Kiwi idiom, and his unrequited attraction to Mac's daughter, Emma.
Having returned home, Emma is determined to help her old friend, Devon, whether he wants it or not. She's also on a mission to right eco wrongs, and her targets include local farmer Vic Halsworth, who's already neck deep in the proverbial and, to make matters worse, seems to be having visions of moose.
Add in a former jailbird, a Norwegian recluse, and a woman struggling to foster a child, and you have the usual endearing and down-to-earth mix that can only occur in Gabriel's Bay.
Published:

8 January 2019

ISBN:

9780143772811

Imprint:

RHNZ Black Swan

Format:

Trade Paperback

Pages:

384

RRP:

$32.99
Praise for What You Wish For
Lacking a bach, or the capacity to laze? Even more reason to read this book: it's a holiday in itself, a very real, very Kiwi sort of getaway, full of Krispie biscuits, battered scallops, Bell tea and Swannies. The writing pretends to be laid-back, but it's deeply accomplished and shot through with humour and emotional intelligence. There's a sense that you're in clever, safe hands. That the next page will be just as tight and funny as the last one. . . . New readers will feel welcome and comfortable starting at book two, whereas those making a second visit get just enough reminders of what's happened so far. . . . I suspect if a man had written this series there would be accolades about the importance of the stories, their significance; the way Gabriel's Bay is a proxy for small-town New Zealand circa now, in all its complex light and shade. Robertson deserves the same.

Catherine Woulfe, Listener
The characters are a diverse and entertaining lot whose life conundrums are highly relatable and will appeal to a wide audience . . . The themes—loneliness, insecurity, gender and sexuality, environmentalism and farming, and the impact of economic forces on provincial New Zealand—are pertinent and Robertson makes sure to give viewpoints from both sides of the fence.. . . All in all, it's an endearing and humorous read,which can be read as a stand-alone novel or as part of the Gabriel's Bay series, with a cast of characters that will leave you hankering for the next instalment.

Weekend Herald
I didn't go away for the summer holiday this year but it seemed as if I had, thanks to this book. What You Wish For is set in a small New Zealand coastal town and reading it feels like becoming a part of the place, meeting all the local characters, getting caught up in their dilemmas and love lives, learning all their secrets.. . . I was absorbed from start to finish and sorry when it was over. The author deftly juggles a huge cast of characters – a whole town's worth, basically. . . . It's amusing, warm-hearted, thought-provoking and, most of all, relatable. . . . I feel like this is a place I know well now and I can't wait to get back and see how things turnout for everyone.

Nicky Pellegrino, NZ Womens Weekly
Catherine Robertson is probably the funniest fiction author in the country right now. Just don't write her books off as chick lit.

Britt Mann, Weekend Press
A total delight . . . it can be anywhere, it's not named, a wonderful, supportive, loving community, and this is a really funny, delightful book full of interesting, quirky characters . . . It's funny, it's sassy, the dialogue is crisp and sharp, you totally identify with the characters . . . this is popular fiction at its absolute best. Clever, funny, highly entertaining . . . the process of sorting out various problems and relationships and so on out is done in an absolutely entertaining, delightful and very funny way.

Carole Beu, Radio NZ
What You Wish For is full of cheerful down-home humour, a cast of quirky characters and offers the rose-tinted charm of an imaginary small New Zealand town.

Tina Shaw, NZ Books