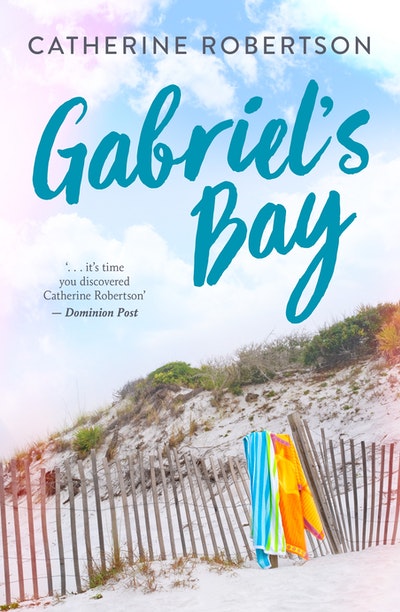 Published:

2 January 2018

ISBN:

9780143771456

Imprint:

RHNZ Black Swan

Format:

Trade Paperback

Pages:

432

RRP:

$32.99
Gabriel's Bay
---
---
---
Warm, witty and wicked, this is the perfect escapist read!

A heart-warming, thoroughly entertaining novel about a whole community.

Kerry Macfarlane has run away from his wedding-that-wasn't. He lands in coastal Gabriel's Bay, billed as 'a well-appointed small town' on its website (last updated two decades ago). Here Kerry hopes to prove he's not a complete failure. Or, at least, to give his most convincing impression.
But Gabriel's Bay has its own problems – low employment, no tourists, and a daunting hill road between it and civilisation. And Kerry must also run the gauntlet of its inhabitants: Sidney, single mother deserted by a feckless ex; Mac, the straight-shooting doctor's receptionist; a team of unruly nine-year-olds; a giant restaurateur; and the local progressive association, who'll debate apostrophe placement until the crack of doom.
Can Kerry win their respect, and perhaps even love? Will his brilliant plan to transform the town's fortunes earn him a lasting welcome in Gabriel's Bay?
Published:

2 January 2018

ISBN:

9780143771456

Imprint:

RHNZ Black Swan

Format:

Trade Paperback

Pages:

432

RRP:

$32.99
Robertson's Gabriel's Bay entirely immerses us in the world of her characters to such an extent that we might forget we're reading at all. Gabriel's Bay is a rich, layered, affecting view of life in a small New Zealand town. . . . Robertson has crafted a fictional town that feels as real as any number of small towns in New Zealand, and she's created flawed, complex, memorable characters, whose stories are entirely consuming. . . . There are a number of bittersweet moments in Gabriel's Bay, just as there are laugh-out-loud scenes. Robertson's prose is wry and plaintive, humorous and witty . . . This is a novel that invites each of us in. We come to care for all of these characters as we see this place through their eyes. Their everyday concerns add up over the length of the novel to produce depth and resonance. Robertson reveals the complexity and the community available to each of us in our ordinary lives.

Maggie Trapp, NZ Books
This is the perfect read for this time of year when we're still happy to escape into a good book at the beach or under a shady tree and take the time to savour, in this instance, the leisurely revelation of the people who live in Gabriel's Bay. . . . that is what Robertson has achieved: Gabriel's Bay has once again lifted her writing to a new level, exhibiting a true flair for inhabiting an ambitious range of characters and revealing the nuances and intricacies of a small-town milieu with deftness, grace, and sympathy. Yet she never loses that witty insight that makes each character's journey of rediscovery, self-realisation and second chances feel very real.

Felicity Price, Sunday Star-Times
Book of the Week (actually, book of the summer) . . . the wildly entertaining novel Gabriel's Bay

Steve Braunias, The Spinoff
What makes this a novel to recommend to your friends is the rounded, loveable characters, the sense of community in a time where small towns and local economies can struggle without the next big idea. If you want a read to absorb you in the lives of others, where you can possibly recognise yourself, your friends and the people you don't like but try to tolerate, this is the finest summer read you can pick up.

Louise Ward, Napier Courier
GET LOST IN A BIG-HEARTED, HOME-GROWN NOVEL. Everybody knows a small Kiwi town like Gabriel's Bay. Filled with interesting locals and struggling a bit with its share of unemployment and problem families, but mostly a welcoming place. . . This is a light-hearted story ideally suited to summery beach reading. It does very much feel like you're right there in Gabriel's Bay, becoming a part of the small coastal settlement, just as the enthusiastic Kerry does. Definitely a book to pick up if you like reading stories that reflect the way we live, it has a sense of fun plus a social conscience - not a mix you often come across

Nicky Pellegrino, NZ Woman's Weekly
. . . it's my favourite of all her books so far . . . really charming . . . a very pleasant read

Joan Mackenzie, Radio Live
Kiwi author Catherine Robertson has created a charming vibe in her story set in a coastal community that is "everywhere and nowhere all at once". Robertson's diverse bunch of characters are tangible and humorous as they grapple with their myriad issues. A tale to enjoy at the beach - preferably with a cone of hokey pokey and a box of Jaffas.

Megan McChesney, Next
What makes this a novel to recommend is the rounded, loveable characters, the sense of community in a time where small towns and local economies can struggle without the next big idea. If you want a read to absorb you in the lives of others where you can possibly recognise yourself, your friends and the people you don't like but try to tolerate, this is the finest summer read you can pick up. Have fun in Gabriel's Bay.

Louise Ward, Havelock North Village Press
This is a book about community, and small towns, and New Zealand. It's about growing up and growing old; about the grinding stress of never having enough money; about the way friendships and relationships change and sometimes simply fall apart. It is not, repeat not, women's fiction or chick lit.

Catherine Woulfe, NZ Listener
What makes this book so engrossing is the author's ability to get into the heads of all the colourful characters she has created . . . Perfect holiday reading.

Australian Woman's Weekly
Absolutely worth discovering . . . so funny . . . It's her fifth book . . . I really love this one. She is smart and funny and thoughtful and I fell I love with all her characters. . . . Anyone who has lived in small town New Zealand will really resonate with the struggles . . . if you love a story about people, then you'll really enjoy this one . . . a fantastic find.

Jenni Keestra, Radio Live
Catherine Robertson's Gabriel's Bay is a breezy read and enjoyable.

Wanganui Chronicle
Like an operatic quartet, Gabriel's Bay offers a complex multilinear approach, where each character has her or his own preoccupations and unique inner dialogue, with idiomatic voice. This dialogue, both inner and articulated, gives the novel its breadth combined with moments of sheer humour. . . The author's style is crisp and sharp, and her dialogues possess a brisk freshness that contributes considerably to the charm of the novel.

Gail Pittaway, Landfall