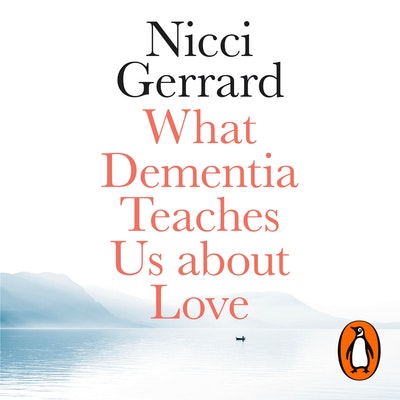 Published:

4 April 2019

ISBN:

9780141987682

Imprint:

Penguin Audio

Format:

Audio Download

RRP:

$22.99
What Dementia Teaches Us About Love
---
---
---
A moving and inspiring book that explores the meaning of the West's most deadly illness and offers us new ways to understand and speak about it
Penguin presents the audiobook edition of What Dementia Teaches Us About Love written and read by Nicci Gerrard.
Dementia is an unmaking, a de-creation - an apocalypse of meaning. Since my father's slow-motion dying, and his actual death in November 2014, I have been much preoccupied with dementia: by those who have it, by those who look after them, by the hospital wards whose beds are occupied by those in advanced stages of this self-loss, by the way society denies it, by the science of it, the art and literature about it, the philosophy, by what it means to be human, to have an identity. What is it to be oneself, and what is it to lose one's self. Who are we when we are not ourselves, and where do we go?
This is a book about dementia - not a personal account, but an exploration, structured around this radically-slowed death. Full of people's stories, both sad and optimistic, it is a journey into the dusk and then the darkness - and then out on to the other side, where, once someone is dead, a life can be seen whole again.
Published:

4 April 2019

ISBN:

9780141987682

Imprint:

Penguin Audio

Format:

Audio Download

RRP:

$22.99
Praise for What Dementia Teaches Us About Love
Essential reading about love, life and care

Kate Mosse, author of Labyrinth
Gerrard writes beautifully, encyclopaedically and with humanity

Nicholas Timmins, senior fellow at the Institute for Government and the King's Fund, honorary fellow of Royal College of Physicians, author of Five Giants
Evocative and powerful, shining a light on a world which is often hidden and misunderstood

Jane Cummings, Chief Nursing Officer for England
Gerrard ranges widely and wisely, raising questions about what it is to be human and facing truths too deep for tears

Blake Morrison, poet and author of And When Did You Last See Your Father?
Nicci Gerrard exudes understanding of the breadth, scale and complexity of the dementias and the challenges they pose for society. Yet she communicates simply, personally and practically as if speaking individually to each of us

Sebastian Crutch, Professor of Neuropsychology, Dementia Research Centre, University College London
Nicci Gerrard writes with power, insight, empathy and extraordinary beauty about the world of dementia . . . and demonstrates how we can address the fear, despair and ignorance that has accompanied its spread

Paul Webster, editor of the Observer
Nobody has written on dementia as well as Nicci Gerrard in this new book. Kind, knowing and infinitely useful

Andrew Marr
This is a tender, lyrical, profound, urgent book . . . Gerrard has penned a treatise on what it is to be human

Yasmin Alibhai-Brown, columnist and author
Immensely powerful . . . an incisive and compelling read. Gerrard, a crime novelist and former journalist, visits the "fresh hell" of hospitals across the UK, and interviews sufferers and those whose lives have been indelibly shaped by the diagnosis of a loved one . . . As well as being part-memoir and part-reportage, What Dementia Teaches Us About Love is also a great part philosophical inquiry into the nature of self and what it is to be human.

The Sunday Times
An extraordinarily luminous book, at once terribly sad and frightening but also somehow hopeful and energising.

Nick Duerden, Independent
Immensely powerful . . . shot through with insights. Gerrard's book is an elegant yet devastating interrogation into this fatal loss of self, and is part-reportage, part-philosophical inquiry, but, above all, intensely personal.

Helen Davies, The Sunday Times (Books of the Year)
A profound and powerful exploration of how society interprets and deals with a health challenge that will only deepen over the coming decades

Anjana Ahuja, Financial Times (Essential Reads 2019)