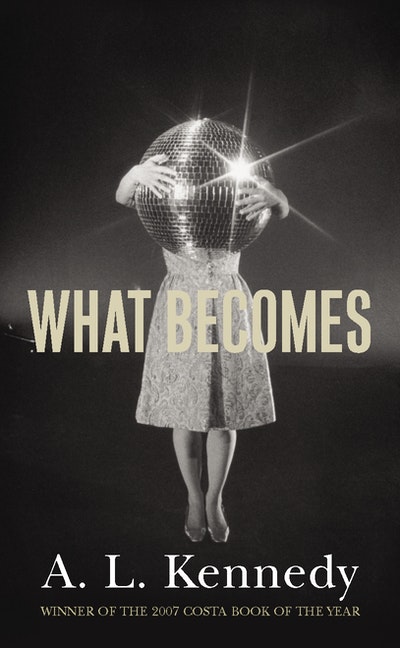 Published:

1 October 2010

ISBN:

9781409079095

Imprint:

Vintage Digital

Format:

EBook

Pages:

224
What Becomes
---
---
---
The latest book from 2008's winner of the Costa Book of the Year
Always attuned to the moment of epiphany, these twelve stories are profound, intimate observations of men and women whose lives ache with possibility – each story a dramatisation of the instant in a life that exposes it all: love and the lack of love, hope and the lack of hope.
These men and women are perfectly ordinary people – whose marriages founder; who sit on their own in a cinema watching a film with no soundtrack; who risk sex in a hotel with an anonymous stranger. They conceal tenderness and disappointment, vulnerability and longing, griefs and wonders – and, with each of them, Kennedy finds and opens up that extraordinary emotional wound, that insight into their experiences: like the woman in 'Saturday Teatime' who tries to relax in a flotation tank, before her memories hijack her, taking her back to last weekend's party – to a boy with a hamster, and his lecherous father – and then further back to another Saturday, when she was nine years old, when the troubling of her life began.
A.L. Kennedy's fifth remarkable collection of short stories shows us exactly what becomes of the broken-hearted. She reveals the sadness, violence, hurt and terror, but also the redemption of love – and she does so with the enormous human compassion, wild leaps of humour, and the brilliantly original linguistic skill that distinguishes her as one of Britain's finest writers.
Published:

1 October 2010

ISBN:

9781409079095

Imprint:

Vintage Digital

Format:

EBook

Pages:

224
'Genius...Kennedy's skill as a writer continues to be astonishing. Every metaphor, every image hits like a painfully well-aimed arrow.'

Independent on Sunday
'A virtuoso of prose...'

London Review of Books
'If you are at all interested in contemporary fiction, this is work you must not miss.'

Richard Ford
A L Kennedy's short stories are rare pearls, all seductive surface and dark depths

Vogue
Be warned, Kennedy is a good storyteller, and an even better observer, possessing immaculate timing... She also writes very well: there is an almost jaunty ease about her prose

Eileen Battersby, The Irish Times
Kennedy's new stories continue the courageous anatomy of emotional pain that has always been at the centre of her writing. Sometimes stomach churning, bleak and humorous in turn, she is rightly viewed as one of the most brilliant and eccentric writers of her generation...

Ruth Scurr, Times
AL Kennedy manages to convey an edgy modernity within relatively standard narrative forms ... written with the tonal meticulousness of genuine literature

Lionel Shriver, Financial Times
achieves more powerful gut punches in its 217 pages than many novels manage in triple the length...Kennedy has produced another stunning, impressive and genuinely enjoyable collection, hard not to be charmed by

Claire Sawers, Scotland on Sunday
In this bleak collection of short stories, the mordantly observant Kennedy explores "What Becomes" of the broken hearted

The Times
Achingly intimate, acutely observed stories from the Costa Book Award winner

Fanny Blake, Woman & Home
Kennedy has a way of pinning words down and forcing the truth out of them that makes her fiction alarming. There is pleasure in reading these extraordinary stories, but there is also pain

Alison Kelly, TLS
There is poetic life in so many of Kennedy's images... She can be very funny too... very original, very startling

Miranda France, Literary Review
Kennedy pulls out all the stops

Tom Adair, The Scotsman
These tightly compressed short stories are deft portraits of people under extreme pressure, delivered with a surreal perspective that oddly serves to compound their power...her writing is superb: almost every word in this flinty, almost unbearably sad collection matters

Claire Allfree, Metro
It's a testament to her talent and her humanity that these broken lives are life-affirming in the way that only good art can be

Laura Tennant, New Statesman
Kennedy is attuned to the shock of separation, as well as the pain ... Kennedy is adept at different types of stories

Leo Robson, Express
AL Kennedy's new collection of stories, What Becomes, marshals all the qualities of her justly praised writing: unflinching insight, clear and spacious prose, a narrative voice that bounces between grave compassion and bantering wickedness and plenty of black comedy

Tim Martin, Daily Telegraph
The hardest thing about the advent of a new collection of stories by A L Kennedy - her fifth, called What Becomes - is the search for synonyms for 'brilliant'. Her uncanny dialogue is as note-perfect as J D Salinger's her vision as astutely bleak as Alice Munro's, and her ability to summon up a society in a few strokes rivals William Trevor's

Katherine Ashenburg, The Spectator
There are wonderfully textured pieces

Alex Clark, Guardian
What admirable richness and complexity

Jane Shilling, Evening Standard
Kennedy has such control over her material that it never overwhelms the reader or becomes showily gothic

Matt Thorne, Sunday Telegraph
Her existence reminds writers... that whatever scatterings of subjects and settings, themes and characters we choose to investigate, the pursuit is of wonder and excellence, the grave beauty of words, and the many natures, capacities and geographies of the human heart - which happens to be Alice's real, unboundaried turf

Joan Barfoot, Sunday Herald
There is a substantial quality to Munro's stories that makes you feel you have stumbled on an entire world... the 10 tales in Munro's new collection are cleverly wrought, intense pieces of work, with ideas and characters that in lesser hands would be fleshed out to fill a larger space. What Munro manages so deftly to combine is a sense of unrushed fullness with clear-eyed, unsentimental economy. No line is superfluous, and some resonate as if they were a chapter, not a mere sentence

Rosemary Goring, Sunday Herald
While What Becomes is not always an easy book to read, Kennedy's linguistic inventiveness, wild humour and compassion make it an unexpectedly joyful one

London Review of Books
There's no denying that these utterly controlled stories have a power, humanity, and even beauty of their own

Amber Pearson, Daily Mail
While What Becomes is not always an easy book to read, Kennedy's linguistic inventiveness, wild humour and compassion make it an unexpectedly joyful one

The London Review of Books
Twelve stories from the manic mistress of comically vitriolic observation

Angel Gurria-Quintana, Financial Times
Savour this book

Erica Wagner, The Times, Christmas Books
Has a sense of humour and she, too like to cheer up her style with a few rococo swirls

John Spurling, The Times
This collection of stories marshals all of Kennedy's qualities: unflinching insight, clear and spacious prose, and grave compassion.

Telegraph
Kennedy specialises in acute observations of thought'...'In this collection of short stories, she inhabits unhappy couples, lonely shopkeepers and strangers in hotel rooms to searing, painful and comic effect

Holly Kyte, Telegraph
A virtuoso performance...This is a collection of stories that will be re-reading exceptionally well, like an album of brilliant songs you keep wanting to hear again

Brandom Robshaw, Independent on Sunday
Funny and furious, Kennedy's tales of floundering marriages and domestic disappointment follow an anarchic path of their own

Independent
Touchy-feely it is not, but the humour, humanity and awareness make What Becomes bigger on redemption than it would first appear.

Nicola Barr, Guardian
Kennedy's superlative work always attracts admiration

Lesley McDowell, Herald
Kennedy's remorselessly unsentimental short fictions are mostly powerful and are all pared to the bones in her habitual style.

Financial Times
Carefully written and at times wickedly funny this is a lament to love lost.

Charlotte Vowden, Daily Express
...Evans's atmospheric and richly drawn novel investigates the balance between life and art as it traces the history of a man with talent to burn and demons to bury.

Emma Hagestadt, Independent
'One of the most brilliant writers of her generation.'

Sunday Telegraph