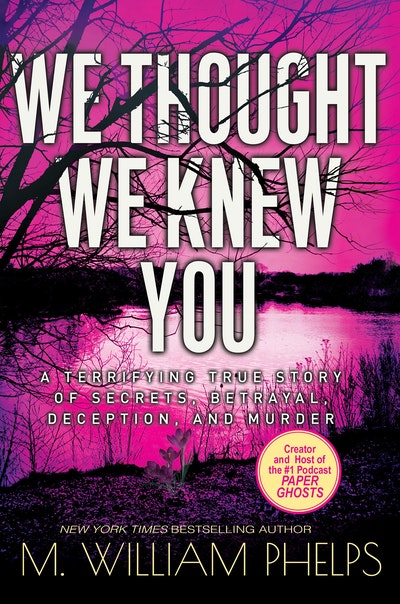 Published:

29 March 2021

ISBN:

9781496728814

Imprint:

Kensington

Format:

Hardback

Pages:

336

RRP:

$49.99
We Thought We Knew You
A Terrifying True Story of Secrets, Betrayal, Deception, and Murder
---
---
---
From one of America's most celebrated true crime authorities, an investigation into the mysterious, sudden death of Mary Yoder in Upstate New York and the law enforcement efforts that eventually led to her killer's conviction for murder.
Sixty-year-old Mary Yoder and her husband of 40 years, 72-year-old Bill Yoder, owned and operated a successful chiropractic center in Whitesboro, a quaint suburb of Utica, New York. In July 2015, without warning, Mary suddenly became violently ill with vomiting, weakness, and sweating. Doctors in the ER and ICU were perplexed as to the cause of her suffering. Within days she died at the hospital, surrounded by her loved ones.
The medical examiner, after consulting with the Poison Control Center, determined that she had been fatally poisoned with colchicine, a chemical given to patients with gout--but extremely toxic when not taken as prescribed. Mary did not have gout. As authorities investigated, both Mary's husband and her son were considered suspects. Suspicion ultimately focused on Kaitlyn Conley, the attractive ex-girlfriend of the Yoders' 24-year-old son, Adam. Conley, who worked as an office manager in the Yoders' chiropractic clinic, had set up an ingenious and heartless plan to frame Adam for murder as a way to get back at him for breaking up with her.
Many in the community rallied to Conley's defense, proclaiming her "the real victim" of mistreatment by Adam. Her first murder trial in May 2017 ended in a hung jury. A second jury heard the case later in 2017. After jurors come back saying they too could not reach a verdict, the judge instructed them to continue deliberating, and a guilty verdict was reached hours later. In January 2018 Katlyn Conley was sentenced to serve 23 years in state prison for first-degree manslaughter.
Published:

29 March 2021

ISBN:

9781496728814

Imprint:

Kensington

Format:

Hardback

Pages:

336

RRP:

$49.99