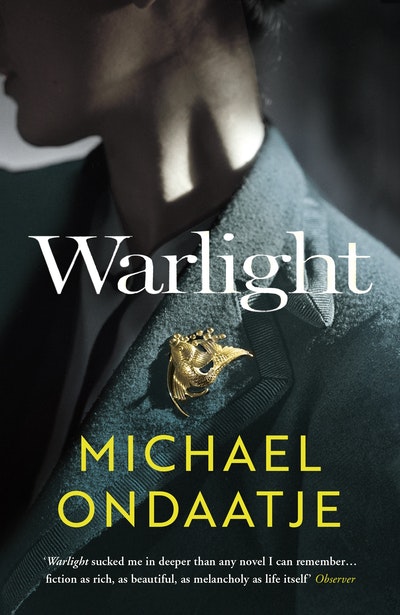 Published:

16 April 2019

ISBN:

9781784708344

Imprint:

Vintage

Format:

Paperback

Pages:

304

RRP:

$19.99
Warlight
---
---
---
A mesmerising new novel from the internationally acclaimed, bestselling author of The English Patient.
**LONGLISTED FOR THE MAN BOOKER PRIZE 2018**
An elegiac novel set in post-WW2 London about memory, family secrets and lies, from the internationally acclaimed author of The English Patient
It is 1945, and London is still reeling from the Blitz. 14-year-old Nathaniel and his sister, Rachel, are apparently abandoned by their parents, left in the care of an enigmatic figure named The Moth. They suspect he might be a criminal, and grow both more convinced and less concerned as they get to know his eccentric crew of friends: men and women all who seem determined to protect Rachel and Nathaniel. But are they really what and who they claim to be? A dozen years later, Nathaniel journeys through recollection, reality and imagination to uncover all he didn't know or understand in that time, to piece together a story that feels something like the truth.
'A novel of shadowy brilliance' The Times
'Fiction as rich, as beautiful, as melancholy as life itself, written in the visionary language of memory' Observer
'Ondaatje brilliantly threads the mysteries and disguises and tangled loyalties and personal yearnings of the secret world... I haven't read a better novel this year' Telegraph
Published:

16 April 2019

ISBN:

9781784708344

Imprint:

Vintage

Format:

Paperback

Pages:

304

RRP:

$19.99
The English Patient author Michael Ondaatje weaves another tale of love, loss and memory against a backdrop of World War II... The mysteries come together through a complex, non-linear narrative that revisits and revises each development with careful scrutiny.

Lucy Brooks, Culture Whisper
Skilfully navigating espionage, betrayal and deception, Warlight... takes [Ondaatje] deep into John le Carré territory. a lyrical but sinister mosaic of a hidden world.

Boyd Tonkin, Economist 1843
[Warlight is] so cunningly assembled. leaner than The English Patient and its focus is tighter, a searchlight's focus.

Anna Mundow, Washington Post
Warlight is Ondaatje's most haunting novel after The English Patient. mesmerising.

Nilanjana Roy, Financial Times
Ondaatje [is] such a thrilling writer. I loved [Warlight].

Johanna Thomas-Corr, Evening Standard
Ondaatje's first novel in seven years mesmerizes from start to finish.

Hephzibah Anderson, Mail on Sunday
Dazzling.

Good Housekeeping
Lyrical but oblique, [Ondaatje's] prose matches a mood of mystery and suspicion that tantalises.

Economist
Ondaatje's spare and evocative prose perfectly captures the crumbled austerity of post-war London. this is easily his most satisfying and seductive novel in years.

Richard Strachan, Herald Scotland
Warlight sucked me in deeper than any novel I can remember. fiction as rich, as beautiful, as melancholy as life itself.

Alex Preston, Observer
[A] novel of shadowy brilliance.

Robert Douglas-Fairhurst, The Times
Warlight is a subtly thrilling story. because of the powerful atmosphere Ondaatje invokes of unease, disquiet and the unknown. It's a masterful book.

Rachel Fellows, Esquire
Ondaatje's prose is consistently illuminating. It does not stroke the chin of its own wisdom, but allows meaning and poignancy to accumulate through inference and feint. In simple terms, it is an alluring narrative of character and incident told by a powerful storyteller.

Ben Masters, Literary Review
[A] gripping read from a grandmaster.

Hilary A. White, Irish Independent
A dark adult fairy tale where nothing is as it seems. Ondaatje's magical mystery tour makes for an exceptionally entertaining literary journey.

Arminta Wallace, Irish Times
This elegiac novel combines the stealth of an espionage thriller with the irresolute shifts of a memory play, purposefully full of fragments, loss and unfinished stories. Wonderful.

Claire Allfree, Daily Mail
[There is a] fragile, haunting, almost whispered quality [to] Ondaatje's writing. So finely constructed are his sentences that you find yourself holding your breath lest you inadvertently disturb their symmetry.

Mick Brown, Daily Telegraph
Compulsively and grippingly readable. In fact I read it first at a gallop, enthralled by the image of a city and a world distorted and all but destroyed by war, and then again slowly, determined to savour the details and extract as much as I could from it. Much remained puzzling on this second reading, but two things are clear: Michael Ondaatje is a marvellous writer, and Warlight is a novel which will continue to play in the reader's imagination.

Allan Massie, Scotsman
Absorbing... this is a welcome return from a literary master who knows how to take human experience and cast it elegantly onto the page.

Christian Lisseman, Big Issue
It's suspenseful, intense, and Ondaatje's prose is beautiful.

Prudence Wade
Place your bets - with this glorious new book... Ondaatje could be in line for another Booker.

Anthony Cummins, Metro
Ondaatje brings to life this work.with meticulous detail

Hirsh Sawhney, Times Literary Supplement
Ondaatje is a skillfully deliberate writer

Andrew Motion, Guardian
Warlight not only shines a light into the shadowy wars.but also the uncertain age of adolescene

Donal O'Donoghue, RTE Guide
This seam of subterfuge and the truth being gradually released from the shadows make Warlight gripping reading. Ondaatje adorns the walls with his characters like a master gallerist

Irish Independent
Haunting. [Ondaatje] casts a magical spell, as he takes you into his half-lit world of war and love, death and loss, and the dark waterways of the past.

Hermione Lee, New York Review of Books
Warlight is a layered, precisely written, erudite meditation on the damage we do when we make war. It's eerily prescient.

Morag MacInnes, Tablet
Hypnotic.

Tatler
I spend the months before the publication of a new Michael Ondaatje novel trying to keep my expectations in check, telling myself it's simply unfair to expect as much of any writer as I expect from Ondaatje. Then he pulls off a Warlight, and I'm embarrassed by my own lack of faith... [Warlight] is surprising, delightful, heartbreaking and written as only Ondaatje could write it.

Kamila Shamsie, Observer
The crepuscular, dreamlike, post-1945 London that Michael Ondaatje invents in his novel Warlight continues to haunt you long after the plot itself.

Blake Morrison
An exquisite, elegiac account of a life forged in the shadow of other people's secrets, told in language as feathery and delicate as a moth.

Anthony Cummins, Daily Mail
In Warlight we have a writer who knows exactly what he's doing - and has constructed something of real emotional and psychological heft, delicate melancholy and yet, frequently, page-turning plottiness. I haven't read a better novel this year.

Sam Leith, Daily Telegraph
Ostensibly realistic, it is phantasmagoric. Everything he says bristles with improbable life. Reading it is like watching a movie in which, however much activity there is, the atmosphere dominates the plot

Allan Massie, Oldie
A meditative and dreamily lyrical espionage thriller

Claire Allfree and Anthony Cummins, Metro
Ondaatje brings Warlight's seemingly disparate fragments together with such skill that the ending feels not just satisfying but inevitable. The most lovely conjuring trick, it leaves you in awe of the magician. I emerged blinking into the glare of the 21st century, bereft in a way a novel hasn't left me bereft for a longtime

Allison Pearson, Sunday Telegraph
From the very first sentence you're desperate to find out what happens next. All is slowly, tantalisingly revealed, in flashbacks, fragments, digressions and stories within stories, narrated in majestic Ondaatjean style.

Ian Sansom, New Statesman
Ondaatje's onion of a novel, his first since 2011's The Cat's Table, combines rich intrigue with a meditation on how we rewrite our memories by examining them. a stunning return.

Pat Carty, Hot Press
The latest novel from the author of The English Patient is just glorious... rendered with Dickensian verve. My hot tip for the Booker Prize.

Allison Pearson, Harpers Bazaar
A beautifully crafted work of fiction. [with a] stunning denouement.

Lucy Popescu, New Humanist
Magnificent.

Jenna Rak, Glamour Magazine
Our book of the year - and maybe of Ondaatje's career.

Daily Telegraph **Books of the Year**
Nothing in the world of this novel is ever redundant; nothing is accidental. Whenever you come across a striking detail.you can be sure it will crop up again, be charged with more significance, be joined with the rest of the story in a long chain of meaning.

Tessa Hadley, London Review of Books
I look above all else in fiction for sureness of touch with sentences - and that was abundantly in evidence.in Michael Ondaatje's Warlight. [Warlight has] the unmistakable stamp of [the author] knowing exactly what [he's] doing.

Sam Leith, Spectator **Books of the Year**
Michael Ondaatje's Warlight stood out this year for its skill in making even the most familiar fictional terrain seem strange and unsettling. every time we think we've pinned down what Ondaatje is doing in this novel, he somehow manages to wriggle free. It's a quite brilliant act of fictional escapology.

Robert Douglas-Fairhurst, Spectator **Books of the Year**
Michael Ondaatje's Warlight is a rare and beautiful thing - a deeply retrospective novel about war secrets that feels neither overstated nor overly ethereal. In sumptuous prose, Ondaatje limns the psyche of a man still trying to make sense of his complicated relationships and the mysteries surrounding his absent parents. One of the most absorbing books I've read all year.

Esi Edugyan, Times Literary Supplement **Books of the Year 2018**
Mesmerising.

Craig Brown, Mail on Sunday, **Books of the Year**
Ondaatje's first novel in seven years is also one of his best - a quiet but profoundly powerful book. A superior, espionage novel about the unstable, shape-shifting nature of personal history.

Claire Allfree, Metro, **Books of the Year**
The evocation of night journeys through the fog-bound city and along mysterious canals and forgotten rivers is spellbinding.

Allan Massie, The Catholic Herald, **Books of the Year**
Michael Ondaatje's Warlight is one of the best books I've read in years. I'd pick it up again in a heartbeat.

Chris Catchpole
Ondaatje's prose is beautiful, and he successfully builds suspense and tension without seeming too heavy-handed

Ella Walker, Herald Scotland
Michael Ondaatje is at his best when writing about awkward, quiet types

A. S. H. Smyth, Spectator
Brilliant dramatic tale

Love it!
Ondaatje's prose is consistently illuminating. Warlight is a meditation on the purpose and possibilities of storytelling

Ben Masters, Literary Review
[T]his elegiac novel combines the stealth of an espionage thriller with the irresolute shift of a memory play, purposefully full of fragments, loss and unfinished stories. Wonderful

Claire Allfree, Daily Mail
Warlight is a subtly thrilling story… It's a masterful book

Rachel Fellows, Esquire UK
- So finely are his sentences constructed that you find yourself holding your breath lest you inadvertently disturb their symmetry

Mick Brown, Daily Telegraph
[C]ompulsively and grippingly readable… Ondaatje is a marvelous writer, and Warlight is a novel which will continue to play in the reader's imagination

Allan Massie, The Scotsman
For the lyrical strength of the prose alone, a new Michael Ondaatje novel is always a treat

Irish Independent
Warlight is a layered, precisely written, erudite meditation on the damage we do when we make war

Morag MacInnes, Tablet