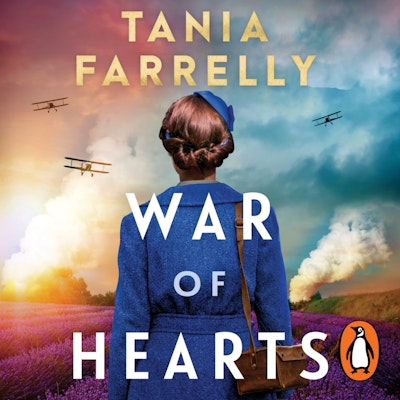 Published:

19 September 2023

ISBN:

9781761342554

Imprint:

Penguin Random House Australia Audio

Format:

Audio Download

Length:

12 hr 19 min

Narrator:

Maddy Withington

RRP:

$32.99
War of Hearts
---
---
---
A heart-stopping novel of love in a time of war, ideal for fans of Fiona McIntosh and Natasha Lester.
1917: America's declaration of war against Germany gives Grace Winter, a keen-eyed New York Times investigative reporter, a much sought after opportunity to make her mark on the Western Front, albeit in ways she had never expected. But by 1918 the gruesome reality of trench warfare has set in, and an invisible new enemy – The Spanish Flu – is killing allied soldiers in their droves.
Father Jude is no ordinary priest. He's proven himself as fearless on the battlefield as any soldier, and as compassionate as any man of the cloth. He is willing to put himself in the line of fire to save the souls of young men on both sides of the barbed wire. But things get complicated when he renders assistance to the sharp-witted war correspondent, Grace.
As their mission to filter secrets back through enemy lines become increasingly perilous, so too does their attraction. And when Grace catches the priest taking an obsessive interest in a tiny silver music box gifted to her by an unknown soldier, she suspects the good Father may be keeping a devastating secret. Grace must trust her instincts and make an impossible choice, between the life of one man and the lives of many men.
Set against the backdrop of World War One and spanning three continents, this is a heart-stopping story of forbidden love and courage that explores the nature of faith, the quest for redemption and the true meaning of grace.
Published:

19 September 2023

ISBN:

9781761342554

Imprint:

Penguin Random House Australia Audio

Format:

Audio Download

Length:

12 hr 19 min

Narrator:

Maddy Withington

RRP:

$32.99