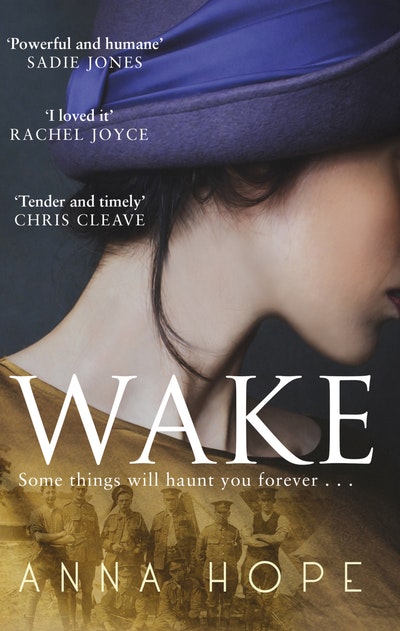 Published:

16 January 2014

ISBN:

9781448170036

Imprint:

Transworld Digital

Format:

EBook

Pages:

416
Wake
---
---
---
Unfolding over five days leading up to 11 November, 1920, the international bestseller and prizewnning story of three women's lives and loves. For fans of PAT BARKER, MADELINE MILLER and MAGGIE O'FARRELL
- The International prize-winning bestseller and Simon Mayo bookclub pick- 'Powerful and humane' SADIE JONES, bestselling author of THE SNAKES- A stunning tale of three women's lives and loves at the end of the Great War.____________________Remembrance Day 1920: A wartime secret connects three women's lives:
Hettie whose wounded brother won't speak.
Evelyn who still grieves for her lost lover.
And Ada, who has never received an official letter about her son's death, and is still waiting for him to come home.
As the mystery that binds them begins to unravel, far away, in the fields of France, the Unknown Soldier embarks on his journey home. The mood of the nation is turning towards the future – but can these three women ever let go of the past?
A POWERFUL AND MOVING NOVEL OF THREE WOMEN FOR FANS OF PAT BARKER, MADELINE MILLER AND MAGGIE O'FARRELL____________________Readers' love for WAKE by Anna Hope:'Beautifully, written, compelling, very moving' 4 ****'Engrossing and illuminating' 5 *****' If you like a relationships novel with war backdrop, hard to find better' 4 ****'An amazing achievment' 5 *****
Published:

16 January 2014

ISBN:

9781448170036

Imprint:

Transworld Digital

Format:

EBook

Pages:

416
A compelling and emotionally charged debut about the painful aftermath of war and the ways - small, brave or commonplace - that keep us going. It touches feelings we know, and settings - dance halls, war front, queues outside the grocer - that we don't. I loved it.

Rachel Joyce, author of THE UNLIKELY PILGRIMAGE OF HAROLD FRY
A tender and timely novel, full of compassion and quiet insight. The author gives us a moving and original glimpse into the haunted peace after the Great War, her characters drawn by the gravity of the unmarked, the unknown and perhaps, finally, the unhoped for.

Chris Cleave, author of THE OTHER HAND
Wake is powerful and humane; a novel that charms and beguiles. Anna Hope's characters are so real; flawed and searching, and her prose so natural, one almost forgets how very great a story she is telling.

Sadie Jones, author of THE OUTCAST
Superb ... beautifully crafted

Irish Times
A moving novel about the aftershock of the 1914-1918 conflict. ... unlikely many will prove better than Anna Hope's Wake

Sunday Times
Absorbing and timely

Daily Mail
Wise and insightful

Sunday Express
A hit, we think!

Simon Mayo Bookclub
Impressive and poignant ... moving and rewarding

Woman and Home
Poignant ... stays long in the memory

Choice
I wouldn't be surprised if this was the biggest hardback debut of the year

Alexandra Hemingsley, Radio Two Arts Show
This centenary year, so many more female writers have chosen The Great War as their central theme ...there is WAKE by Anna Hope, chronicling the lives of women battling with postwar loss ...I welcome these, and more, for their stories and the history lessons they incorporate

Arifa Akbar, The Independent
Poignant and powerful, it's a must-read.

Fabulous Magazine
Anna Hope reveals a tragic connection between three women living i 1920s London in her impressive debut

Good Housekeeping Magazine
Hope weaves her three characters' workaday narratives together, building scenes that wear their research lightly …The women's lives come at us in a present-tense narration that keeps the book easy to read, letting the characters' thoughts bob to the surface of the text in italics, as if in a nod towards the modernism that was brewing in that very period.

Independent
A very simple book which elicits very complicated emotions ...luscious, impressive, moving.

Julia Kingsford
It's an unusual story, told well and written delicately. The women and the world they inhabit are beautifully drawn. It tells us that life can continue to be lived even after terrible loss.

RONAN BENNETT, Whitbread award-winning author and creator of Channel Four's 'Top Boy'
Hope's unblinking prose is reminiscent of Vera Brittain's classic memoir "Testament of Youth" in its depiction of the social and emotional fallout, particularly on women, of the Great War.

New York Times
Wake is a staggeringly good first novel, packed with soulful insight, universal emotions and those intimate small details which add more depth and meaning to a picture than the brutal sweep of a broad brush.

Lancashire Evening Post
It's hard for me to believe that this amazing, touching book is a debut novel. Absolutely recommend and already on the run for a spot in my top 10.

www.thebooksmugglers.com
It is a powerful read; you can almost see the endless mud of the trenches, and sense the fear of those young men.

pagesandteablog.wordpress.com
Anna Hope wove her spell and managed to conjure up an intriguing tale, quite rich with emotion that held me entranced until the last page. I can't wait to see what she does next.

lynnsbooks.wordpress.com
Wake is a brilliant debut novel, deeply moving, well-plotted and engrossing.

http://ourbookreviewsonline.blogspot.co.uk
This is such a brilliant book; one that is both beautifully written and emotionally involving, with a fascinating plot and wonderful characters who pluck at your heartstrings on every page.

http://bookssnob.wordpress.com
I have no doubt that Wake is going to be included in my Top Ten books of 2014, I know that it's only January, but this is a book that has had a huge effect on me.

randomthingsthroughmyletterbox.blogspot.co.uk
The only regret I have is that I didn't read this book sooner. WAKE is luxury. Pure luxury.

http://missmoretalks.wordpress.com
She manages to capture every single detail, every emotion and every sound.

http://lauraslittlebookblog.blogspot.co.uk
Wake is that rare and beautiful thing: a first novel that sings with such power and grace that it lifts itself effortlessly from the pack. Powerful, passionate, compassionate, it marks the rising of a new star in the literary firmament. Anna Hope is here to stay.

M.C. Scott - Author of Rome and chair of the Historical Writers Association
Intricately researched and beautifully written, with the kind of restrained yet emotional prose one expects from a seasoned author. Its characters, too, have a depth and quiet tragedy one rarely finds in debut fiction. In this centenary year commemorating the outbreak of war, there've been many novels about the conflict:Wake is without doubt one of the best.

Hannah Beckerman - Huffington Post
A masterclass in historical fiction

Observer
Impressive ... A heart-breaking tale of grief and guilt

Psychologies Magazine