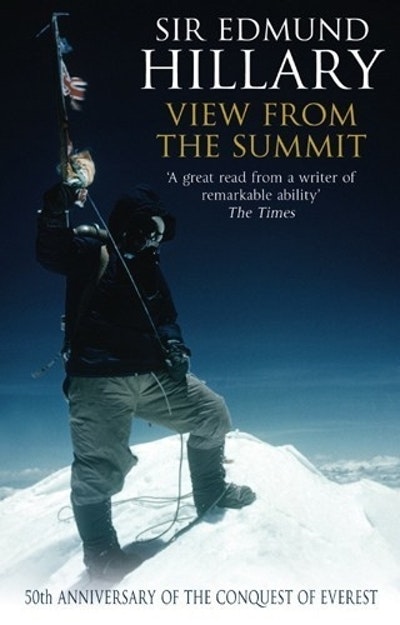 Published:

31 October 2011

ISBN:

9781448109371

Imprint:

Transworld Digital

Format:

EBook

Pages:

416
View From The Summit
---
---
---
The complete autobiography of one of the great icons of this century - the first man to set foot on the summit of Everest.
The first man to set foot on the summit of Everest, the man who led a team of tractors to the South Pole, the man who jetboated up the Ganges from the ocean to the sky has, for the first time, gathered all the remarkable adventures of a long life into one volume. But there is more to Edmund Hillary than this. He is also the man who repaid his debt of fame to the Himalayas by inaugurating a programme of building schools, clinics, airstrips and bridges in Nepal. With his still active support, these have gone from strength to strength in the 50 years since he himself mastered the Hillary Step and led his companion Tenzing Norgay up Everest's final summit ridge.
View from the Summit is a thoughtful and honest reappraisal of a life spent pushing human ability to its limits and relishing the challenges thrown down by the elements. It is also the story of a man whom the world has taken to its heart.
Published:

31 October 2011

ISBN:

9781448109371

Imprint:

Transworld Digital

Format:

EBook

Pages:

416
Praise for View From The Summit
'Sterling stuff...You can only stand back and gape in admiration'

Sunday Star Time (NZ)
'Unavoidably gripping...gives an excellent sense of the constant risk when climbing at high altitude'

Sunday Telegraph
'One of the most marvellous lives of our time'

Literary Review
'A great read from a writer of remarkable ability'

The Times
'View from the Summit is a memorable read, the tale of a true survivor, who not only overcame the hazards of Everest but put the fame this brought him to remarkable use'

Mail on Sunday
'Sterling stuff...You can only stand back and gape in admiration'

Sunday Star Time (NZ)
'Sterling stuff...You can only stand back and gape in admiration'

Sunday Star Time (NZ)
'Sterling stuff...You can only stand back and gape in admiration'

Sunday Star Time (NZ)
'Sterling stuff...You can only stand back and gape in admiration'

Sunday Star Time (NZ)
'Sterling stuff...You can only stand back and gape in admiration'

Sunday Star Time (NZ)