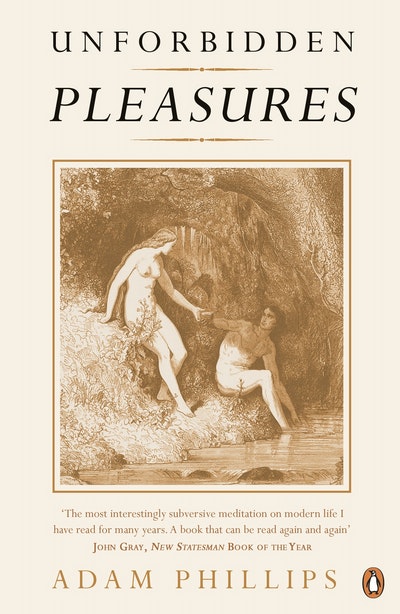 Published:

5 November 2015

ISBN:

9780241964095

Imprint:

Penguin eBooks

Format:

EBook

Pages:

208
Unforbidden Pleasures
---
---
A great deal has been written of the pleasures that are forbidden to us. But what of the 'unforbidden' pleasures?
In his dazzling new book Adam Phillips takes Oscar Wilde as a springboard for a deep dive into the meanings and importance of the Unforbidden, from the fall of our 'first parents' Adam and Eve to the work of the great twentieth-century psychoanalytic thinkers.
Unforbidden pleasures, he argues, are always the ones we tend not to think about, yet when you look into it, it is probable that we get as much pleasure, if not more, from them. And we may have underestimated just how restricted our restrictiveness, in thrall to the forbidden and its rules, may make us.
Published:

5 November 2015

ISBN:

9780241964095

Imprint:

Penguin eBooks

Format:

EBook

Pages:

208
Praise for Unforbidden Pleasures
The most interestingly subversive meditation on modern life I have read for many years... Phillips ranges over a wide field, including reflections on Hamlet and the tyrannical power of conscience. Elegant, forceful and rich in insight, this is a book that can be read again and again

New Statesman - Books of the Year 2015
[A] playfully digressive style... He is the finest living decipherer of affective life [and] the Bob Dylan of psychoanalysis

Daily Telegraph
There is a lot of philosophy and psychoanalysis packed into these 200 pages

Radar
Adam Phillips is single-handedly continuing the tradition of the world's best essayists

Observer
The best living essayist writing in English

John Gray
He's brilliant

John Carey
Phillips radiates infectious charm

Sunday Times
Publisher's description. Adam Phillips elegantly unfolds the concept of the 'unforbidden', from the Old Testament to Freud and beyond, exploring the philosophical, psychological and social complexities that govern human desire and shape our reality.

Penguin