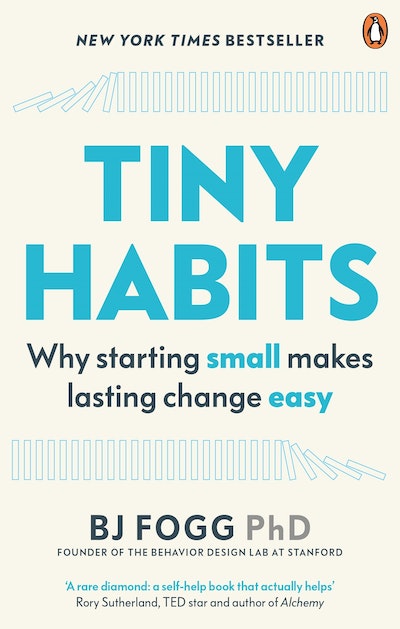 Published:

2 February 2021

ISBN:

9780753553244

Imprint:

Virgin Books

Format:

Paperback

Pages:

320

RRP:

$24.99
Tiny Habits
The Small Changes That Change Everything
---
---
---
The world's leading expert on habit formation shows you how to build a better life: by starting small
Improving your life is much easier than you think. Whether it's losing weight, sleeping more, or restoring your work/life balance - the secret is to start small.

For years, we've been told that being more healthy and productive is a matter of willpower: that we should follow the latest fad and make constant changes to our lifestyles. But whether in our diets, fitness plans or jobs, radical overhauls never work. Instead we should start with quick wins - and embed new, tiny habits into our everyday routines.
The world expert on this is Silicon Valley legend BJ Fogg, pioneering research psychologist and founder of the iconic Behaviour Design Lab at Stanford. Now anyone can use his science-based approach to make changes that are simple to achieve and sticky enough to last.
In the hugely anticipated Tiny Habits, BJ Fogg shows us how to change our lives for the better, one tiny habit at a time. Based on twenty years research and his experience coaching over 40,000 people, it cracks the code of habit formation. Focus on what is easy to change, not what is hard; focus on what you want to do, not what you should do. At the heart of this is a startling truth - that creating happier, healthier lives can be easy, and surprisingly fun.
Published:

2 February 2021

ISBN:

9780753553244

Imprint:

Virgin Books

Format:

Paperback

Pages:

320

RRP:

$24.99
On the subject of behavioural design, there is no one on earth who could author a more informative and anticipated book than BJ Fogg

Robert Cialdini, author of 'Persuasion'
This book is a rare diamond in a vast market: a self-help book that actually helps. That's because it is informed by scientific enquiry. BJ Fogg is, deservedly, a cult figure not only among behavioural science academics but also in the business world. As a behavioural science fanatic, I cannot wait to read it: as an overweight behavioural science fanatic, I cannot wait to try its prescriptions

Rory Sutherland, Ogilvy VC and author of 'Alchemy'
BJ Fogg is a Stanford and Silicon Valley legend. He teaches people small research-based steps that enable them to make big, good and enduring changes in their lives. Tiny Habits makes his simple secret sauce available to everybody; it is a joy to read and packed with easy steps that will help you do more of what you want - and less of what you don't

Robert Sutton, author of 'The Asshole Survival Guide'
BJ Fogg is one of those rare individuals who can brilliantly balance a thorough understanding of research with the ability to make that research useful and understandable in the real world. What makes Tiny Habits so powerful is that the behaviour change seems so doable, and thus it will have a multi-level appeal across every domain from home to work, from business leaders and educators to parents and students

Shawn Achor, author of 'The Happiness Advantage' and 'Big Potential'
Eliminating the 'should's' and demystifying personal habit change to a set of basic principles lets us all breathe easier

David Allen, author of 'Getting Things Done'
In Tiny Habits, BJ Fogg explains how actions as simple as flossing one tooth, opening up a book to the first page, or connecting with others can put us on the path to lasting change. Deeply researched and highly practical, this book will be a valuable resource to anyone interested in changing their behavior (that is, all of us)

Gretchen Rubin, author of 'The Happiness Project'
BJ Fogg is the founding father of habits research, and his advice has already changed my life. Tiny Habits will help anyone have their best year yet; whether you want to sleep better, lose weight, work smarter or be a more present parent

Dr Rangan Chatterjee, author of Feel Better in 5
Absolutely brilliant ... a 5/5 book. Fantastic things in every paragraph, on every page of the book

Chris Evans
Article
Three tiny exercises
The world's leading expert on habit formation shows you how to build a better life, by starting small.